Ready to take your camping game up a notch?
Check out our 30 best camping gadgets to bring on your next adventure! We've got everything you need to make your trip more fun and comfortable, from tents and sleeping bags to portable grills and camp stoves.
With the right gear, camping can be an incredibly rewarding experience. So what are you waiting for? Start browsing our list today, and get ready for an unforgettable trip!
Read on to buy your favorite camping gear on Amazon!
How We Choose The Best Camping Gadgets
Camping is a great way to get outside and enjoy nature, but knowing the best camping gear you need to make the most of your trip can be tricky.
With all the different camping gadgets on the market, it can be hard to know which ones are worth your time and money.
We've done the research for you! In this article, we'll recommend some of the best camping gadgets for every type of camper. We've got you covered whether you're looking for a tent, stove, or lantern.
---
1. Royal Gourmet Portable 3-Burner Table Top Gas Grill Griddle
Have you longed for the perfect companion to make your outdoor grilling experience one-of-a-kind? Well, search no further! Royal Gourmet has got you covered with their Portable 3-Burner Table Top Gas Grill Griddle.
Whether hosting barbecues on the patio or camping with friends and family, this gorgeous camping griddle will make all your culinary dreams come true!
Enjoy the convenience of three separate fireboxes and a total of 25,500 BTUs, allowing you to cook up some delicious dishes quickly! Let your inner grill master show itself as you fry rice, eggs, hash browns, French toast, bacon, and hamburgers on its large porcelain-enameled surface (measuring 316 square inches). No need to buy an additional camp stove toaster with this handy, multi-functional griddle
Cleaning is also made a cinch – remove the oil cup for easy disposal of grease residue. And with its Piezo ignition system for quick start-up, it'll be hassle-free to fire up your griddle in no time.
Gone are the days of suffering under heavy equipment each time you want to treat yourself and those around you to a feast – now all that's required is an easy setup and keep the good times rolling!
Grab your Royal Gourmet Portable 3-Burner Table Top Gas Grill Griddle today and upgrade all your al fresco cooking experiences with just one purchase.
---
2. LED Camping Lantern & Headlamp Set for Kids
Make outdoor adventures with your little explorer even more special with this adorable addition to your kids' camping gear.
This cleverly designed owl-shaped set lights up the night like a fun campfire! Little ones will love taking this cute companion on any outdoor excursions, and grown-ups will love the convenience of its battery-powered, lightweight design.
Each kit includes two pieces: one headlamp and one lantern. The headlamp offers a sensational 360° light angle and directional light through the eyes – great for adventure walks!
The lantern emits beautiful illumination from the owl's body while conveniently folding into itself for easy transport and storage. Both pieces feature stylish carrying handles, making them perfect for toting around.
Kids of all ages can ignite their imagination with this adorable LED Camping Lantern & Headlamp Set.
Whether it's a night climb or just some games around the tents, you and your child can enjoy each other's company in a perfectly lit atmosphere made possible by this charming camping set!
---
3. OCOOPA Hand Warmers Rechargeable
Say goodbye to chilly winter days with OCOOPA Hand Warmers! Combining exquisite comfort and fast heating with a large battery capacity, these hand warmers are the perfect accessory for anyone who wants to stay toasty in colder weather.
Crafted from aircraft-grade aluminum and ABS material, each is polished with thousands of exterior materials for a smooth and warm touch. Just press the switch and take advantage of three temperature levels to find the perfect level for you every time.
All this, plus a 5200 mAh lithium rechargeable battery with USB-C charging port, will keep your hands warm all day long - just perfect when the temperatures drop!
And because they're also fitted with an anti-skid grip on the back, you can use them whenever there's ice and snow without worrying about slipping.
If you struggle in winter, OCOOPA Hand Warmers are an absolute must-have - they'd make a great gift too!
So why not treat yourself (or someone special) to sumptuous, cozy warmth this winter?
---
4. Goal Zero Lighthouse 600 Camping Lantern
Are you looking for an outdoor camping lantern that will light up your journey? Look no further than the Goal Zero Lighthouse 600 Camping Lantern!
This lightweight, rechargeable LED lantern provides adjustable, usable light of up to 600 lumens.
You can rest assured knowing your camping light and lantern are built to last and field-tested in varied environments.
Recharging is easy with three options. Recharge at any USB port, using a Goal Zero solar panel (not included), or use the built-in hand crank during an emergency.
Plus, with just one minute of crank time, you'll get 10 minutes on a low setting – now that's efficient!
If you need maximum light dispersion, this camping lantern will provide it thanks to its collapsible legs, which expand when needed and make storage easy when not.
Best of all, it even comes with a handle, so carrying and hanging are a breeze. So don't miss out on making your next adventure special with the Goal Zero Lighthouse 600 Camping Lantern!
---
5. Portable Air Conditioner 3 Speed Evaporative Rechargeable Cooler Fan with Led Light
Beat the summer heat with this portable air conditioner for camping! This fan offers three adjustable speeds for all your different cooling needs.
It's equipped with a 3000mAh built-in battery and weighs just 1.35 lbs, making it super easy to take wherever you need it - whether it's around the house or to a party, as a camping AC, or for other outdoor events.
Dealing with hot nights won't be an issue anymore as it has enough power to keep you cool for 3.5 to 8 hours after charging, depending on what setting you choose.
Its size (8.54 x 4.25 x 5.31 inches) is perfect for smaller spaces like offices or bedrooms where regular air conditioners just wouldn't fit and loud fans can be too disruptive.
To use the fan, all you have to do is pour a mixture of ice and water into the fill tank at the top and plug in the connected cable!
Set the speed that fits your needs, and keep cool all night long!
---
6. GCI Outdoor Pod Rocker Collapsible Rocking Chair & Outdoor Camping Chair
Welcome to blissful comfort and convenience from the GCI Outdoor Pod Rocker Collapsible Rocking Chair.
Whether you're enjoying some outdoor leisure time or just trying to relax, this chair is the perfect swinging camping chair for your camping trip.
The sling-style seat and breathable mesh panel construction provide luxurious all-day comfort, while the sturdy powder-coated steel frame lets you rock away on any surface up to 250 lbs with complete confidence.
This luxurious chair quickly and easily folds up for easy storage or transportation.
Plus, it has some extra friendly features like a side phone pocket and beverage holder, so you can bring all your necessities wherever you go!
Unwind in the great outdoors just like it was meant to be done - with the GCI Outdoor Pod Rocker Collapsible Rocking Chair.
---
7. HEIMPLANET Original Inflatable Camping Tent
Camping gets an upgrade with the HEIMPLANET Original Inflatable Camping Tent!
This is your best bet if you're looking for a tent to survive the harshest weather. From its high-quality fabric made of 40D High Tenacity Polyester with Double Ripstop for greater strength and resistance to tearing to its five closable ventilation points and entrance, plus a star-shaped roof offering maximum flexibility, your camping experiences will take you to new heights.
Not only that, but the tent also offers several sewn-in pockets provided inside where you can store essential items like keys or coins, and even a vestibule at the entrance so that you won't have any trouble finding enough storage space.
Whether it's rain or snow, feel secure knowing that the HEIMPLANET Original Inflatable Camping Tent will protect you throughout your wildest journeys.
Make camping a luxurious experience, and shop yours today!
---
8. Gear Doctors Camping Pads Self Inflating Ultralight Apollo air
If you are looking for the perfect camping companion to keep you comfortable and relaxed during your outdoor adventures, look no further than Gear Doctors Camping Pads' Self-Inflating Ultralight Apollo air!
This inflatable sleeping pad is designed as an ideal sleeping companion for all kinds of campers. The specialized thermo-insulation 4.3 R-value foam ensures a firm yet comfortable night's sleep - regardless of how lumpy the ground may be.
What's even better? This little pack comes in at only 2.2 lbs and 8 x 12 inches when deflated and expands to 72 inches x 22 inches x 1.5 inches once inflated! You no longer have to worry about lugging around bulky sleeping pads or taking up valuable trunk space. This self-inflating pad fits easily into your backpack while providing a perfect cushioning layer between your body and the hard ground below.
And setting it up couldn't be simpler - twist the valve open and watch as air magically fills up the pack's empty cells!
With its water-resistant, UV ray-resistant outer coat, this pad won't pick up mold or mildew - staying clean, so you can experience the outdoors without worrying about bringing home extra dirt or bacteria from your camping adventure.
Its hypoallergenic fabric is even kind on sensitive skin and will guarantee an allergy-free sleep time under the stars! Get ready to enjoy peaceful nights with Gear Doctors Camping Pads' Self-Inflating Ultralight Apollo air and make every camping trip special!
---
9. Emergency Survival Kit and First Aid Kit, 142Pcs
Are you an outdoor enthusiast needing trustworthy companions on all your adventures? LUXMOM believes pursuing fun and exploration should never be compromised by fear of risk.
That's why they have developed the Emergency Survival and First Aid Kit – a 142-piece combination of life-saving tools and injury preventatives that ensures you are both safe and ready for anything!
This kit was custom designed with the help of professional survivalists and first aid practitioners, providing the most comprehensive protection possible while covering any outdoor activity imaginable - from camping, car camping, car travel, and climbing to fishing.
No matter where your journey takes you, LUXMOM will be there with you, ensuring proper safety precautions are taken so you can confidently adventure.
This kit is constructed to meet emergency needs and includes 21 multi-purpose survival tools such as nail clippers, LED lights, emery boards, and scissors. It also contains 106 first aid items such as bandages, medical tape, gauze pads, and wound cleaning supplies – perfect for firefighters, first response personnel, or anyone working in hazardous environments.
And don't worry if you feel peckish; our kit also offers a fishing toolset so that the wilderness provides sustenance!
From exploring a new mountain trail to paddling down a fast river-rapid – keep LUXMOM by your side for all your outdoor recreational activities!
---
10. überleben Zünden Fire Starter
With the überleben Zünden Fire Starter, lighting a fire has never been easier or more stylish!
This Ferro rod is as timeless and classic as the fire that it helps create. Crafted from the signature Sånft-korr ferrocerium blend, you can depend on its softness and durability no matter what altitude or weather you find yourself in - even if it's wet!
The handle of the fire starter is crafted entirely of premium hardwood for a comfortable, natural grip.
Plus, it comes with an included multi-tool that serves as a striker for your sparks and also consists of a tinder scraper, map scale, ruler, hex wrench…and bonus - a bottle opener!
Whether camping outdoors or throwing together a cozy outdoor gathering with friends, überleben Zünden Fire Starter is there to help make sparks fly! Light your fire naturally in style with überleben.
---
11. SABRE Frontiersman 9.2 oz. Bear Spray
Are you looking for extra protection on your outdoor adventures? Look no further than SABRE Frontiersman 9.2 oz. Bear Spray! This potent formula is trusted and backed by an industry-exclusive in-house HPLC lab, guaranteeing maximum strength with EPA required range of 1.0-2.0% Major Capsaicinoids (MC) at 2.0%.
That's not all – it sprays up to 50% further than competitors! With a spray range of 35 ft, you will have more reaction time when faced with an unfortunate encounter - up to 10 ft further than competitors! And each burst provides an excellent protective barrier with up to 84% more power than competitor models.
Safety is also crucial – the quick draw belt or chest holster is designed to provide easy and silent access in an emergency, allowing you peace of mind while exploring the outdoors!
So don't take any chances - invest in SABRE Frontiersman 9.2 oz. Bear Spray and feel safer and more secure on your next adventure!
---
12. Advanced Elements Summer Shower
Summer days just got a whole lot more enjoyable with the Advanced Elements 5-gallon Summer Shower. It's perfect for showering off after a dip in the lake or getting clean on an outdoor camping trip.
This durable 4-ply construction has a reflector panel and insulator panel for maximum heat retention, so it heats up fast—reaching temperatures of up to 110°F in under 3 hours with direct sunlight.
The temperature gauge is easy to read, so you can always know when your shower is warm and ready.
The integrated toiletry pouch is excellent for stashing essential items like razors, mirrors, or small shampoo bottles while relaxing outdoors under the summer sun.
On your next outdoor getaway, don't forget to pack this summer shower kit for a truly unforgettable experience!
---
13. Gas One GS-3400P Propane or Butane Dual Fuel Stove
Form and function come together with the Gas One GS-3400P Propane or Butane Stove!
With dual fuel compatibility, you can use propane and butane for convenient cooking, no matter where you are. The propane converter regulator allows you to switch from one type of fuel to the other easily.
You'll never worry about running out of fuel—switch fuels when one type runs low! For added convenience, this camper stove features automatic Piezo electric ignition that eliminates the need for lighters or matches when starting a flame.
Plus, it has safety features to be confident while cooking outdoors. Adjustable heat dials make this stove easy to use, so you don't have to be a master chef to whip up delicious meals!
Make cooking outdoors more convenient with the Gas One Propane or Butane Camper Stove!
---
14. MalloMe Camping Cookware Mess Kit for Backpacking
No matter where your adventures take you, the MalloMe Camping Mess Kit will come in handy!
This 10-piece cooking set is designed with the highest quality, non-toxic anodized aluminum and is perfect for outdoor cooking.
MalloMe made sure that this cook set will last no matter how rugged the terrain maybe - it's survival gear built to last! The entire set even collapses into a small bundle that fits comfortably in your backpack, so you can take it wherever you go without worrying about taking up too much space.
Whether you're setting up camp after a long hike or simply looking to enjoy a delicious meal outdoors, this camping mess kit has everything you need in one convenient place.
With a pot and cover, a nonstick pan, two bowls, and a foldable stainless steel spork and wooden spoon spatula, this camping mess kit makes creating meals in the great outdoors effortless.
And when it's time to clean up, MalloMe includes a cleaning sponge to ensure your cookware looks new.
Finally, everything comes in an included nylon travel bag drawstring pouch to keep it all together - what more could you ask for?
Start your outdoor culinary journey with MalloMe's Camping Cookware Mess Kit today!
---
15. Jetboil Flash Camping and Backpacking Stove Cooking System
The Jetboil Flash Camping Kettle and Backpacking Stove Cooking System is a must-have for today's nature-loving adventurer.
This stove cooking system utilizes FluxRing technology to optimize energy efficiency, boiling water in just 100 seconds – the fastest of any Jetboil yet! It's easy to start heating instantly with its reliable push-button igniter, and you can check the boiling status on the thermochromatic color-change heat indicator.
Not only that, but this lightweight (13.1 ounces) and compact stove also comes with a fuel canister stabilizer and other convenience features, such as a bottom cup that doubles as a measuring cup or bowl – ideal for anyone who loves being outdoors.
The Jetboil Flash Cooking System is also compatible with multiple accessories such as a coffee press, hanging kit, pot support, skillet, Fluxring cooking pot, and utensils, so you have all you need to prepare delicious meals while camping or backpacking – from morning coffee to a hot dinner!
Finished off with a one-year limited warranty for complete peace of mind, what's not to love about this incredible gear?!
Get ready for your next outdoor adventure; take the Jetboil Flash Cooking System for an unforgettable experience!
---
16. Etsfmoa Unisex Beanie Hat with The Light
When winter's chill sets in, it's time for the Etsfmoa Unisex Beanie Hat with The Light!
Made from a luxuriously soft acrylic blend, this one-size-fits-all beanie is your perfect chill clobber. Complete with an innovative LED lighting system offering three adjustable brightness settings, you'll never be without light again.
Whether you're power walking on a starry winter night or taking a midnight stroll under lantern skies, make sure to stay warm and well-lit at the same time with the Etsfmoa Unisex Beanie Hat with The Light! The hat comes with four bulbs to brighten up any outdoor activity.
Lasting an impressive 8 hours on a single charge, your beanie comes with an easily removable LED which can be charged via USB port - even powering up as you're on the go in your car! It's also incredibly lightweight and washable - so you don't have to worry about crunchy tangles after machine washing.
Whether you buy it for yourself or as a thoughtful gift for someone special - the Etsfmoa Unisex Beanie Hat with The Light is unmissable!
So gear up for winter and ensure all your adventures stay bright and beautiful no matter what time of day. Get yours today!
---
17. SUPRUS Electric Lighter
When you're looking for an electric lighter that could work in any situation, the SUPRUS Lighter Electric Lighter Candle Lighter USB Type C is a perfect choice!
This innovative lighter has been tested and certified with CE, RoHS, and UL safety options to give you peace of mind knowing it's a high-quality product.
With its unique safety switch feature and 6-second igniting spark per start-up, you'll be able to depend on this rechargeable lighter when you need it the most.
It's also wind and splashproof – so no matter how challenging your outdoor activities are, this flexible lighter will always be ready by your side! And with its real-time battery volume display, you'll know exactly when to recharge!
So if you need a reliable lighting source without carrying around an open flame or using hazardous butane gas lighters, choose the SUPRUS Lighter Electric Lighter Candle USB Type C!
Whether it's camping trips or just a romantic dinner with your special someone – make sure that special moments aren't ruined due to bad lighting – add this fantastic tool to your stockpiles today!
---
18. GearLight Flashlight 2pk
With the GearLight Flashlight 2pk, you'll be ready for anything, whether you're out in the wild or just looking for extra light around the house.
These flashlights are made from military-grade aluminum, making them virtually indestructible and water-resistant. They have enough power to light up an entire room and narrow beams for more focused lighting when you need it.
But the best part is how compact they are; easily slide them into your pocket or purse so that when you're on your next outdoor adventure, you can keep one close by. With (2) S1000 LED Tactical Flashlights, (2) AAA Battery Holders, (2) Battery Tubes, (2) Hand Straps, (2) Holder Cases [Bonus Accessory], (1) Operation Guide, and (1) Warranty Card included in each 2pk set, you'll have a dependable light source wherever you go!
Get your GearLight gear now and make sure you're always prepared - because outdoors isn't just a hobby; it's an adventure waiting to happen!
---
19. Guide Gear Club Camping Chair
Cozy up your camping experience with the Guide Gear Heavy Duty Camping Chair! Enjoy all the outdoor activities without a worry of comfort. This oversized chair has extensive padding to keep you as comfy as possible.
With a 500lb weight capacity and steel frame structure, this heavy-duty camping chair is designed to last.
Plus, it features an ultra-convenient and portable design that allows you to fold it into a stash-and-go size.
Crafted with durable 600-denier polyester and water-resistant coating, this chair is ready for any adventure.
Also included are a cup holder and mesh pocket to store your drinks, snacks, and cherished accessories -all in one chair!
Leave some room in your adventure backpack for the Guide Gear Club Camping Chair -you won't regret it!
---
20. DOWN UNDER Large Waterproof Windproof Quilted Fleece Blanket
Is the winter weather getting you down? DOWN UNDER OUTDOORS' Large Quilted Fleece Blanket has got you covered!
Whether you're enjoying outdoor sports with your kids, a day at the beach, or a night at the campsite, our blanket keeps you warm and dry.
Features include tough black water, wind-resistant polyester backing, and soft 350 gsm anti-pill fleece material that gives you an incredibly cozy feeling. At the same time, its subtle green checks offer a pleasant design touch.
And in this age of security, know that your keys are taken care of with our conveniently integrated weatherproof pocket.
A promise of quality craftsmanship backs this blanket, as it is Australian and designed with integrity.
So whatever your plans may be, bring along Down Under Outdoors' Large Quilted Fleece Blankets – so that wherever you go, warmth is guaranteed!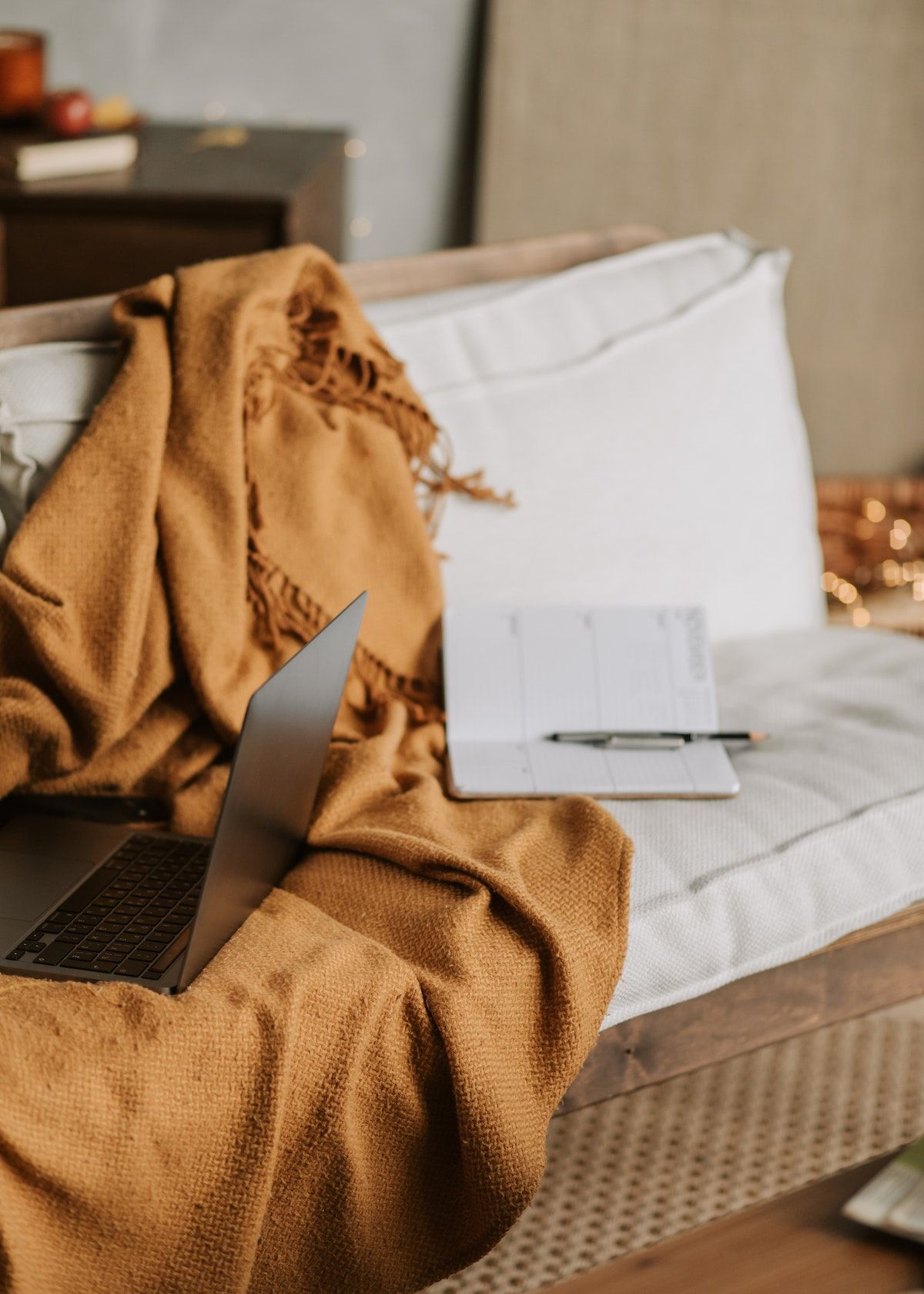 ---
21. GSI Outdoors Percolator Coffee Pot
Are you looking for a way to stay energized while camping or relaxing at home? Look no further - the GSI Outdoors Percolator Coffee Pot is here! With a classic, handsome speckled enamel finish and heavy-gauge steel construction, this stylish pot can withstand scratches and chipping - making it a durable yet fashionable choice.
Its unique three-ply construction maximizes heat distribution for quick and easy brewing. Watch as the unbreakable resin cap lets you peek inside while your coffee brews.
Enjoy a wonderful morning experience with the GSI Outdoors Percolator Coffee Pot!
What's more? GSI Outdoors believes in lasting quality, so they warranty all their products according to their original owner against any manufacturing defects for a lifetime.
Get your hands on this fantastic coffee pot today and enjoy caffeinated bliss for years!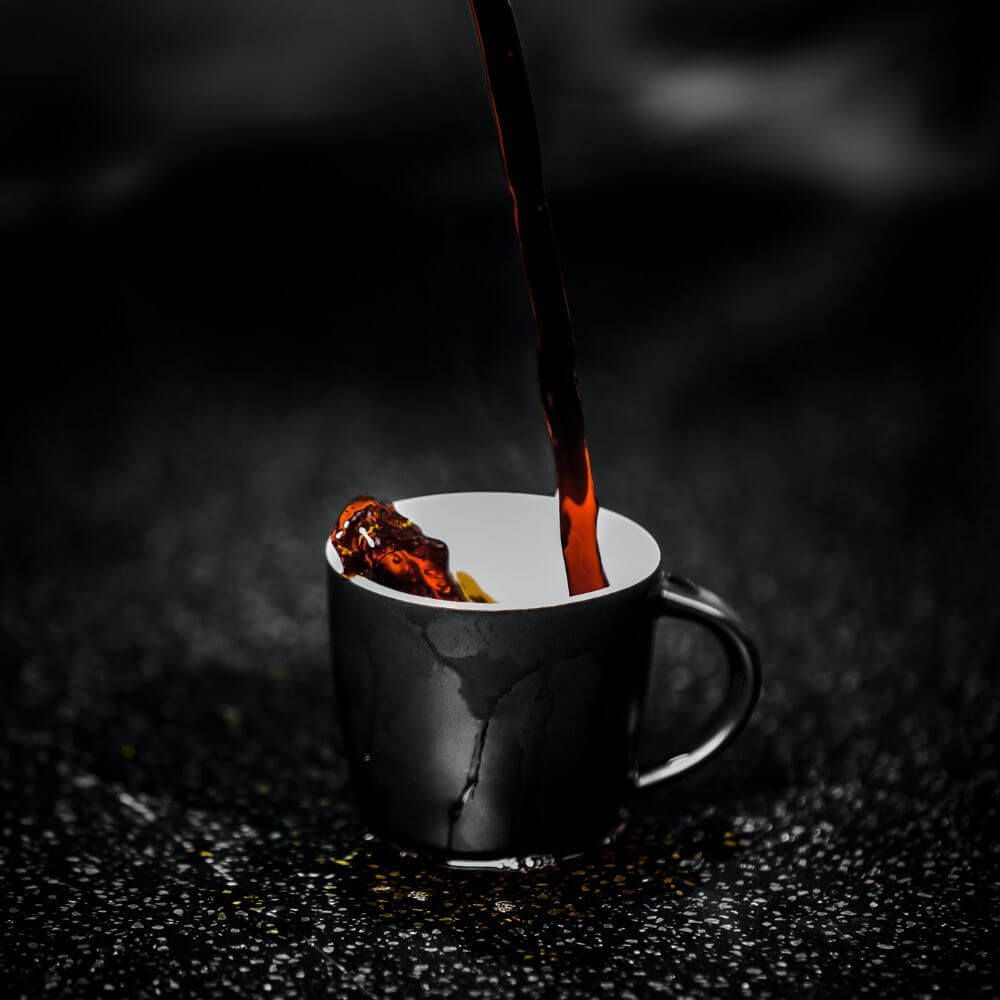 ---
22. Wise Owl Outfitters Camping Hammock
Ready to enjoy the wonders of nature? We've got you covered! The Wise Owl Outfitters Camping Hammock is the perfect way to stay comfortable during your next camping, hiking, or beach trip.
Crafted from high-quality parachute nylon and triple interlocking stitching, our hammock is ultra-soft yet strong. It is designed for easy setup when it comes to your nature adventure.
Plus, it's lightweight and compact: weighing in at only 24oz and folding up to the size of an eggplant for fuss-free transport.
This camping hammock comes with strong carabiners that fit most trees so you can relax – pick your favorite outdoor spot, hang and let yourself drift off into blissful relaxation while taking in all that incredible natural beauty around you.
Whether you're relaxing by a bonfire, sleeping under the stars, or adding some ambiance to your backyard & patio, whoever said Christmas campouts were overrated never tried our Wise Owl Outfitters Camping Hammock.
So go ahead – set up shop anywhere and enjoy the coziness of being outdoors without sacrificing any luxury or comfort this winter season!
---
23. LuminAID PackLite Max 2-in-1 Camping Lantern and Phone Charger
With the LuminAID PackLite Max 2-in-1, you'll get all the benefits of a reliable solar camp lighting lantern and much more! The perfect companion for any adventure, this extra bright LED solar lantern and phone charger is lightweight, inflatable, and amazingly portable.
On top of that, it offers multiple features to ensure your outdoor time is maximized.
Turbo mode ensures an extra light boost for those long days you need it most. When it's time to recharge your devices, the 2.1 Amp output port will hook you up in no time!
And with its built-in 2000 mAh lithium-ion battery, you're sure to get plenty of use out of this device. With a long battery life that provides approximately 50 hours of light on Low mode when fully charged - plus 4 additional brightness settings - it's simply unbeatable for outdoor recreation and other adventures.
As if that wasn't enough, this incredible solar lantern is also waterproof\shatterproof and highly durable – no matter what kind of terrain or weather comes your way!
Plus, with its lightweight and collapsible design, you won't have trouble taking it anywhere – or storing it away when not in use.
Get ready for the great outdoors: let LuminAID PackLite Max make your bohemian dreams come true at last!
---
24. Terrain Heated Camping Chair - 9 hrs of Heat
Enjoy campfire-like warmth with the Terrain Heated Camping Chair! Relax in comfort when camping, tailgating, or watching the sunset with this lightweight and portable chair.
With up to nine hours of battery life across three heat settings, you have complete control over your cozy experience. Quickly set it up, take it down by yourself, and store it conveniently in its carrying case, making transport a breeze!
A built-in cup holder ensures you won't spill your drink while snuggling up to stay warm. Whether you're enjoying time outside with family or friends, the Terrain Heated Camping Chair will make you feel right at home under the stars.
Don't wait - get yours today and discover a new level of camping comfort!
---
25. VEITORLD Survival Gear and Equipment 12 in 1
Make sure you're prepared for any outdoor adventure with VEITORLD Survival Gear and Equipment 12 in 1!
This must-have cool camping gear kit contains emergency essentials like a wire saw, water bottle clip, emergency blanket, flint stone scraper, flashlight, multi-use spoon fork, and waterproof box.
It's perfect for keeping you safe on all your hikes, camping trips, fishing expeditions, and more!
Plus, it makes the perfect Christmas gift or stocking stuffer for those interested in adventuring outdoors. Featuring high-quality and reliable materials that won't disappoint you in an emergency, customer satisfaction is guaranteed.
Shop this essential range of survival gear today and ensure you're ready for whatever nature throws you!
---
26. Adventure Seeka Heavy Duty 24" Folding Campfire Grill
Are you ready for the adventure of a lifetime? The Adventure Seeka Heavy Duty 24" Folding Campfire Grill is here to help you embark on the journey of your dreams.
This high-quality coated steel camping grill has been designed to give you maximum cooking power in minimal space.
Its innovative folding design won't take up much room in your loaded vehicle, so you can get as many supplies as possible while still having fantastic grilling capabilities!
The generous size of this barbecue gives you plenty of versatility - you can even use it as a camp stove toaster. You'll have a 24-inch x 12-inch cooking surface plus 9 inches height, perfect for campgrounds or outdoor exploring.
The cleverly designed griddle and grill grate combo mean you can use hot coals, a small open flame fire, or a fire pit for good hot meals – no tools required!
All you have to do is unfold the legs and stand it up; so easy! And that's not all – there is guaranteed satisfaction with every purchase.
So don't wait any longer; get your Adventure Seeka Heavy Duty 24" Folding Campfire Grill today and make delicious memories with friends and family!
---
27. Kelty Low-Love Seat Camping Chair
Get ready to kick back, relax and love the outdoors with the Kelty Low-Love Seat Camping Chair!
This Double camping chair is the perfect way to enjoy any outdoor adventure. Crafted with a supportive steel frame and cushioned, insulated 600D polyester fabric for ultimate comfort, this chair is sturdy and durable.
Ready for two (with room for the pup!), you won't have to worry about fitting in this seat - there are 42 inches of it!
Plus, adjustable armrests with insulated beverage holders make it easy to keep your favorite snacks close by.
So whether you're at home or camping in the wilderness, get cozy in the loveseat that looks great and can hold up to 500 lbs. - talk about lasting!
Get ready to unwind, rest easy, and chill out - wherever you are.
---
28. Klymit Drift Camping Pillow
At the end of a long day in the outdoors, you need comfort and support for a good night's sleep.
With the Klymit Drift Camping Pillow, you'll get just that. Crafted from 95% polyester and 5% cotton, this pillow offers superior durability and outdoors-friendly flexibility.
The reversible shell easily transitions from a compact travel shape to a soft sleep surface, while the water-resistant outer shell ensures easy cleaning.
And because your comfort is paramount, the inner pillowcase is crafted from soft Jersey cotton to promote sound sleep.
But that's not all – this backpacking pillow is designed explicitly with shredded foam for an adjustable balance of support and comfort that even rivals your at-home pillows!
Lightweight and super-compact for effortless packing, the Klymit Drift Camping Pillow provides sweet dreams for anyone who loves spending time in nature without sacrificing quality sleep.
---
29. Wearable Sleeping Bag with Arm Zipper Holes
Have you ever wanted the comfort and security of your sleeping bag wherever you go? Now, with Sportneer's Wearable Sleeping Bag with Arm Zipper Holes, it's possible!
With a 3" width larger than most sleeping bags, you can stay cozy and comfortable all day long. Just unzip the bottom to move around; perfect for camping!
After a long day of outdoor activities or travel, nothing beats the heavenly sleep in our sleeping bag. Packed with breathable hollow cotton stuffing, this cool camping gadget sleeping bag will keep you warm even when temperatures dip as low as 20 degrees Celsius.
And don't worry - rain or snow, this durable and weather-resistant material will keep out anything nature throws at it. Yet still lightweight enough to be easily portable so that adventure doesn't need to end!
So why wait? Take your sleeping bag everywhere with the Sportneer Wearable XL Sleeping Bag with Arm Zipper Holes - enjoy the luxuries of being cuddled up in your cozy cocoon all day long!
---
30. CARPATHEN Campfire Sticks for Marshmallows and Hot Dogs
Get ready for outdoor fun with CARPATHEN Campfire Sticks! These telescoping marshmallows and hot dog roasting sticks make the perfect addition to your collection of camping supplies.
With their unique extendable design that moves from 10 inches when in its storage state to 34 inches when fully extended, you'll always have a safe distance between you and the campfire.
Plus, unlike other smores skewers, these sticks are free from any color paint risk, so you can feel confident using them around kids.
Enjoy 6 traditional wood handles sparkled up with 6 different vibrant colors rings and tip protectors for extra safety.
You'll also get a FREE canvas pouch for tote-ing around your campfire sticks and a handy Roasting Guide eBook full of fantastic cooking recipes – so much tasty fun awaits!
Get ready to enjoy the undeniable pleasure of roasting marshmallows and hot dogs on crisp summer nights this season with CARPATHEN Campfire Sticks!
---
Camping gadgets FAQ:
Camping is a lot of fun, but it can also be confusing regarding what gear to buy.
It's hard enough to figure out what essential camping gear you need without having to worry about whether or not the gadgets you're buying are any good.
Not to worry! We've put together a list of the most Frequently Asked Questions about camping essentials and gadgets so that you can make your next purchase with total and complete confidence.
---
Order Your Favorite Camping Gadget Today!
We hope you found our selection of cool camping gadgets helpful in deciding which one to buy.
Happy shopping. Each product has a button below it for prices and more reviews, so tap away and find the perfect gadget for your next camping trip.
---
Upgrade your camping gear with the latest and greatest outdoor products on the market – see them now👇!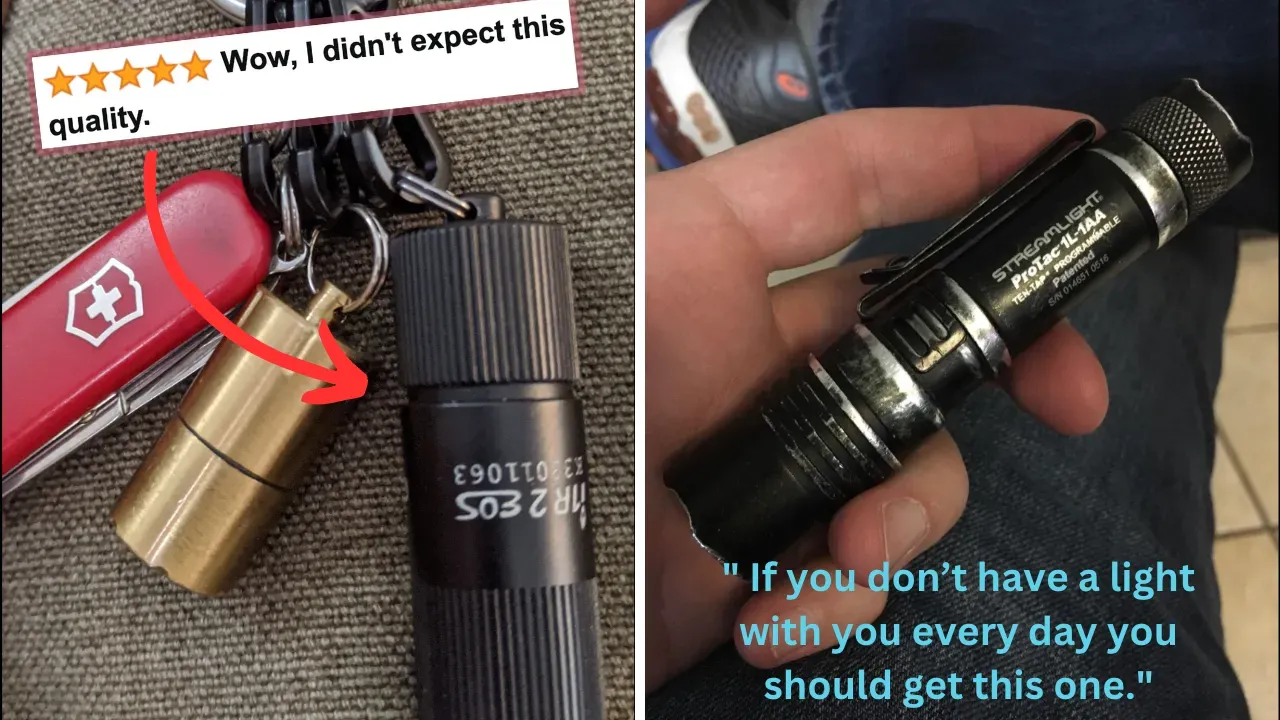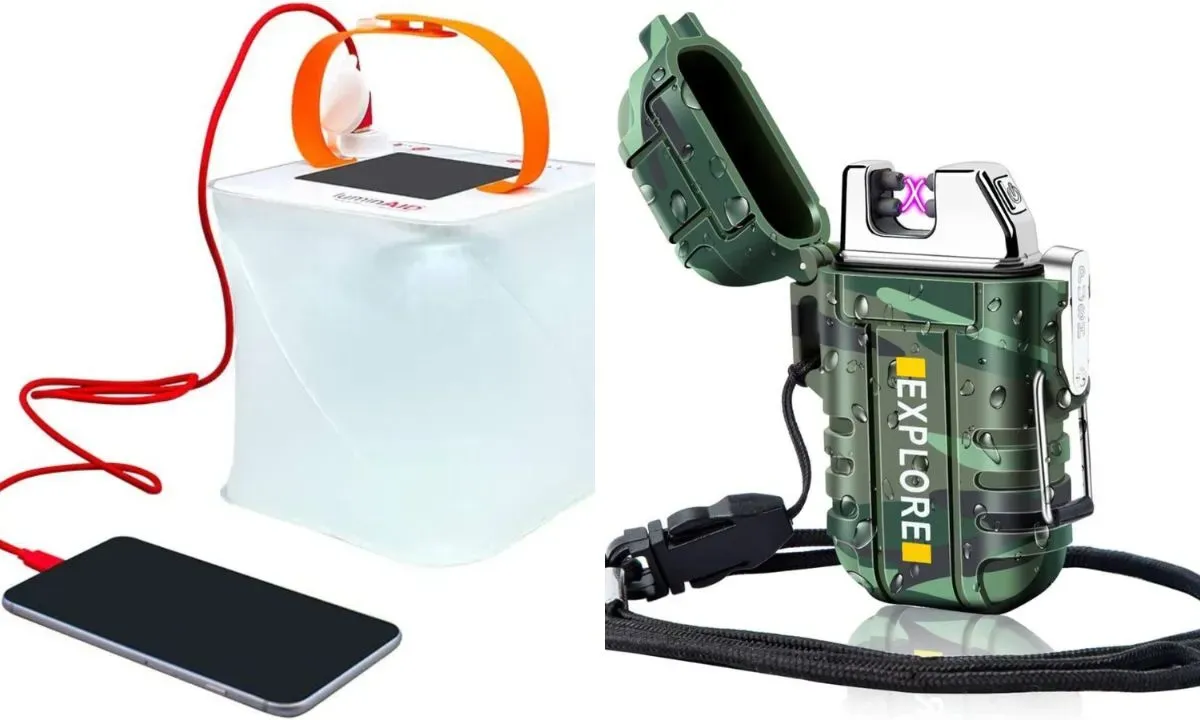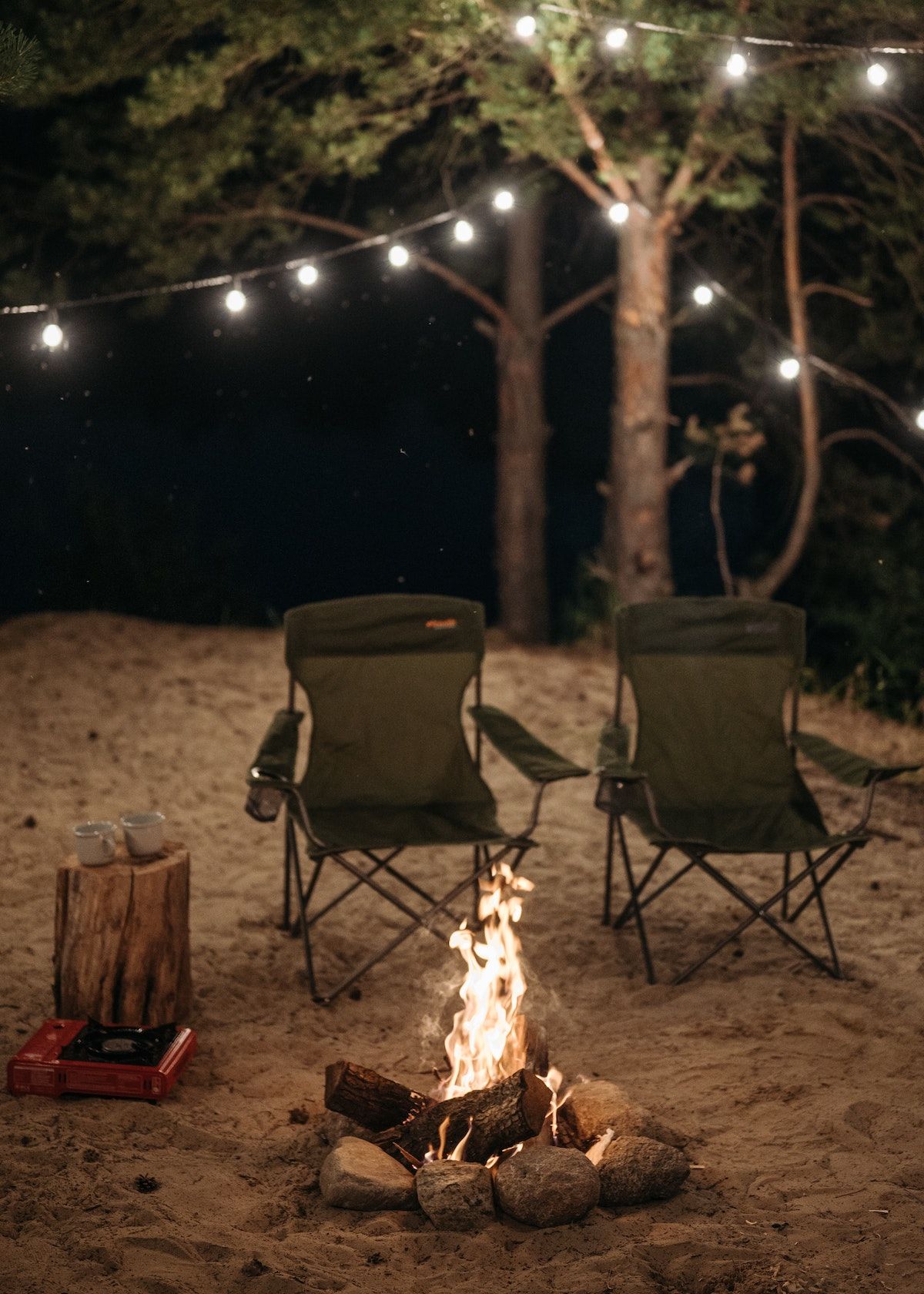 ---