Are you looking for a way to level up your pup's sleep game? If the answer is yes, have we got the thing for you—it's called a donut dog bed!
These cleverly designed beds give your furry friend even more comfort and cushiony snuggle than expected.
The cozy look of these circular beds adds an aesthetic charm to any corner of your house where they are placed.
And not to forget how stylish they make your pup look while cuddled up in them…With so many options on the market, choosing one can be baffling.
Not to worry, canine companions! We've come to cloud nine rescue by putting together five paw-some donut dog beds that will help keep all four legs firmly planted in dreamland night after night.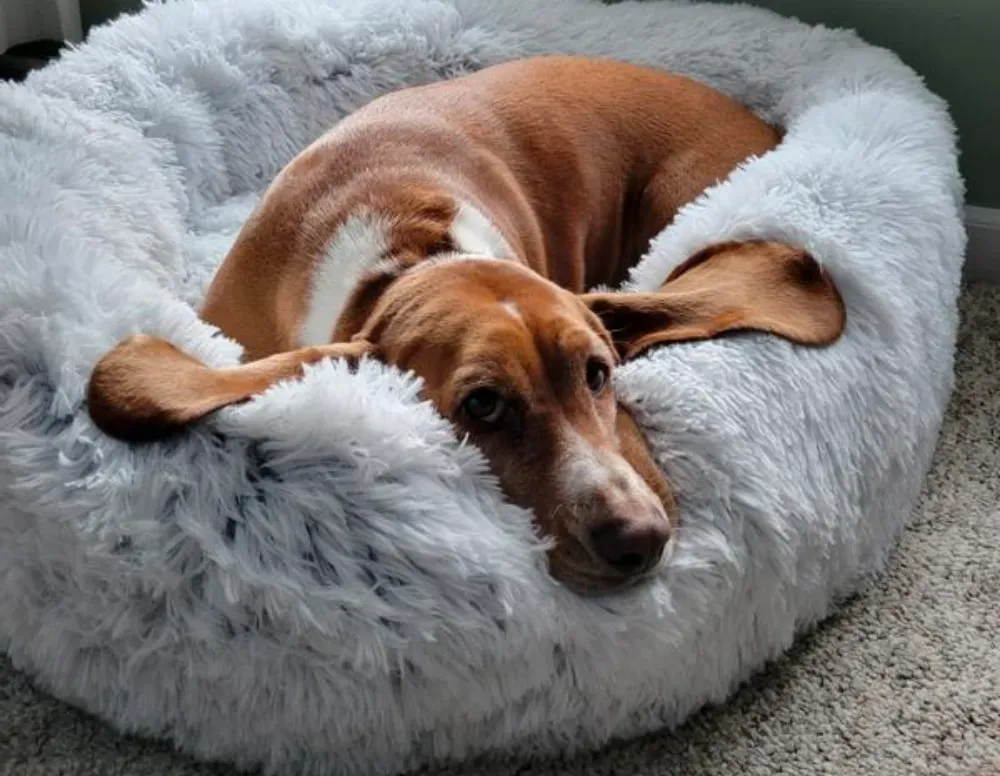 How We Choose The Best Donut Dog Bed
When selecting the top five donut dog beds, we focused on several critical factors to ensure our recommendations are the best in the market. We looked at comfort, durability, material quality, size options, and value for money. These factors played a significant role in determining which beds made it to our list because they directly impact your pet's overall experience with their new bed. Our goal is to help you find a bed that not only looks great but also provides optimal support and comfort for your furry friend.
---
1. Best Friends by Sheri The Original Calming Shag Fur Donut Cuddler Cat & Dog Bed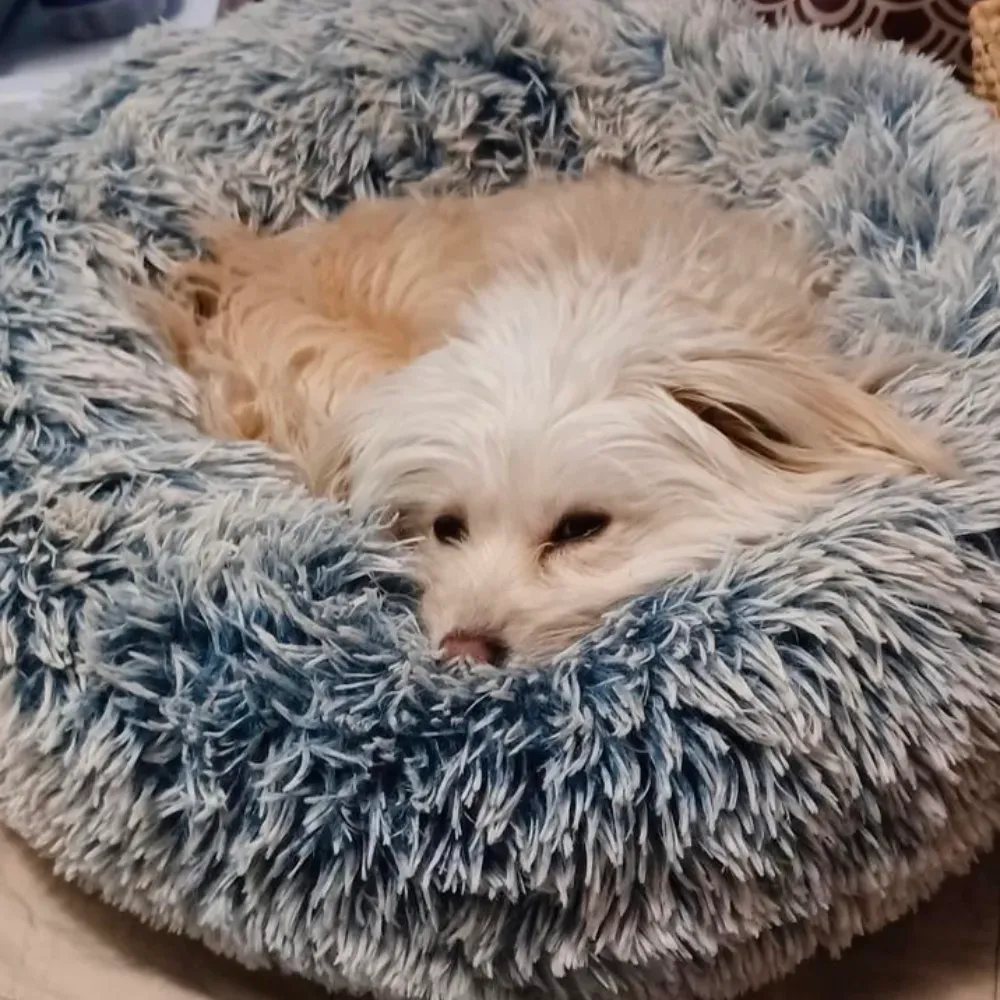 Best Friends by Sheri The Original Calming Shag Fur Donut Cuddler
Most Popular Donut Bed On Chewy
Check Price
Why We Love It!
The Best Friends by Sheri The Original Calming Shag Fur Donut Cuddler Cat & Dog Bed offers your furry friend the best in comfort and relaxation.
With its round design, your pet can curl up and snuggle for a good night of restful sleep.
Featuring a soft faux-shag material and a unique insulation layer, this self-warming dog bed radiates warmth from your pet's own body heat while offering comfortable relief from joint and muscle pain.
It also has raised edges that are perfect for burrowing, provide additional orthopedic support for older dogs, and serve as a comfortable headrest.
And with its water-resistant bottom, you won't have to worry about accidents damaging the floors.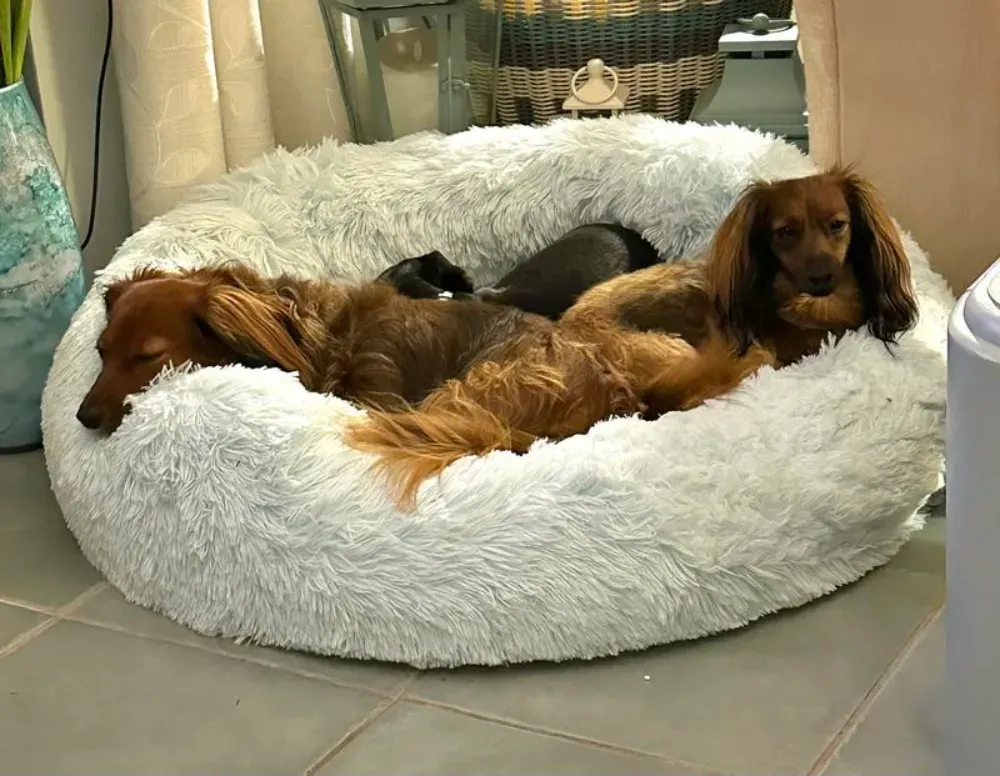 What You Should Know
This cozy bed has a removable cover, is machine washable, and is dryer-safe for your convenience, so cleaning it will be easy-breezy!
Available in eight colors - Taupe, Frost, Dusty rose, Baby blue, Cotton Candy, Dark chocolate, Denim, and Lavender - and four sizes – Small (23" x 23"), (Medium (30" x 30"), and Large (36" x 36"), X-Large (45" x 45"), perfect for large dogs!
This Luxury Shag Donut Self-Heating Pet Bed is the ultimate fur baby treat, helping them get the rest they need every single day!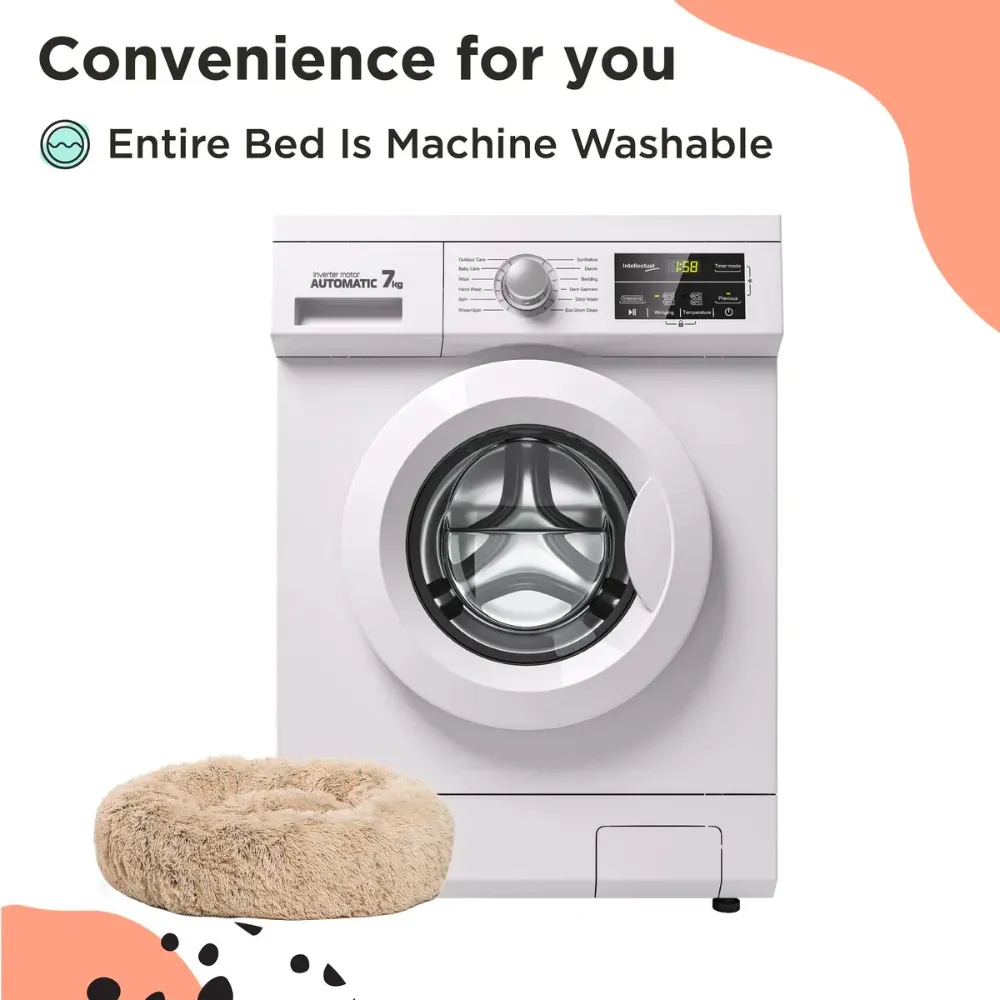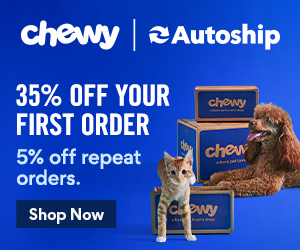 ---
2. Frisco Eyelash Cat & Dog Bolster Bed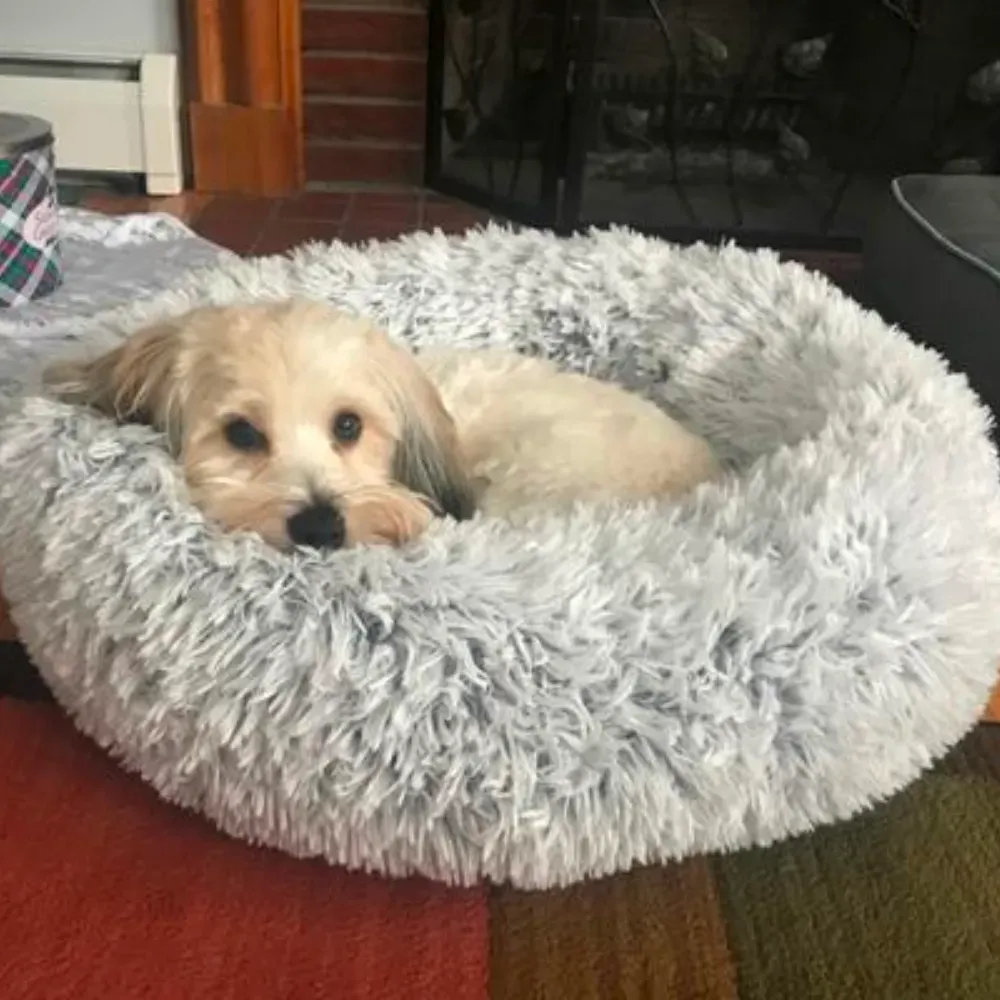 Frisco Eyelash Cat & Dog Bolster Bed
Most Recommended Donut Bed On Chewy
Check Price
Why We Love It
We can't get enough of the Frisco Eyelash Cat & Dog Bolster Bed! It's the perfect snuggly spot for your furry best friend, with extra soft long faux fur that will keep them nice and cozy.
The round design is ideal for pets who like to curl up in a ball, while the bolstered edges are a supportive yet soft spot for your pal to rest their furry head.
This chic bed has a removable and machine-washable cover, so keeping it clean is a cinch.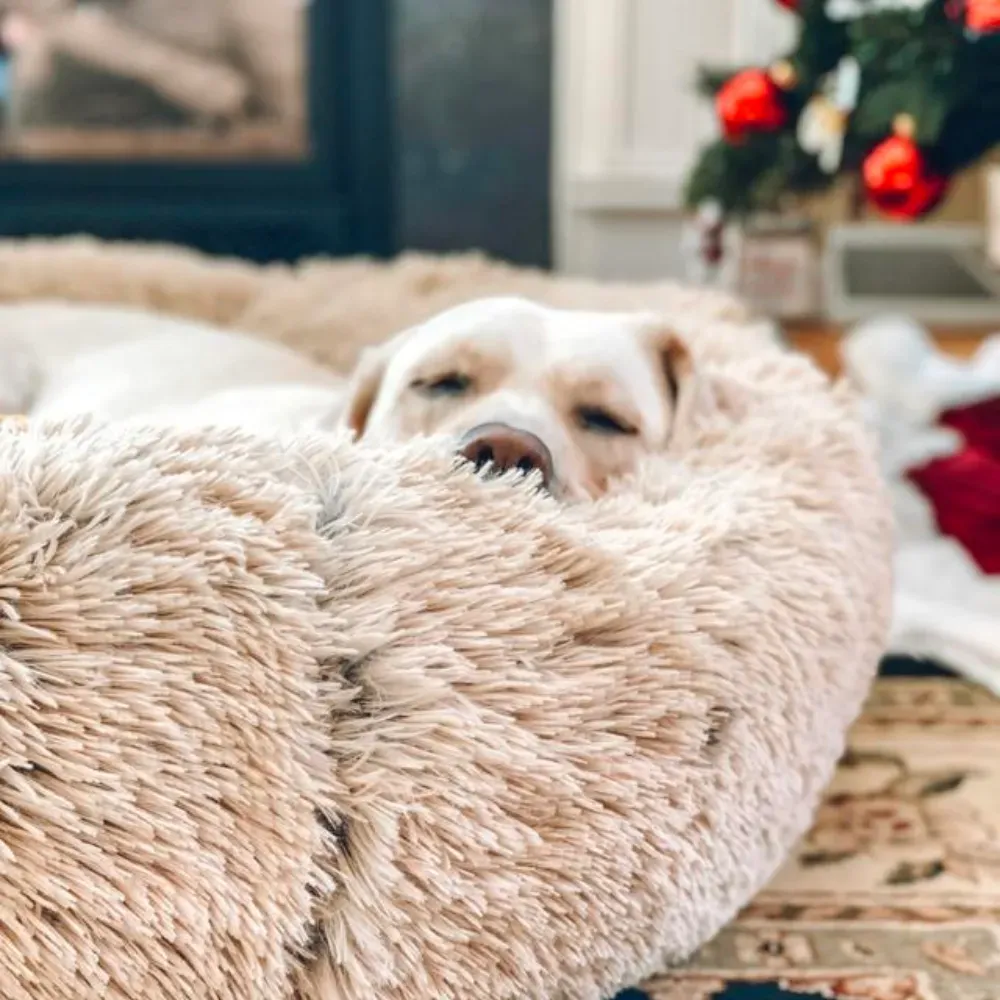 What You Should Know
The Frisco Eyelash Cat & Dog Bolster Bed is available in two neutral colors to match any décor and four sizes, so you can find one that's just right.
Plus, it's crafted to deliver more happy moments together—from cozy beds to sturdy toys to leakproof potty gear.
Designed, tested, and approved by Chewy pet experts, this bed will surely provide your furry friend with the ultimate comfort and support.
Get your very own Frisco Eyelash Cat & Dog Bolster Bed today!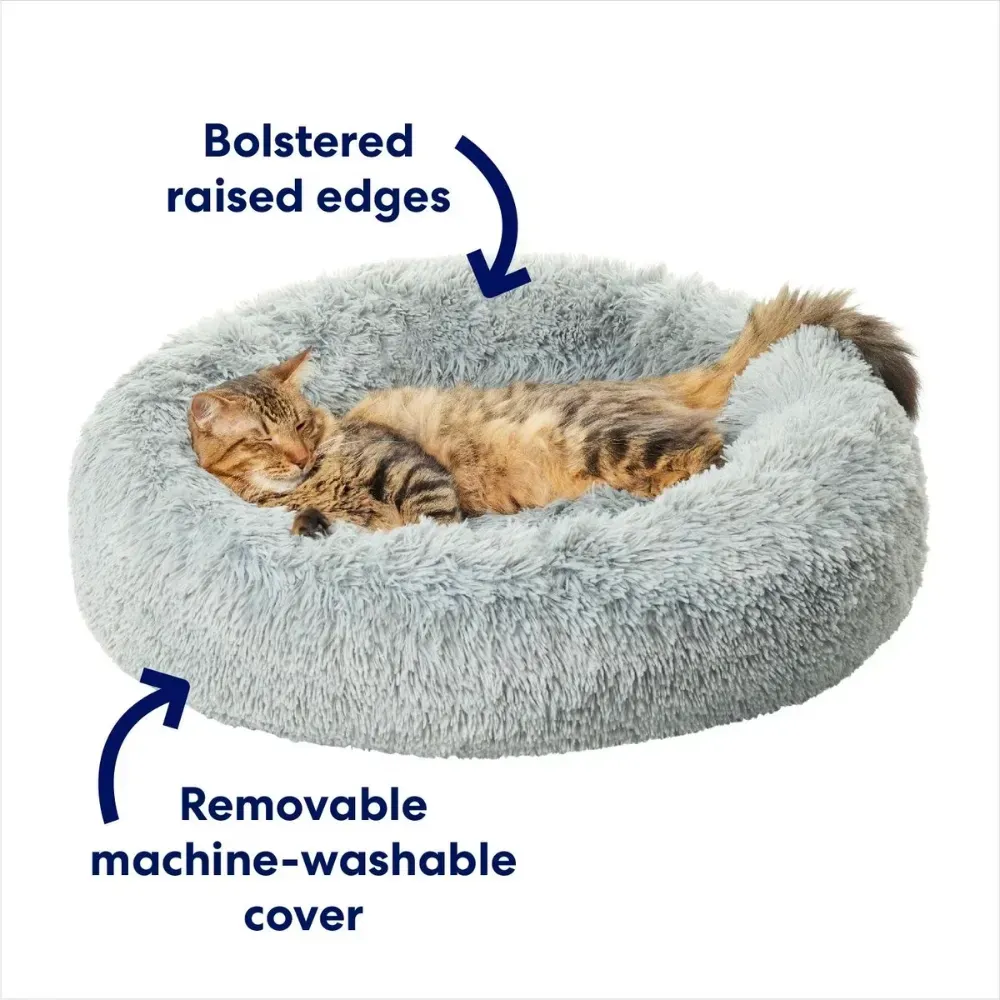 ---
3. FurHaven Calming Cuddler Long Fur Donut Bolster Dog Bed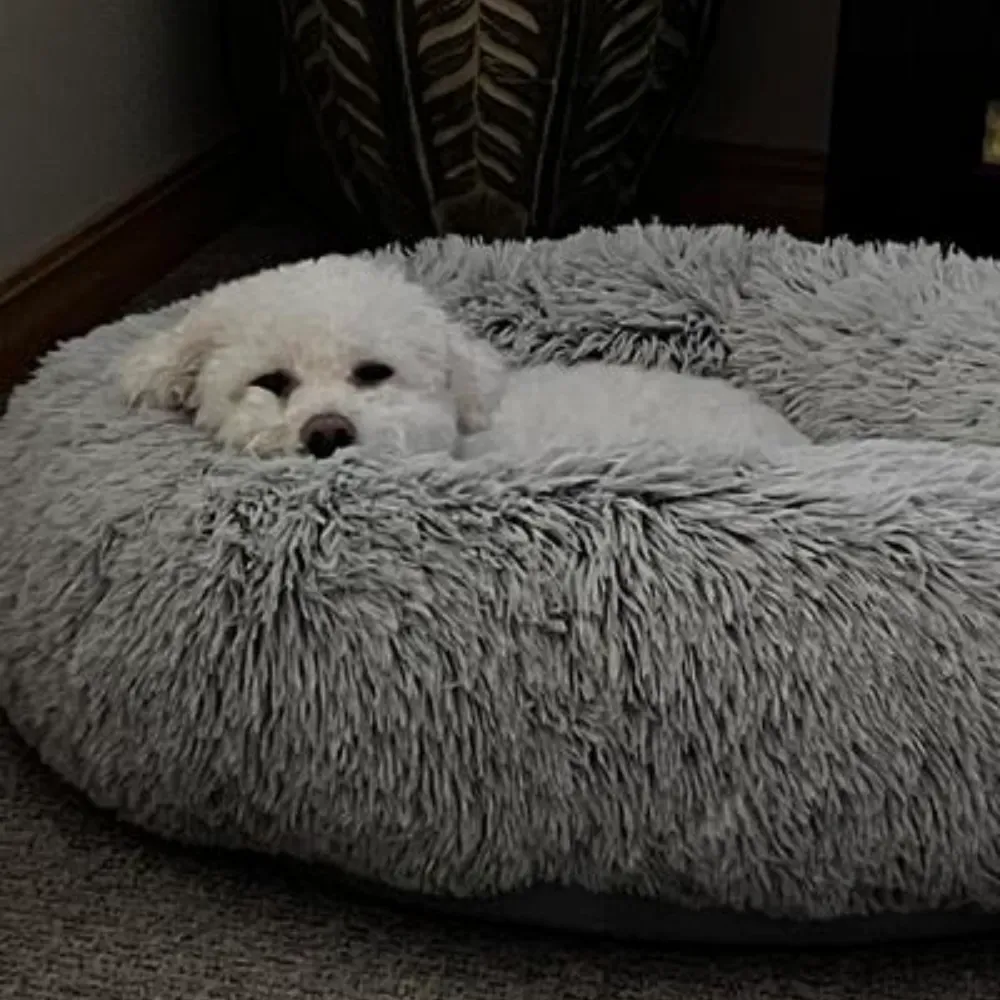 FurHaven Calming Cuddler Long Fur Donut Bolster Dog Bed
Best Calming Donut Bed For Anxious Dogs
Check Price
Why We Love It!
The FurHaven Calming Cuddler Long Fur Donut Bolster Dog Bed is the perfect place for your canine companion to rest and relax.
This high-quality donut-shaped pet bed features deep bolstered edges that create cozy pockets of extra warmth, perfect for nest-loving pups to curl up in.
The super-soft vegan fur provides a luxurious, inviting cuddle space that your pup will love while still being roomy enough for those who prefer to sprawl out or sleep with their bellies in the air.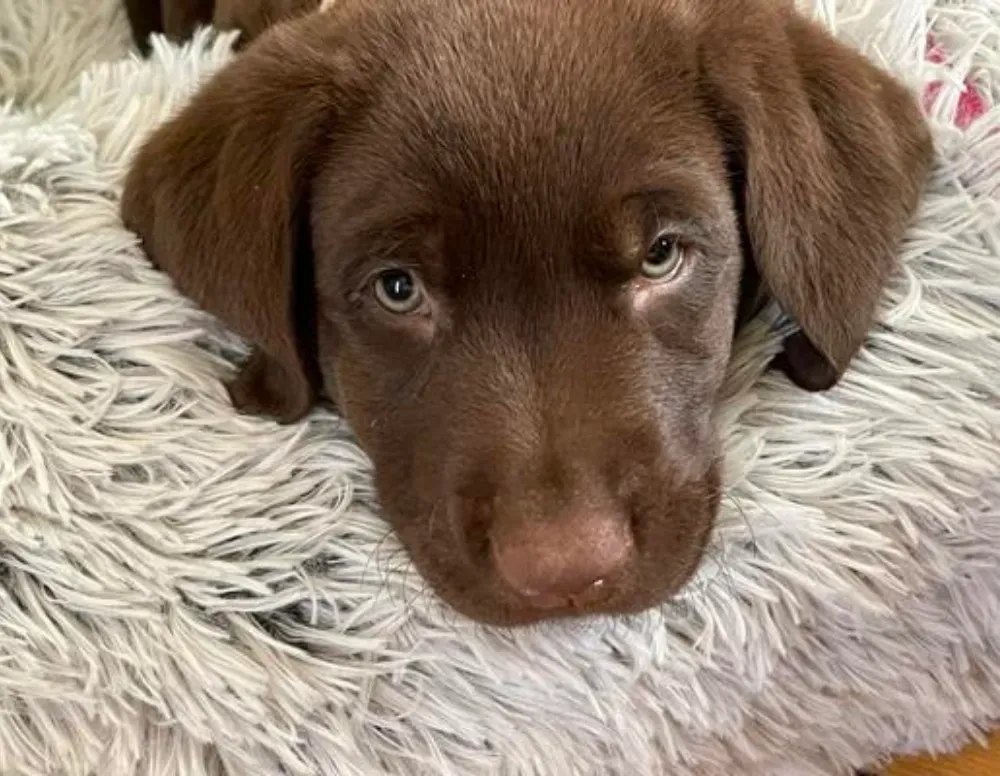 What You Should Know
This durable pet bed is completely washable, making it easy to keep clean and well-maintained.
But best of all, its deep-bolstered design can help calm anxiety and promote deeper, more restorative sleep in anxious, sensitive pets.
Give your beloved pup the tranquil sleep they deserve with the FurHaven Calming Cuddler Long Fur Donut Bolster Dog Bed.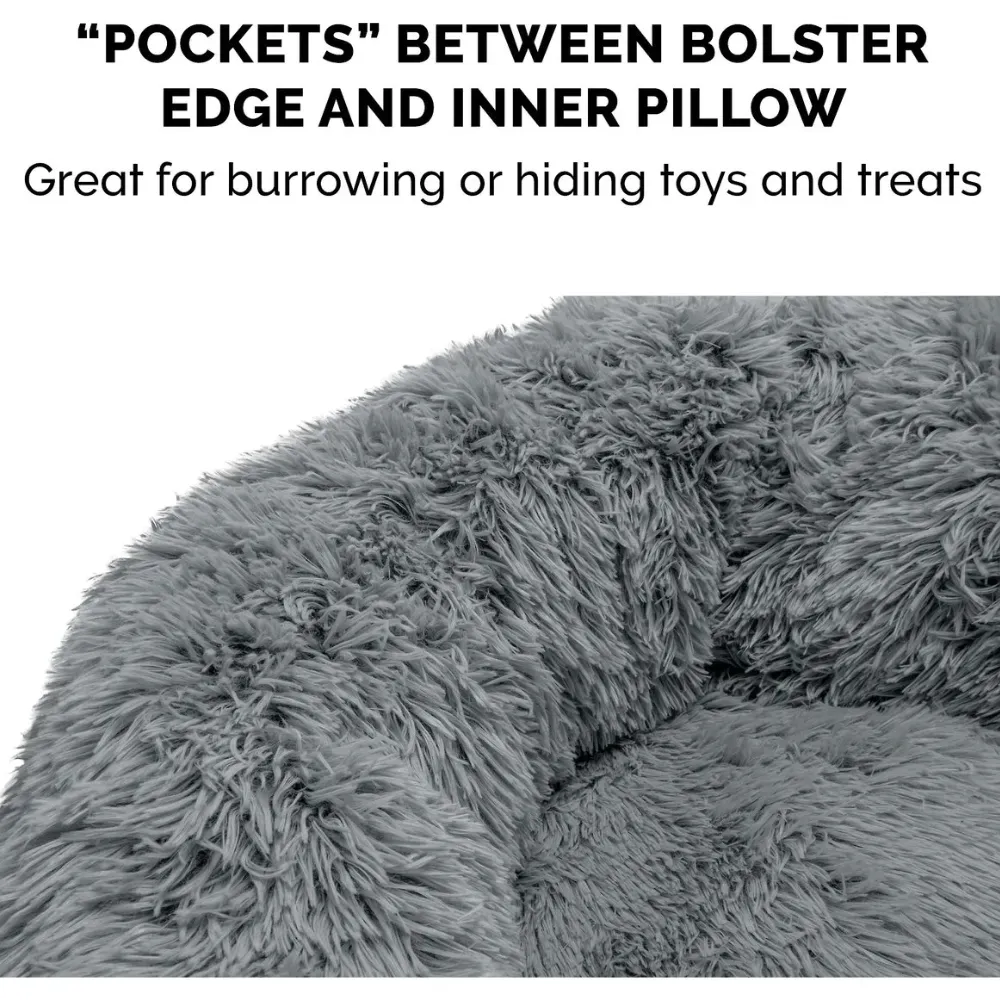 ---
4. Best Friends by Sheri The Original Calming Donut Dog Bed & Throw Dog Blanket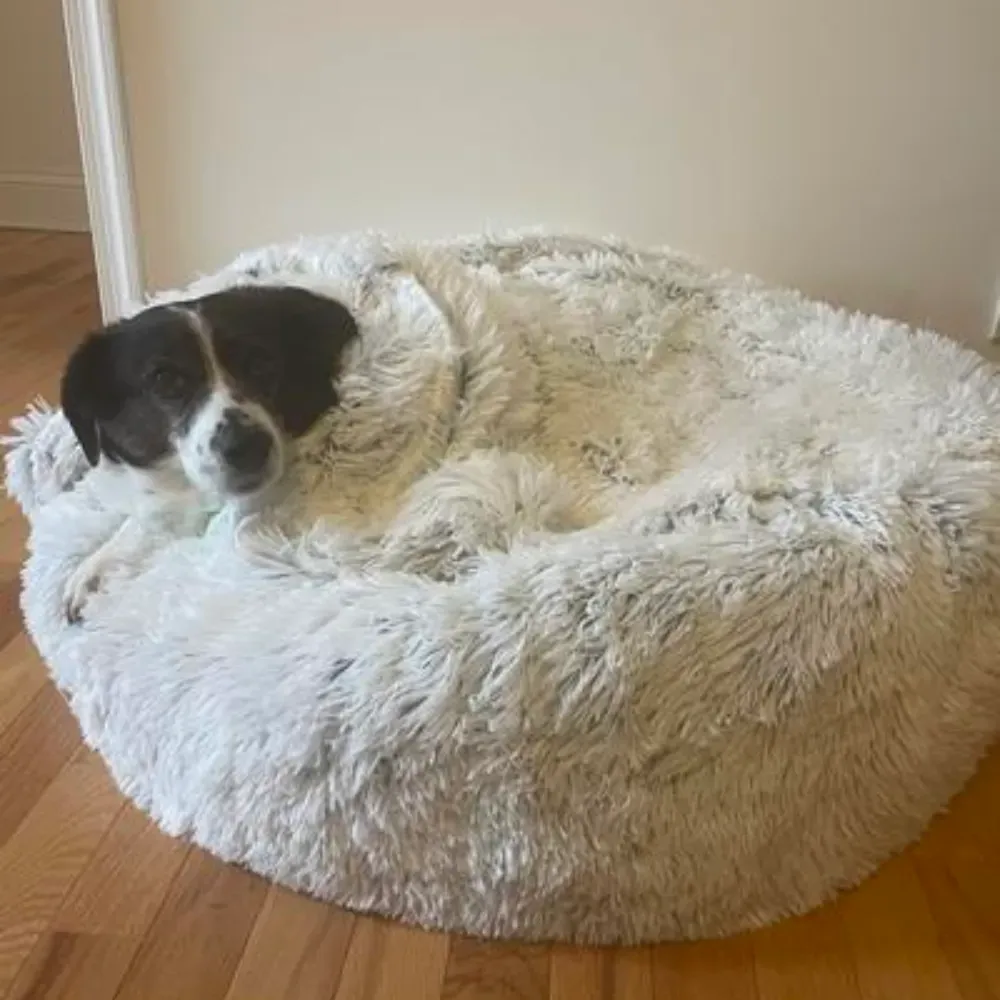 Best Friends by Sheri The Original Calming Donut Dog Bed & Throw Dog Blanket
Best Rated Donut Bed On Chewy
Check Price
Why We Love It!
Introducing the paw-fect cozy bundle from Best Friends by Sheri: The Original Calming Donut Dog Bed & Throw Dog Blanket!
This fantastic bundle offers your furry friend the best of both worlds with a comfortable and supportive bed and a blanket to match.
The self-warming bed has a vegan shag fur finish, perfect for pets who love to curl up and burrow.
It also has a raised rim that provides comfort, neck and head support, and a sense of security.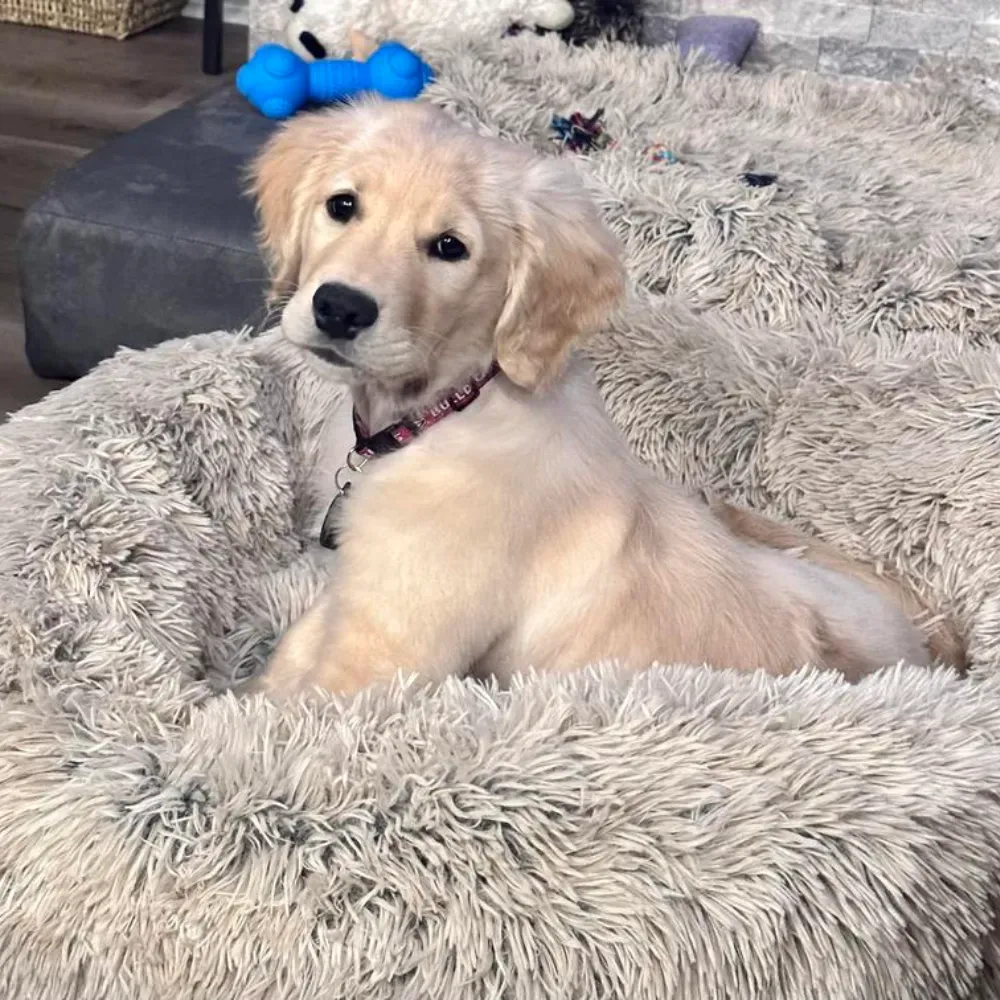 What You Should Know
It's filled with AirLoft fibers made of premium virgin white poly filling to help maintain its loft and provide superior joint and muscle support.
The included matching throw blanket can be used with the bed, on the couch, or on the go - it's also great for protecting furniture, floors, and car seats!
Available in multiple sizes, this bundle will keep your furry friend cozy and content.
Get your Best Friends by Sheri Calming Donut Bed & Throw Dog Blanket today!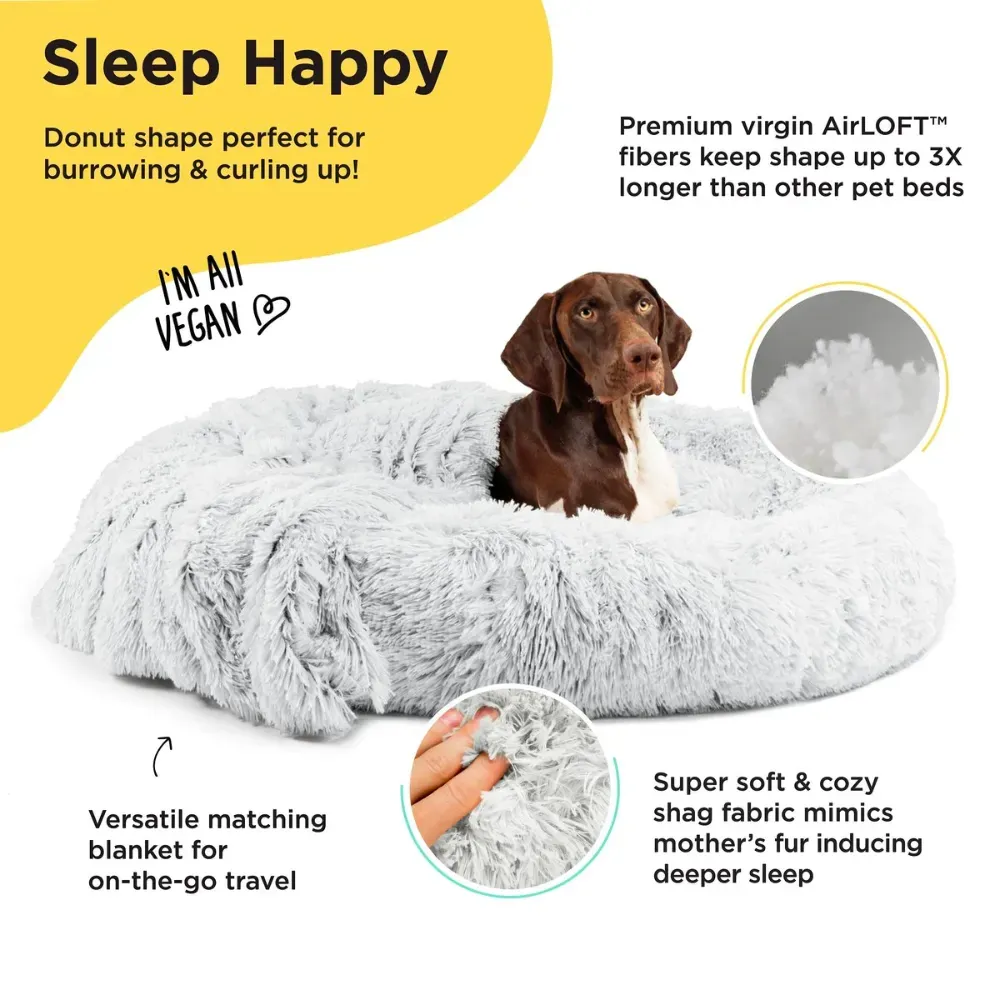 ---
5. PetAmi Donut Cat & Dog Bed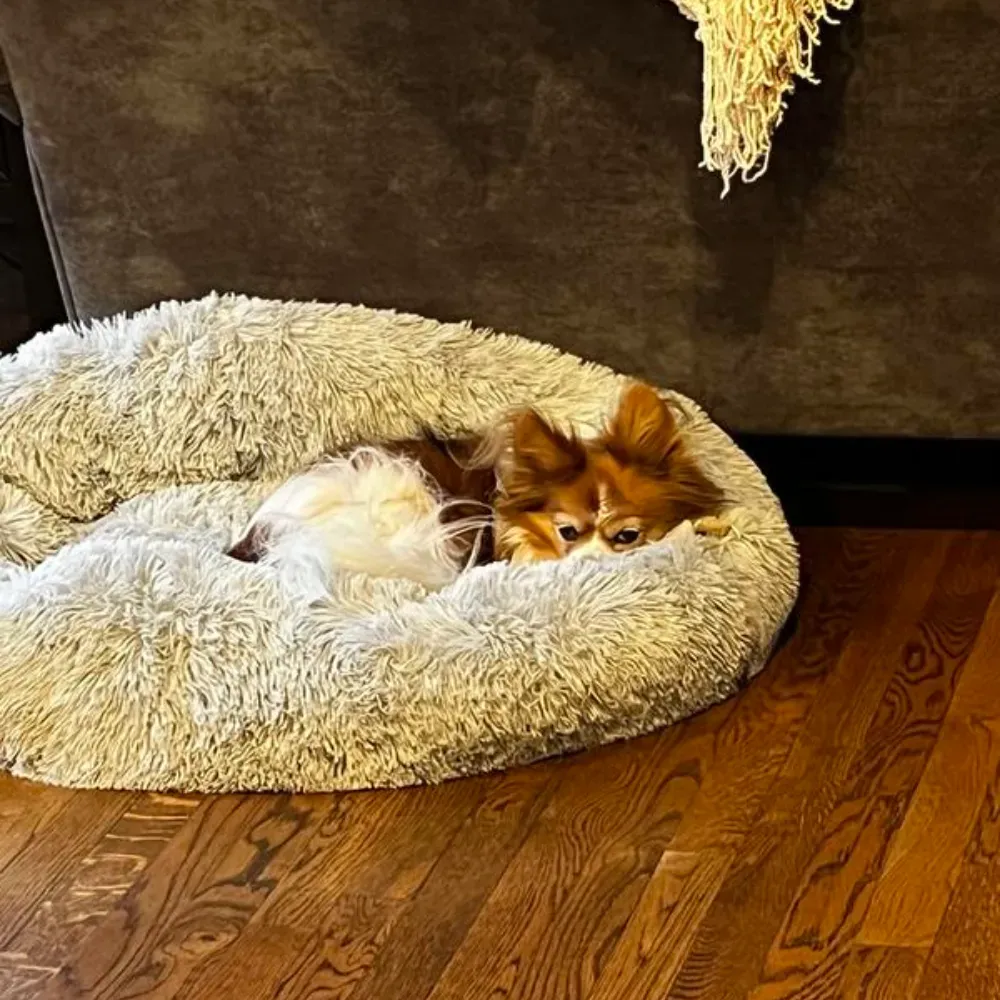 PetAmi Donut Cat & Dog Bed
Best Priced Donut Bed On Chewy
Check Price
Why We Love It!
Say hello to the PetAmi Donut Cat & Dog Bed: the perfect way to let your beloved pet enjoy a lovely snooze session.
This pet bed looks modern yet cozy enough to keep your pet comfy and warm all night long.
It's made with the highest-grade 270 GSM of 100% microfiber polyester, which is both tough and luxuriously soft for maximum comfort.
To add even more coziness, its faux fur sherpa fleece is incredibly snuggly, so your pet will drift off into dreamland in no time!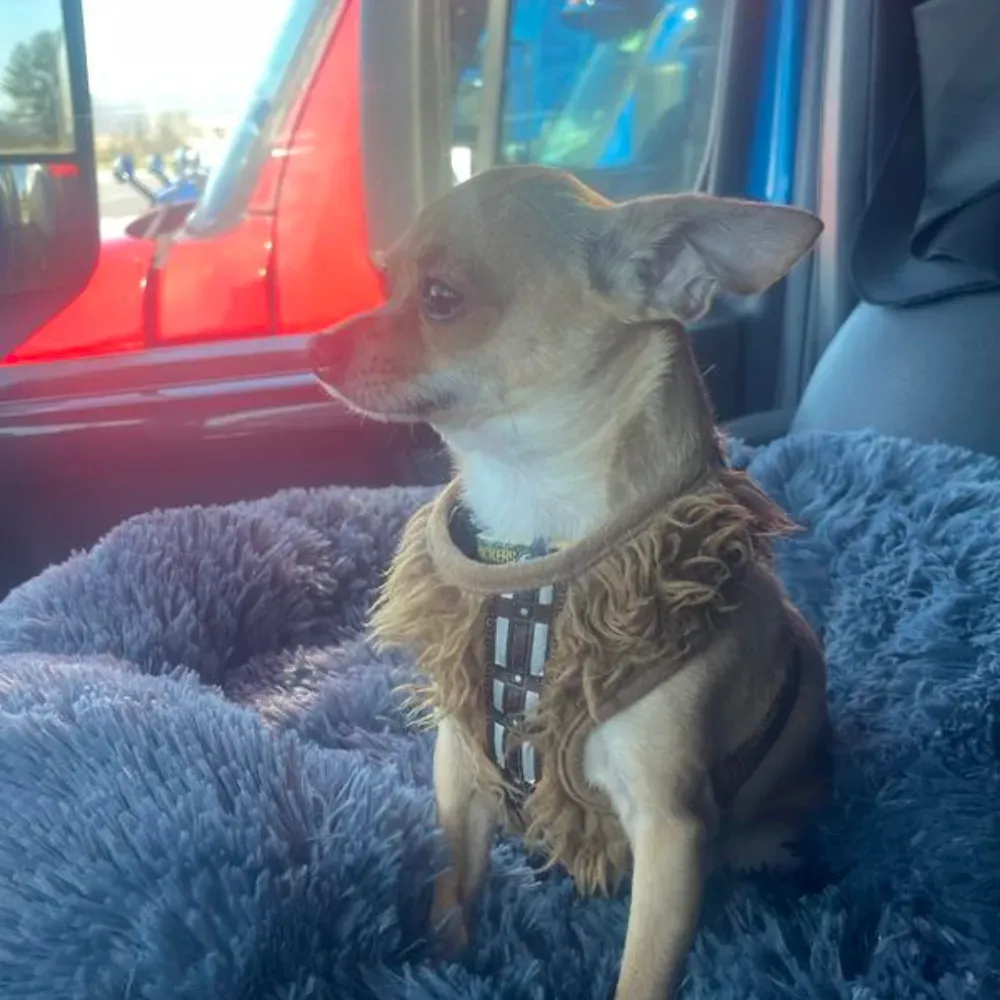 What You Should Know
It also has an anti-slip bottom that works great with all floor surfaces like wood, carpet, concrete, and more – so you don't have to worry about it shifting while your furry friend settles in.
And when it comes to cleaning, the entire dog bed is machine washable, making cleaning an easy job!
So what are you waiting for? Get your PetAmi Donut Cat & Dog Bed today and watch as your furry pal sinks in warmth and luxury!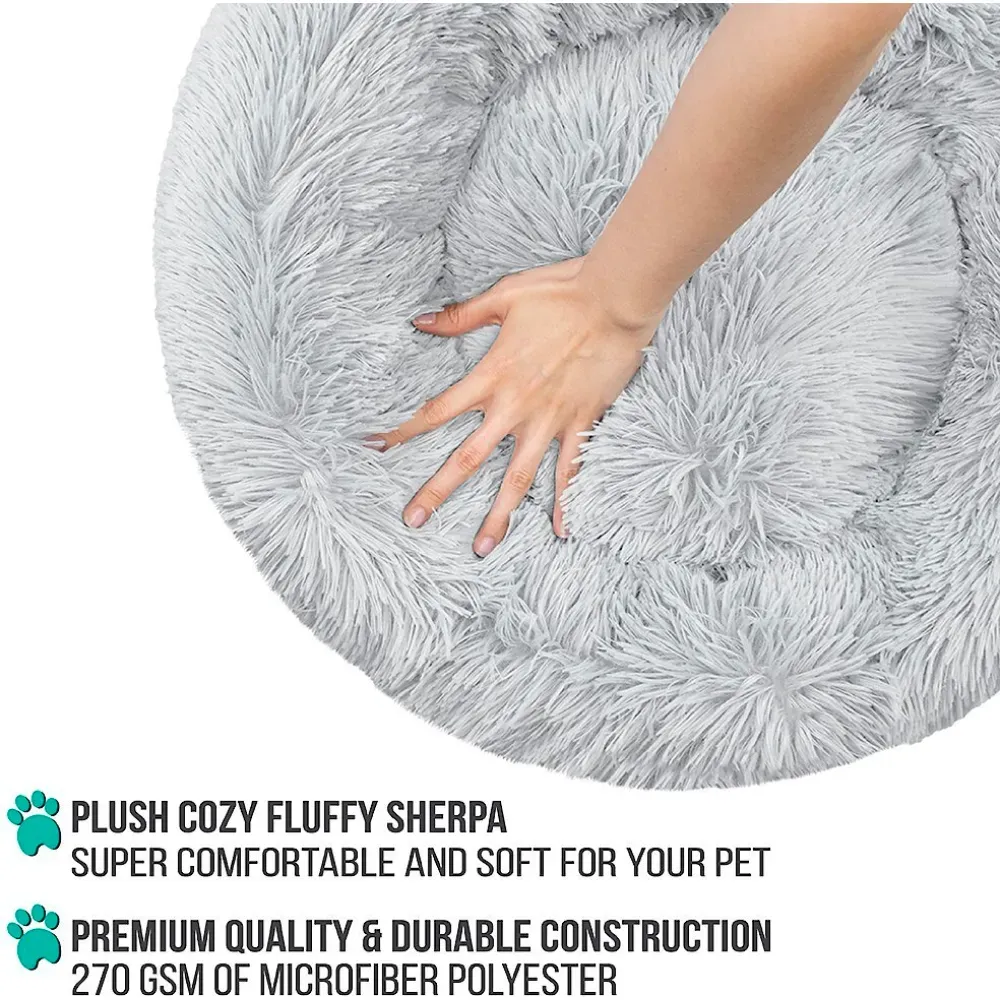 🐕
Attention, dog owners!
Learn how to train your furry friend like a pro with
free training and videos
for you and your pup!

---
Donut Dog Bed - FAQs
When it comes to pampering our beloved canine companions, finding the perfect dog bed is a top priority.
Donut-shaped dog beds have captured the hearts of pet owners everywhere, thanks to their adorable design and undeniable comfort. You probably have some questions if you're considering one of these plush havens for your furry friend, and that's where our comprehensive list of FAQs comes in!
We've compiled a list of the most frequently asked questions about the top five donut dog beds to help you make an informed decision. From understanding the health benefits and unique features of these beds to choosing the right size and materials for your pup, we've got you covered.
So, grab your favorite beverage, snuggle up with your four-legged pal, and dive into everything you need to know about these irresistible donut dog beds.
Are Doughnut beds good for dogs?
Yes, doughnut beds can be an excellent option for dogs! The donut-style bed offers your pup a cozy spot to rest. The elevated ring shape of the bed helps provide orthopedic support for those pups with bone and joint issues. It also helps in keeping them warm with its insulating properties. Being held off the floor keeps your pup away from any drafts or cold spots that might otherwise be on the ground. Plus, most doughnut beds come in neutral colors and designs, so they will fit into any home decor without being too loud. So overall, if you're looking for a comfy resting spot that works as both form and function, a doughnut-style bed may just do the trick!
What size donut bed should I get my dog?
The size of the donut bed you should get for your dog depends on the size of your dog. Generally, buying a bed that is big enough for your dog to stretch out comfortably would be best. If you have a small breed dog, you can get a bed that is 24 inches in diameter. It would be best to look for a 28–30 inches diameter bed for medium-sized dogs. It would be best to look for a bed at least 36 inches in diameter for large breeds.
Are donut beds safe for puppies?
Donut beds can be an excellent option for puppies, provided they are used correctly. The raised sides of the bed provide additional support and warmth, which can benefit smaller breeds with short fur or delicate joints. However, ensuring the bed fits your puppy correctly is important to maximize safety and comfort. Opt for high-quality, pet-safe materials that are non-toxic such as organic cotton or breathable fabrics like wool fleece – this will help ensure your puppy sleeps soundly without any skin irritations.
Why do dogs sleep in a donut?
Dogs often sleep in a donut shape because it gives them an added sense of security. It helps keep their feet tucked close to their body while also providing cozy support — kind of like a sleeping bag for your pup! Additionally, by tucking their feet in and curling up into the circle's center, dogs can conserve more heat than laying flat on their side or stomach. This allows them to regulate temperature easier during cold weather or when they feel under the weather.
While not all dogs choose to sleep in a donut shape, those who do feel extra safe and secure. Plus, it's simply adorable!
Do dogs like enclosed dog beds?
Absolutely! Dogs love enclosed dog beds for a variety of reasons. The main reason is that dogs feel safe and secure in an enclosed space. Enclosed beds provide a refuge from the outside world, allowing them to relax and sleep without feeling vulnerable or exposed, making them perfect for dogs with anxiety issues. Additionally, these beds are soft and comfortable, giving your pooch a place to curl up and snuggle without worrying about hard floors or other surfaces. Finally, some enclosed dog beds come with blankets that can add warmth during cold nights - something all dogs appreciate!
Do dogs like foam beds?
Yes, many dogs do enjoy foam beds! Foam beds can provide a comfortable sleeping surface that helps reduce joint pain and preserve muscle tone. They are also breathable and soft, making them ideal for snuggling up after a long day of play. The dense foam structure also provides firm support while being lightweight and easy to move when necessary. When shopping for one of these pet beds, measure your dog first to get the right size for them. It should also be made with quality materials like memory foam or orthopedic foam to last through years of wear and tear from your pup.
Can dog donut beds be washed?
Yes, dog donut beds can be washed. Most donut beds are made from machine-washable materials, so you can safely wash them in the machine on a gentle cycle. Be sure to use a mild detergent and cool water to avoid damaging the fabric. Allow the bed to air dry thoroughly before using it again.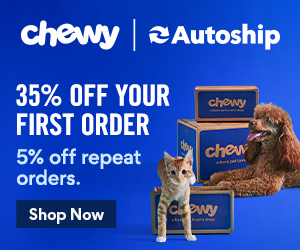 ---
Order Your Donut Dog Bed Today!
We hope this review of the top donut dog beds has given you a better idea of what's out there and which would be best for your pup. Whether you're looking for a cozy and plush dog bed for your furry friend or a durable option that will last through their naps and cuddles, you will find the perfect donut dog bed for your pup.
So don't wait any longer - pick up one of these top-rated donut dog beds and give your pup the comfort and support they deserve!
Thank you for reading, and as always - Happy Shopping!
Tap the product below to check the price!
---
Want to spoil your furry best friend? Tap below to discover the top-rated dog accessories of the year👇!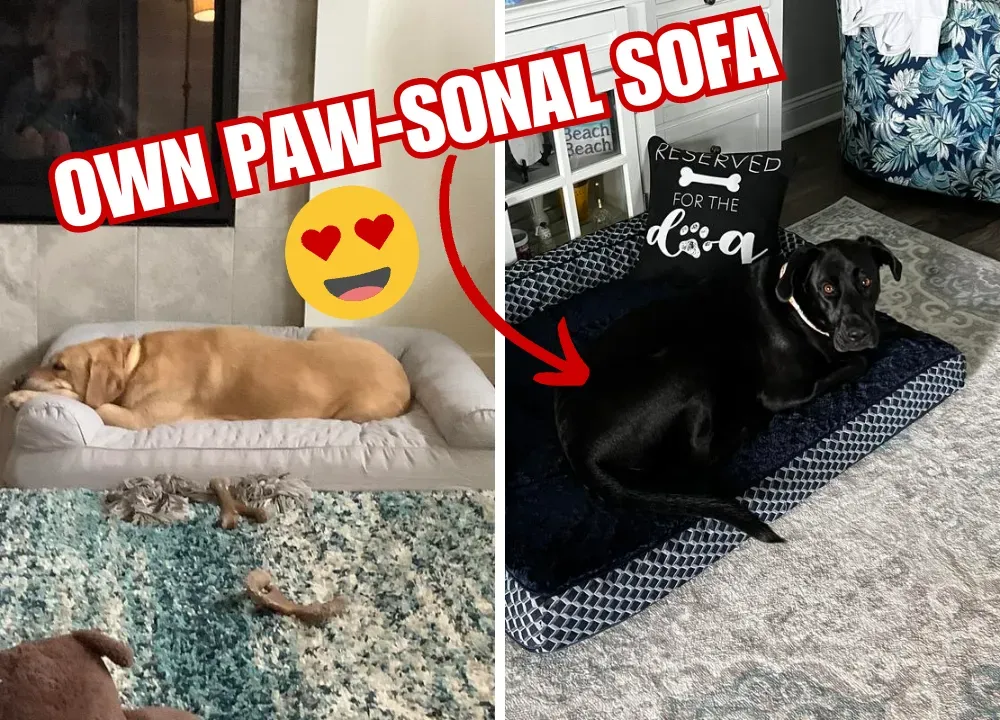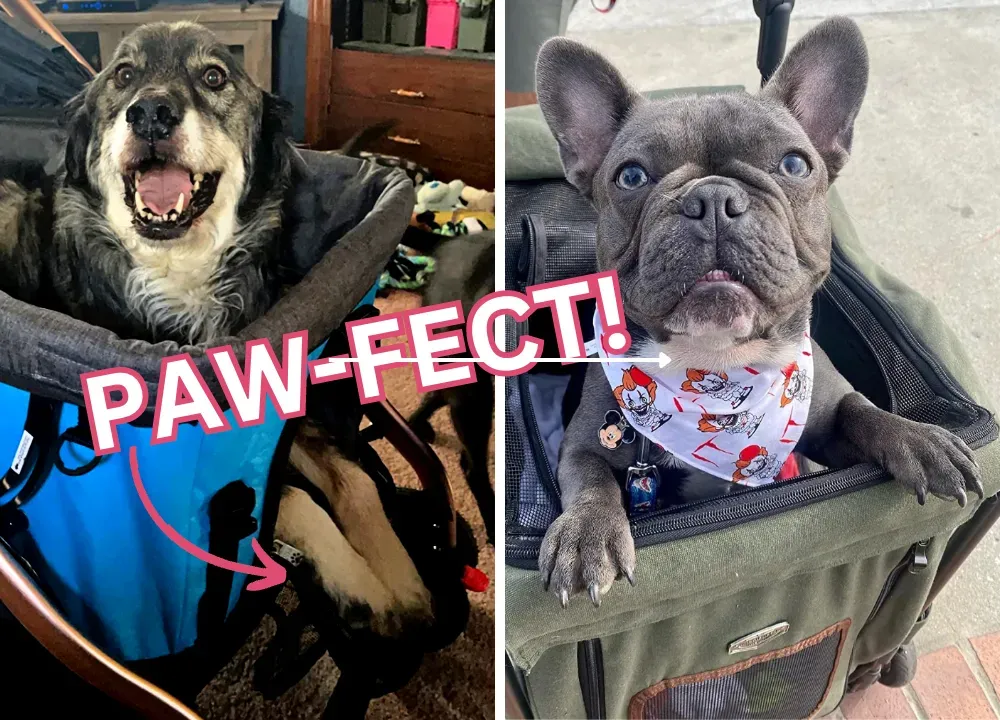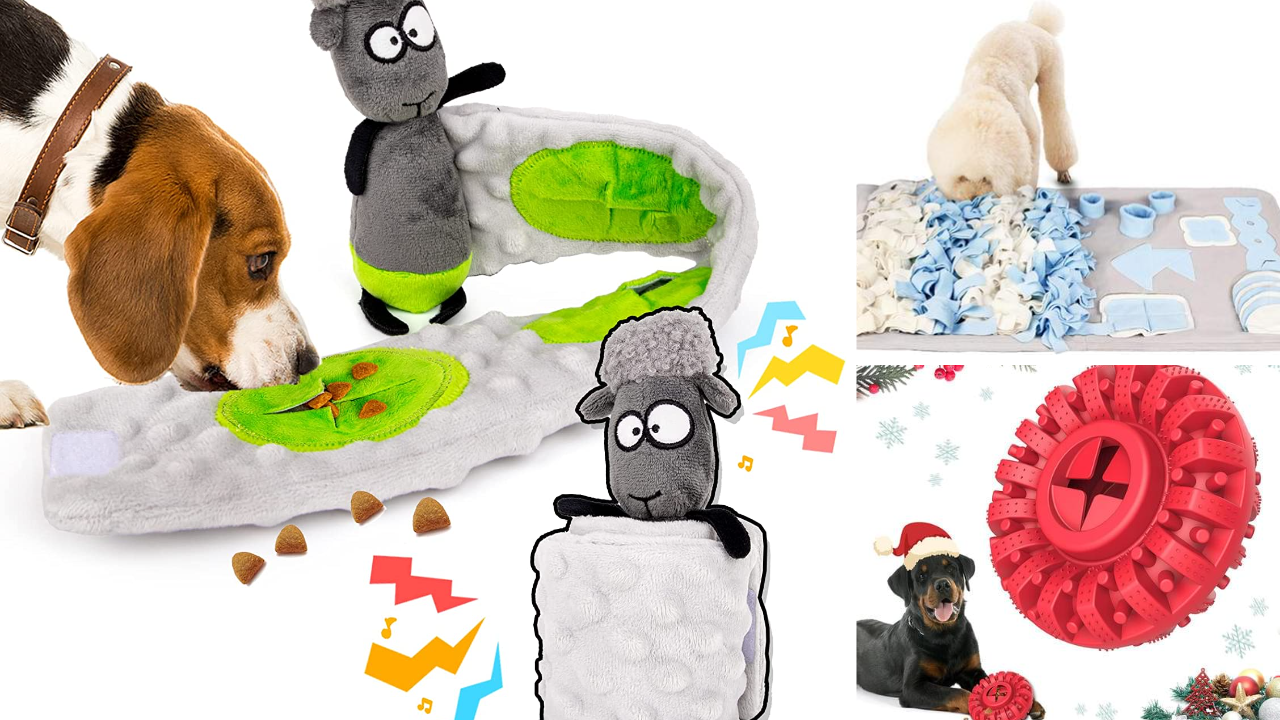 Did You Know?
Shopping for pet products online at, for example, Chewy.com is incredibly convenient and can save you time, money, and effort in the long run. With thousands of products to choose from, all delivered directly to your home within a few days, it's never been easier to get exactly what you need for your pet without ever having to leave the house. Plus, household favorites like food, treats, toys, and accessories can be ordered in bulk, so you never have to worry about running out of supplies. Shopping online at Chewy.com gives you more control over what products you choose and helps make sure that all your pet care needs are taken care of quickly and easily.
💡
This post may contain affiliate links by which I could receive a small commission at no cost to you when you make a purchase. As an Amazon Associate, I earn from qualifying purchases. Thank you for understanding.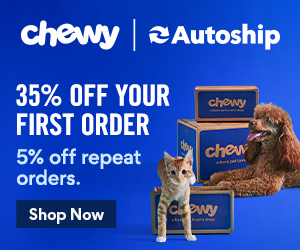 ---