Looking for a way to keep your dog out of trouble?
A puzzle feeder might be just what you need. These food puzzle toys dispense food or treats when the dog completes a task, such as pushing down a lever or flipping over a disc. They are a great way to keep your dog mentally stimulated and prevent them from getting bored.
This blog post will discuss five of the best dog puzzle feeders on the market today. These dog food puzzles will surely keep your furry friend entertained for hours.
Read on to learn more about each of the five puzzle feeders we discussed in this blog post!
How We Choose The Best Dog Puzzle Feeder
Choosing the best dog puzzle toys and feeders can be challenging. You want to ensure you get a good one that will keep your pup entertained and challenged, but there are so many products on the market that it's hard to know where to start.
Not only do you have to worry about getting a product that will work well for your dog, but you also don't want to waste your time or money on something that might not be right for you.
We're here to help. Our expert reviewers have spent time reviewing the best products for your needs, and this article is designed specifically to help you choose the best dog puzzle feeder for your pup.
---
1. STELLAIRE CHERN Snuffle Mat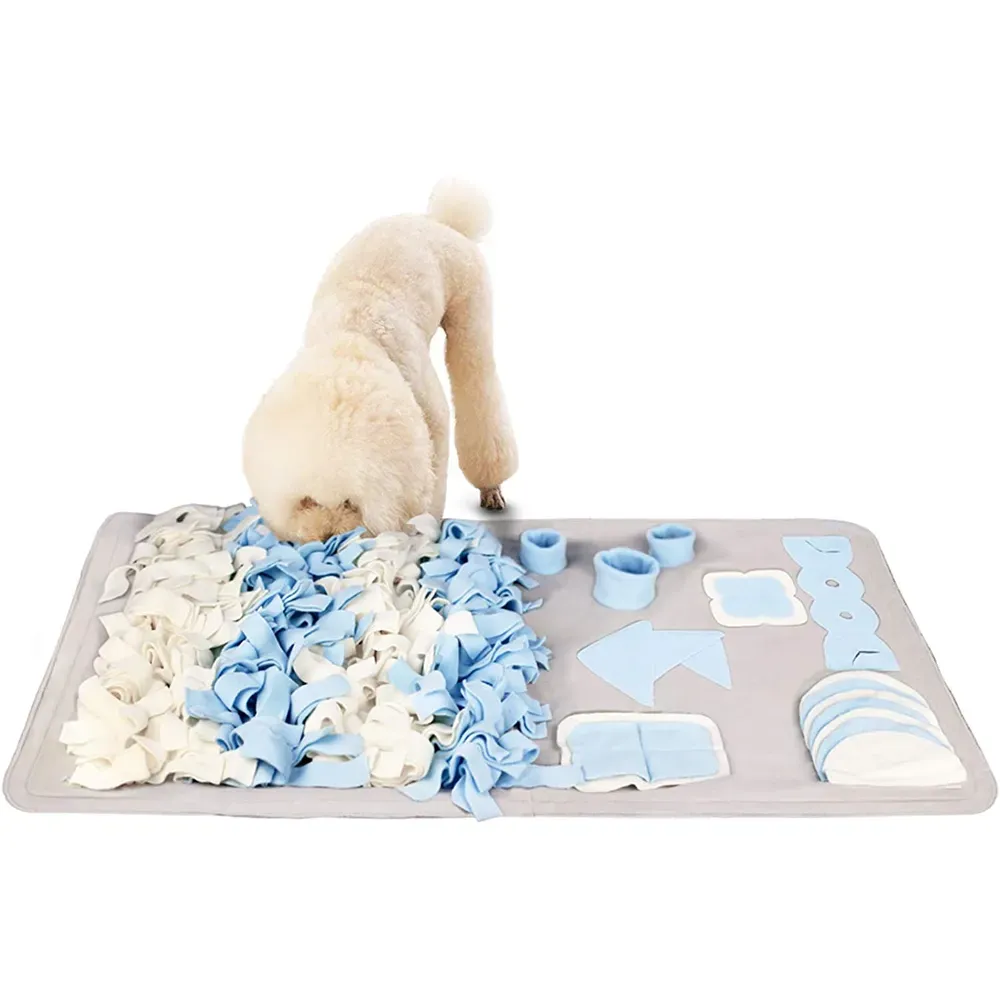 STELLAIRE CHERN Snuffle Mat
Best for engaging your dog's sense of smell
Check Price on Amazon
Why We Love It!
Do you know what your pup needs? You guessed it: The STELLAIRE CHERN Snuffle Mat! Your best friend's paws and nose are getting the workout of their dreams with this pawesome dog mat made for snuffling and sniffing out hidden treats.
With this stim-churning snuffle design, you can mix kibble with a special treat or two and watch that canine brain light up as they harness their wild side and search around for a meal - just like they were in nature!
Perfect for keeping your pal engaged in training, this snuffle mat helps them stay sharp while also allowing them to blow off steam.
Don't let your pal get too bor-ruff; give them something special when you snag the STELLAIRE CHERN Snuffle Mat today.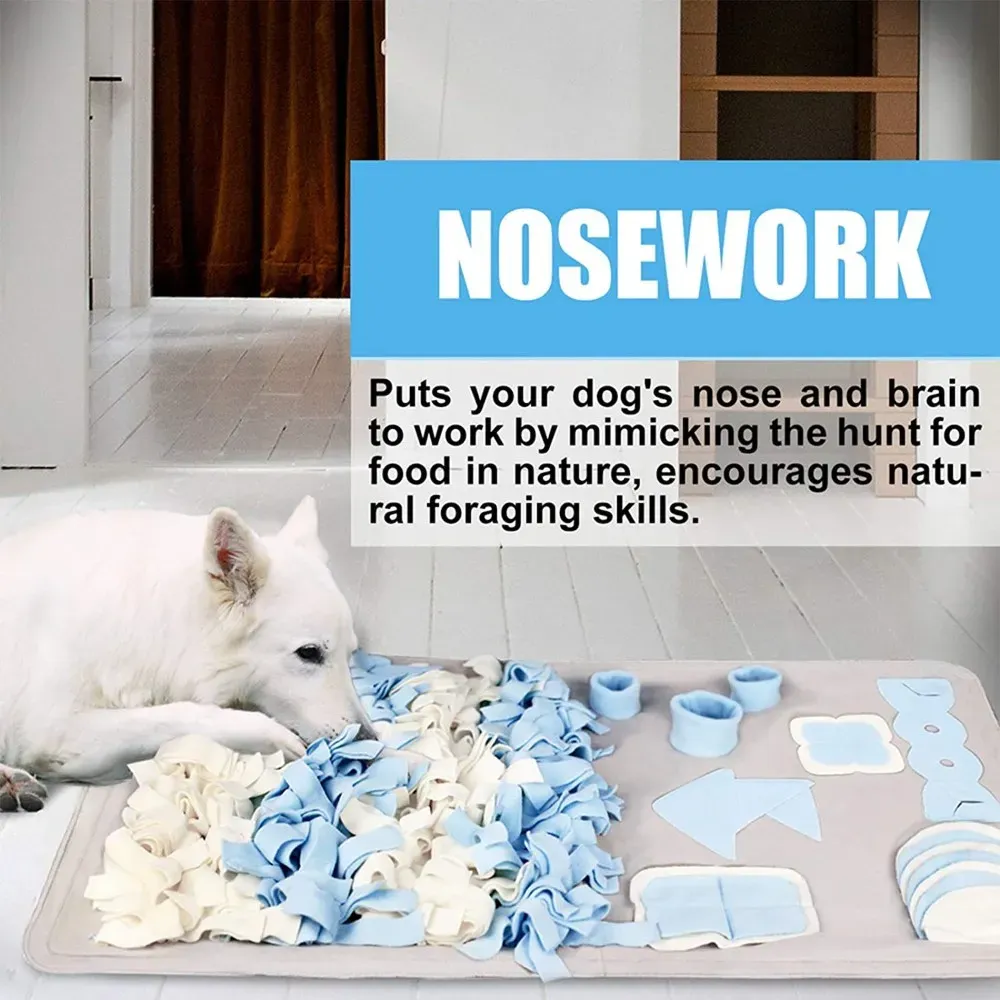 What You Should Know
The STELLAIRE CHERN Snuffle Mat is the perfect choice for pet owners who need an eco-friendly and durable option to train their dogs.
Made of machine-washable polar fleece and upcycled materials, this snuffle mat offers interactive opportunities. It keeps dogs engaged during feeding time, giving them the mental stimulation they desperately crave.
The anti-slip backing allows it to stay in place without a mess while your pup plays, plus you can roll it up for easy storage and carrying.
Stop chasing your pup around with a bowl of food and start investing in one of these snuffle mats today!
---
2. Chew King Premium Treat Dog Toy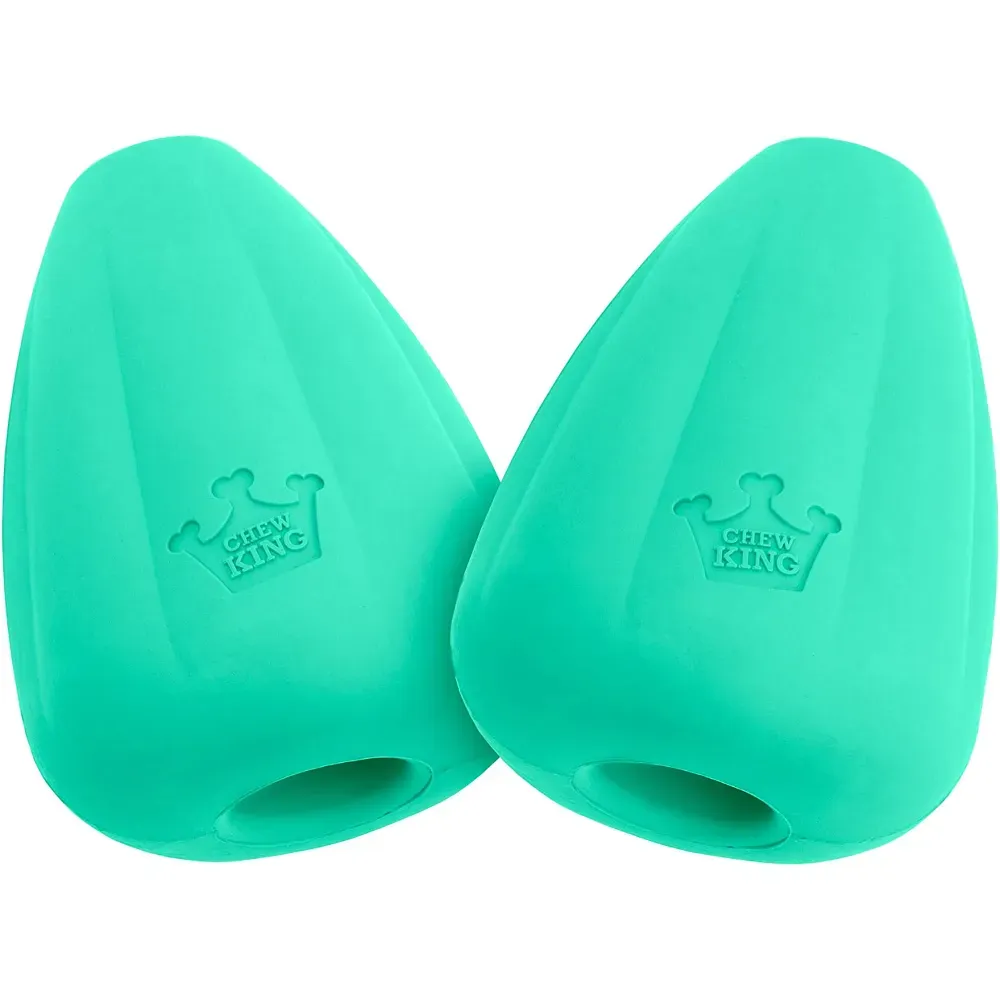 Chew King Premium Treat Dog Toy
Best relationship-building toy
Find The Best Deal
Why We Love It!
If you've got a pup that loves to chew and enjoy puzzles, this Chew King Premium Treat Dog Toy is perfect!
The unique pear shape ensures that your pup won't get bored – with this fun design and shape, it will outlast any other chew toy around. Its contours and angles allow it to deflect and slide away damage, so you don't have to worry about wear and tear.
Plus, what pup could resist their new favorite toy? Fill up this bad boy with treats and watch your pup have tons of fun trying to figure out how to get them out. Not only will he stay entertained for hours on end, but giving him Chew King can be a powerful way to strengthen the bond between the two of you (and as a bonus reward!).
So why not wow your pup today? Pick up the Chew King Premium Treat Dog Toy now!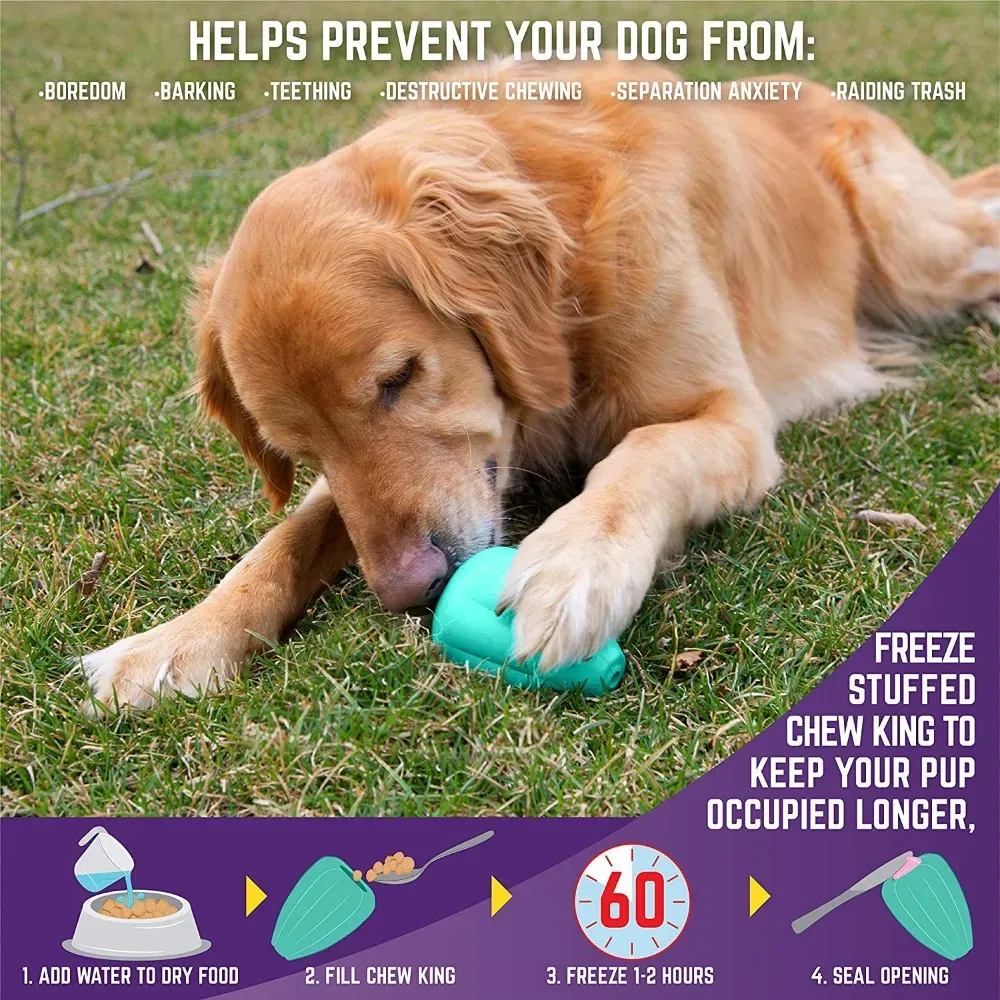 What You Should Know
The Chew King Premium Treat Dog Toy is like a crown for your pup – allowing them to sink their teeth into something natural, durable, and gratifying!
This toy provides an ideal alternative to synthetic rubber toys that may release unwanted chemical smells. Made with natural rubber, it retains its shape despite harsh chewing and includes an air vent for safety - protecting delighted tongues from getting stuck.
With 3 sizes available, you can find the perfect fit for any dog breed - giving both miniature schnauzers and large St. Bernards something fun to chew on!
Plus, the large size can hold up to 3/8 cups of kibble or treats, so every 'king' can also enjoy a filling mealtime!
---
3. LUKITO Licking Mat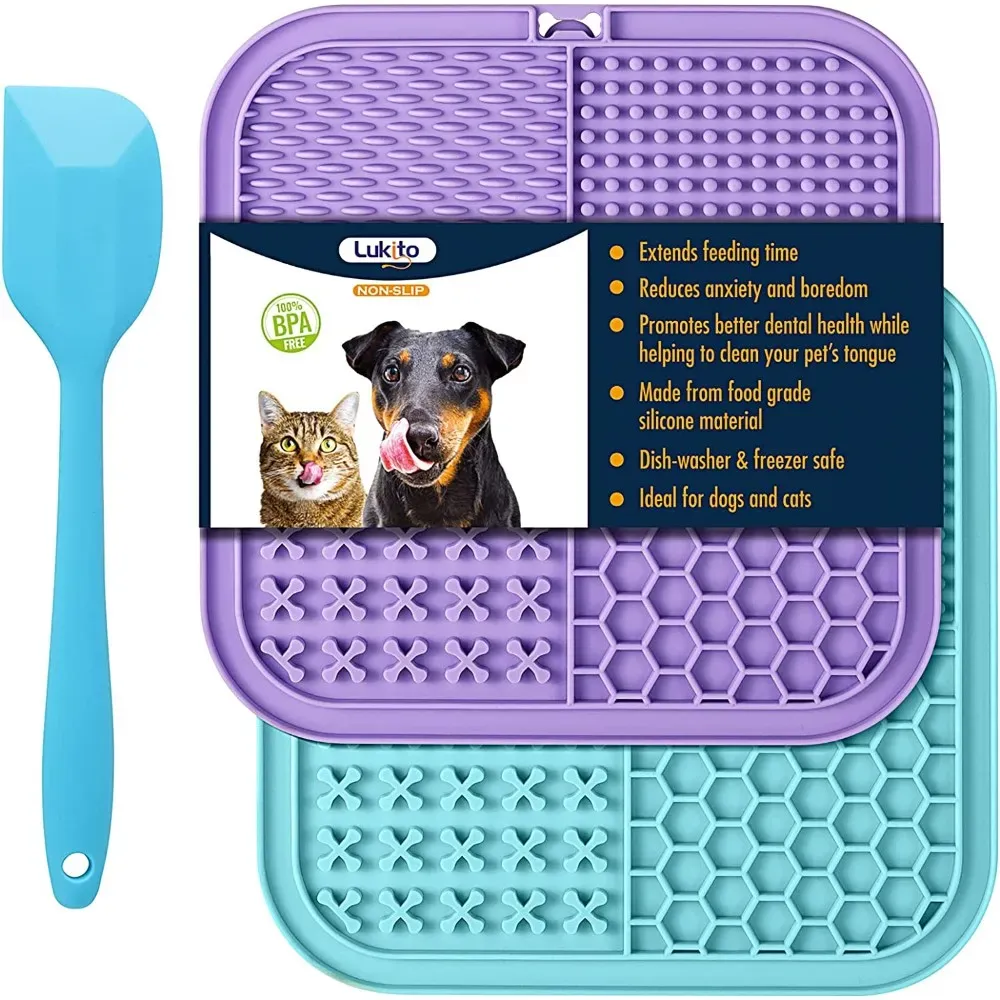 LUKITO Licking Mat
Check Price on Amazon
Why We Love It!
Is your pup a picky eater? Does your fur baby struggle with anxiety and stress? LUKITO has your back! This innovative treat mat is just the thing to help keep those paws busy.
Not only does it extend feeding time, but its four different textured surfaces are perfect for spreadable treats like cream cheese, yogurt, or peanut butter – because who can resist?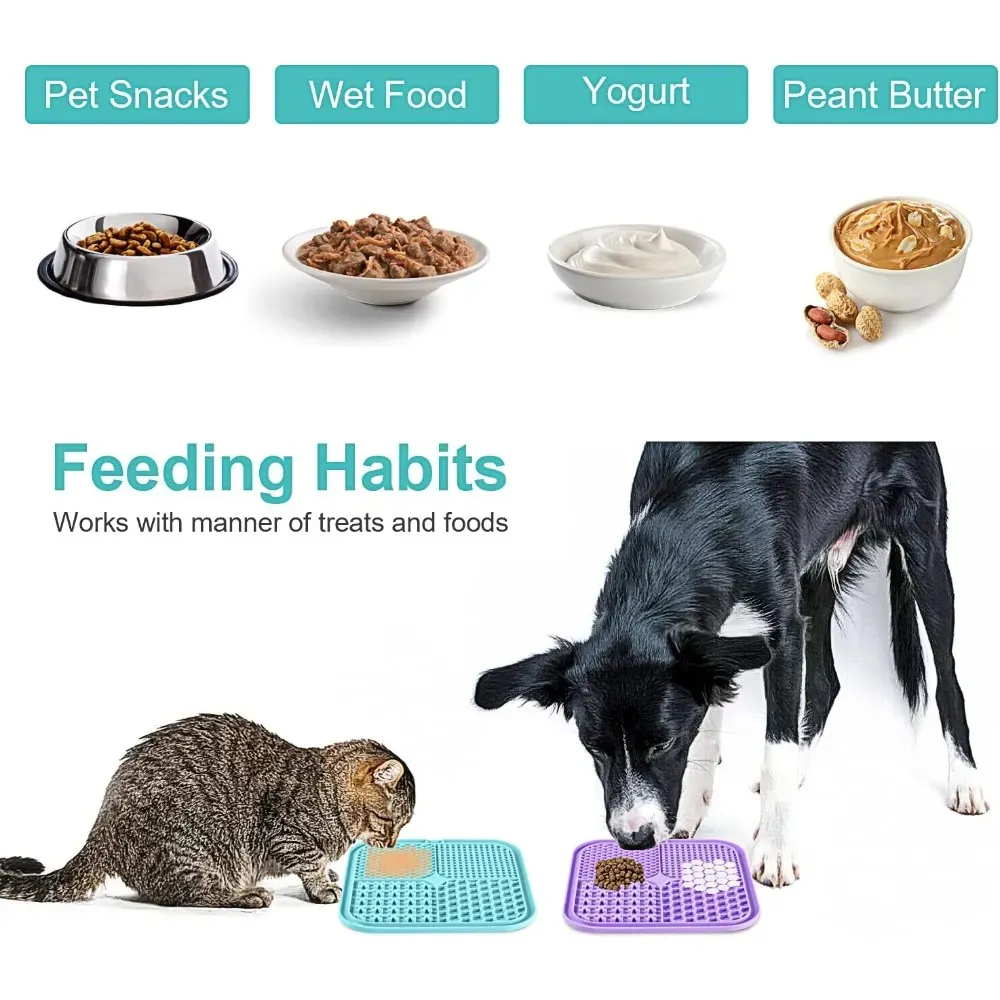 And what's even better than that? It helps calm pets and suppresses destructive behavior – plus, it's a great boredom buster.
So if you're looking for a way to help alleviate stress from vet visits, bath time, nail clipping, injury recovery, and rough weather - look no further! With LUKITO, you can feel good about giving your pup a tasty snack that will support better overall well-being.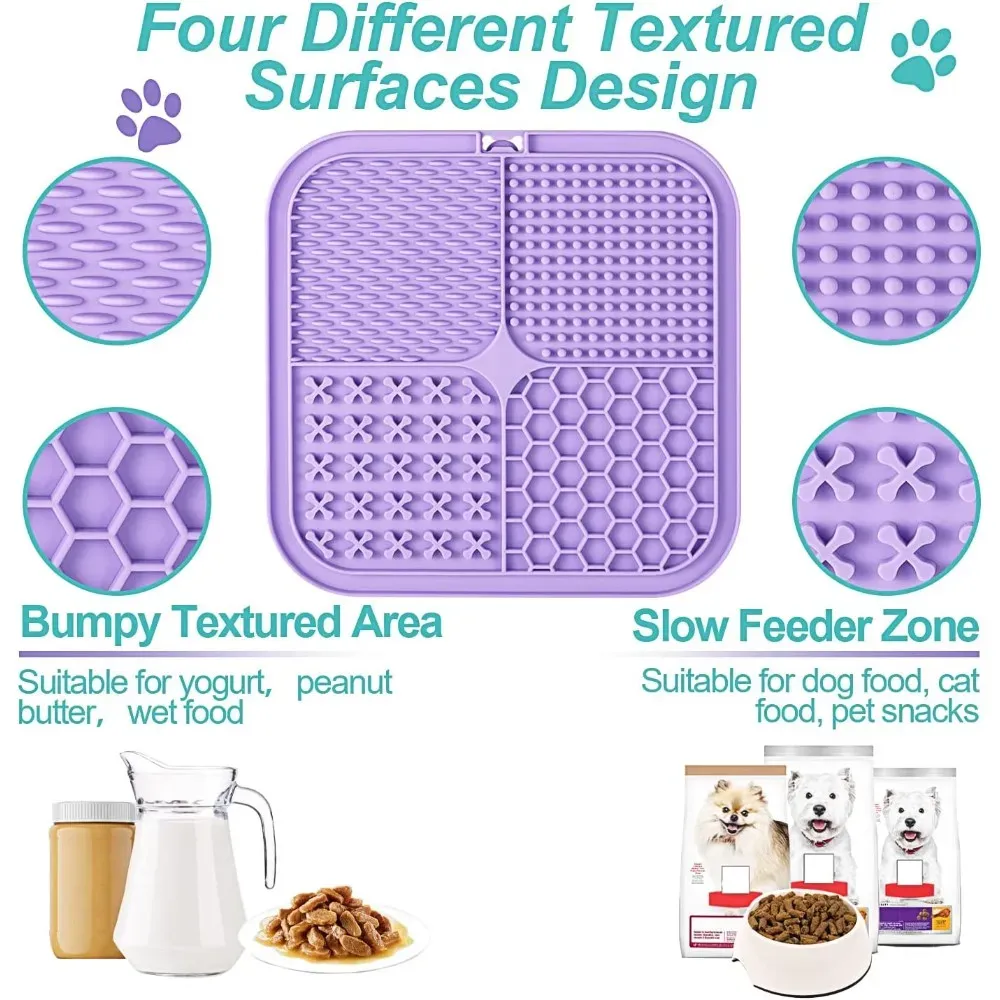 What You Should Know
The versatile LUKITO Licking Mat is perfect for pet bathing, grooming, and nail trimming.
Its 77 high-strength suction cups make it a secure fit on various walls, glass, and refrigerators.
Crafted with premium food-grade silicone material that is durable and safe for your pet, this mat is easy to keep clean as it is dishwasher and freezer safe and can be hand-washed with warm soapy water.
Help make a challenging situation into one that your four-legged friends will look forward to with this innovative design.
---
4. Lewondr Dog Toys for Aggressive Chewers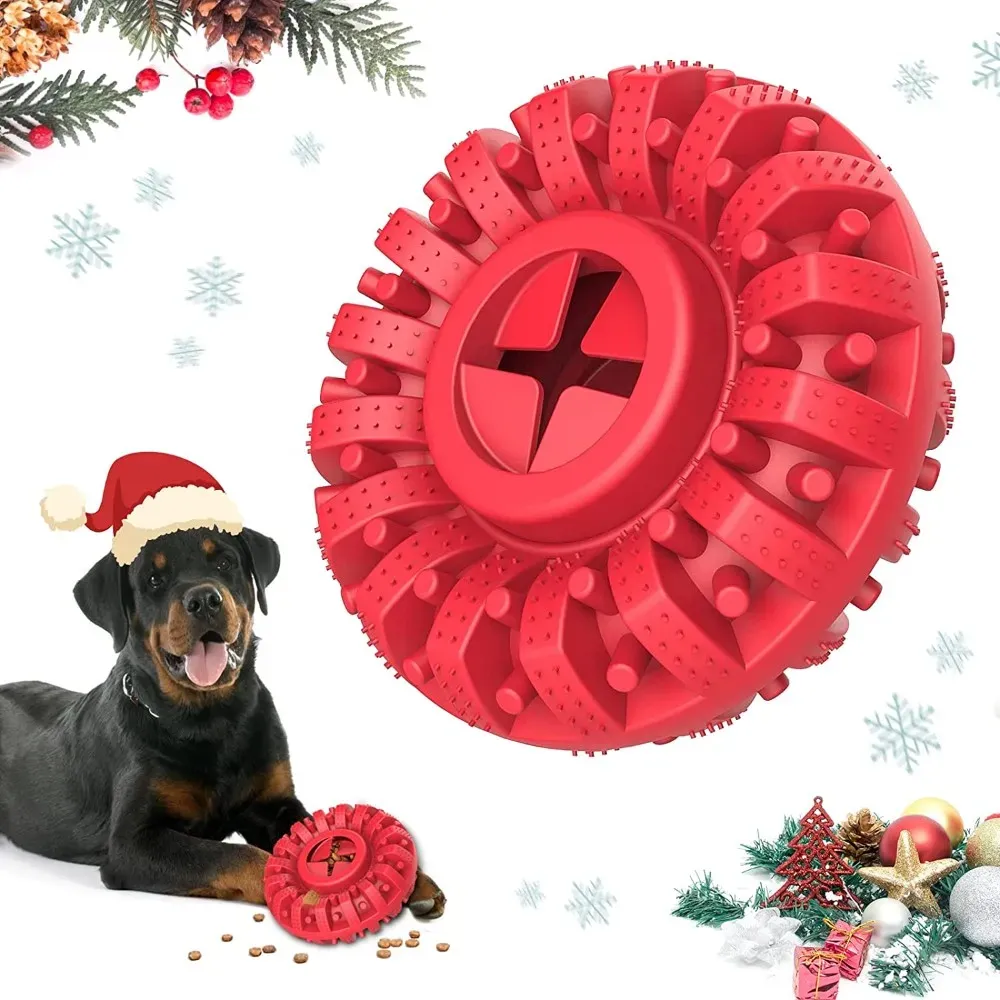 Lewondr Dog Toys
Best for aggressive chewers
Check Price on Amazon
Why We Love It!
If you've got an aggressive chewer, you'll have experienced the destruction that comes with it! But don't despair – there's a new way to give your pup some much-needed fun and naughty stimulation - Lewondr Dog Toys for Aggressive Chewers.
Crafted with a hollow design to place dog food or small snacks inside and a grainy texture surface on the outside, they are here to save the day! Smear stuff like peanut butter or nutrient cream on them, and your pup will be occupied for hours.
These chew toys help with physical and mental development, emotional training, and behavior training; plus, it relieves anxiety in dogs meaning less destructive chewing, burrowing, and barking.
Keeping those kibble-filled boredom blues away, these chew toys provide endless entertainment for your pup while looking after their health in more ways than one!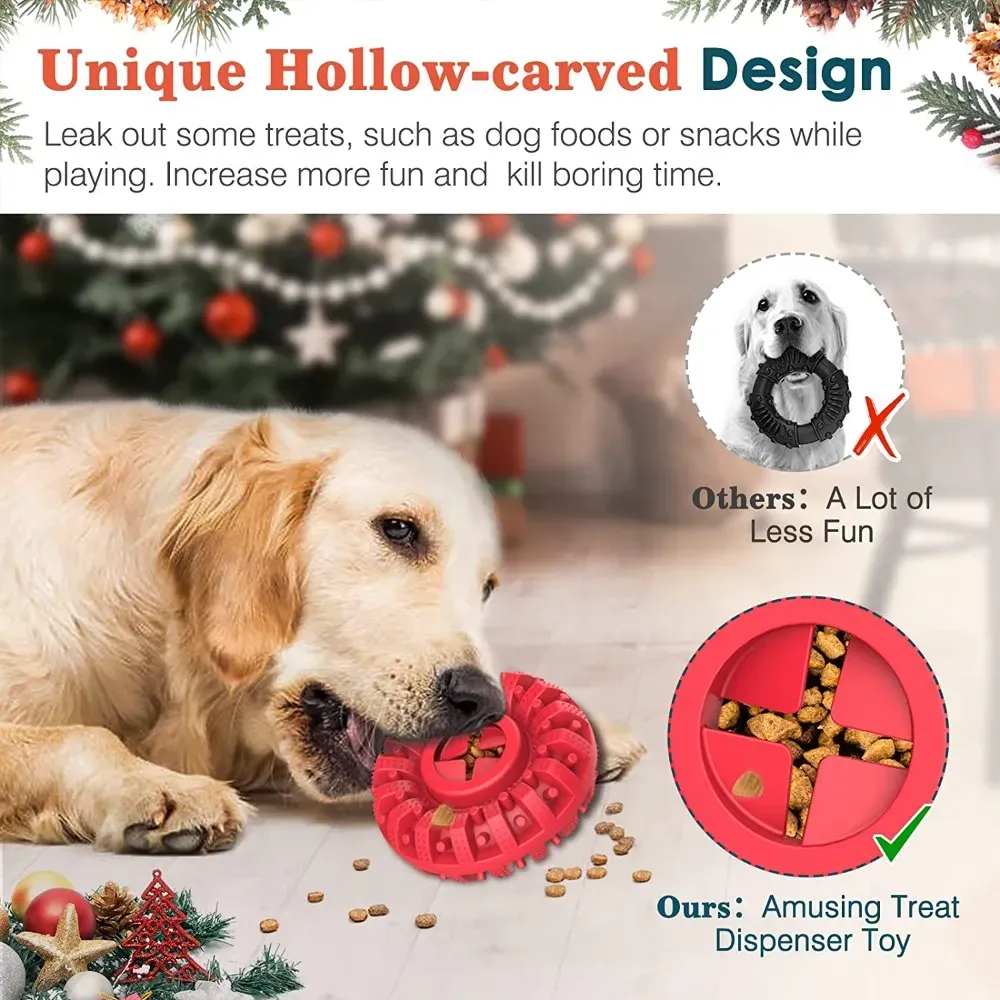 What You Should Know
Lewondr Dog Toys for Aggressive Chewers are made from BPA-free, non-toxic natural rubber to reduce any potential harm during playtime.
The solid rubber tire shape is designed to hold up against strong and aggressive chewing, making it indestructible for even the most powerful jaws.
Its grooves and cylindrical bumps also effectively massage your pup's gums, helping clean teeth and preventing plaque buildup.
Suitable for all large breeds, your dog stands a chance at getting long-lasting fun with no risk of harm or injury!
These chew toys have been tested and approved by Bulldogs, German Shepherds, Labrador Retrievers, Golden Retrievers, and many other large breed dogs.
Make sure to provide your pup with hours of chuckaliscious entertainment with this durable chew toy!
---
5. LE TAUCI Slow Feeder Dog Bowls Ceramic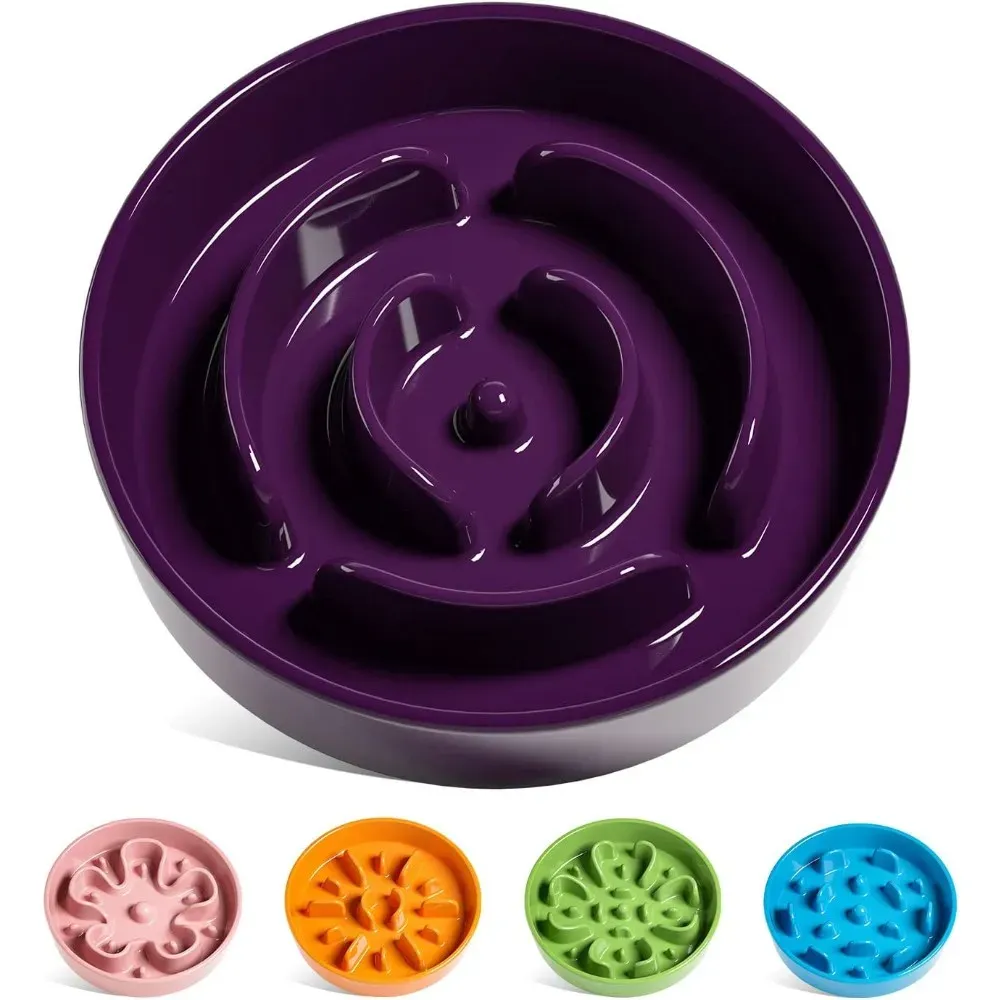 LE TAUCI Slow Feeder Dog Bowls Ceramic
Check Price on Amazon
Why We Love It!
Have you ever heard of the phrase 'slow and steady wins the race'? Well, it now applies to meal time too!
LE TAUCI's Slow Feeder Dog Bowls are perfect for pups who wolf down their food in minutes. We all know that eating quickly can lead to obesity and other health problems, but with our unique design, your pup can take on a challenge and enjoy mealtime!
The ridges and maze-like pattern make it an interactive experience to slow down your dog's eating—all you have to do is watch as the fun unfolds before your eyes!
Feeding your dog will never be the same again with LE TAUCI's Slow Feeder Dog Bowls, so why hesitate? Get them today for a happy and healthier pup!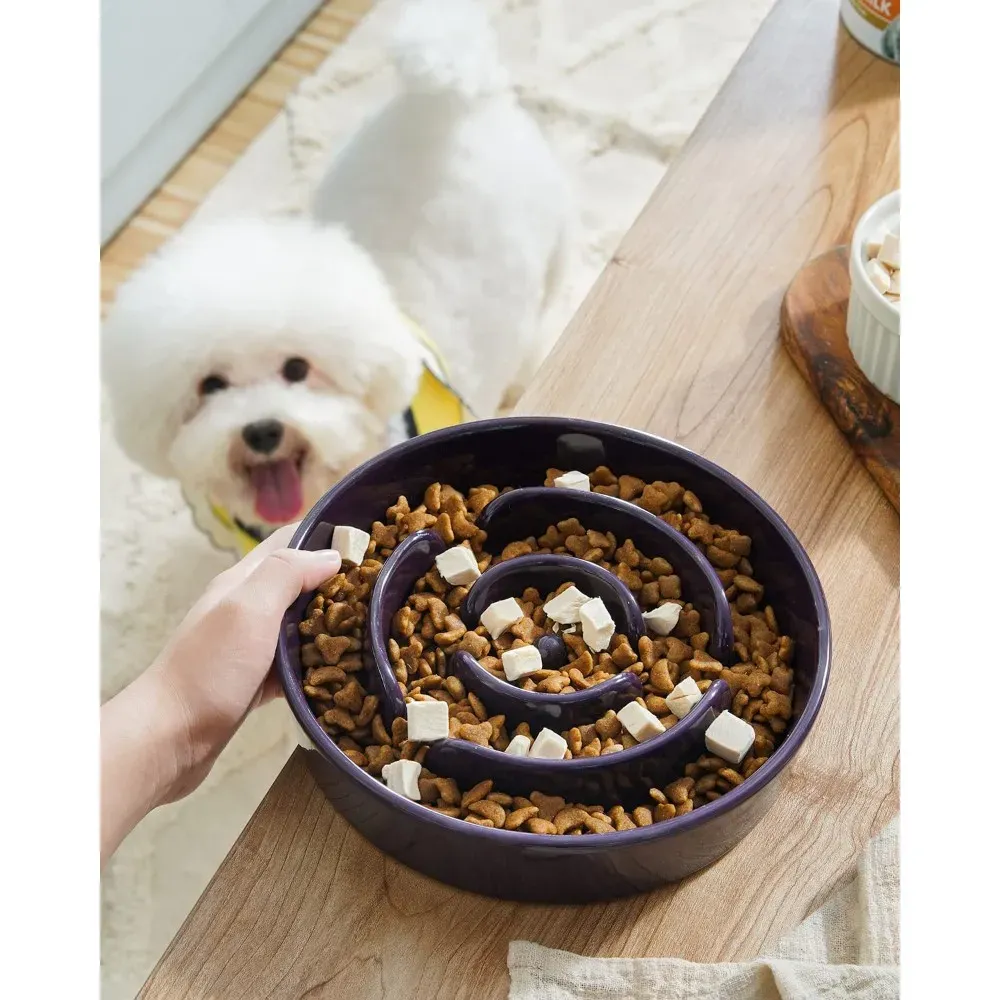 What You Should Know
LE TAUCI ceramic slow feeder bowls offer a healthy feeding option for your furry friend. As vets suggest, plastic bowls pose the risk of developing chin acne due to bacteria that can tend to build up with plastic materials.
These ceramic slow feeders are safe to microwave and heat your dog's food whenever you want, providing an easy-to-clean option that is long-lasting and not prone to damage or dirt buildup the way other materials sometimes can be.
With non-slip features and unparalleled resilience, LE TAUCI ceramic slow feeder bowls give your pup the healthy mealtime experience they deserve.
---
6. WEST PAW Zogoflex Toppl Treat Dispensing Dog Toy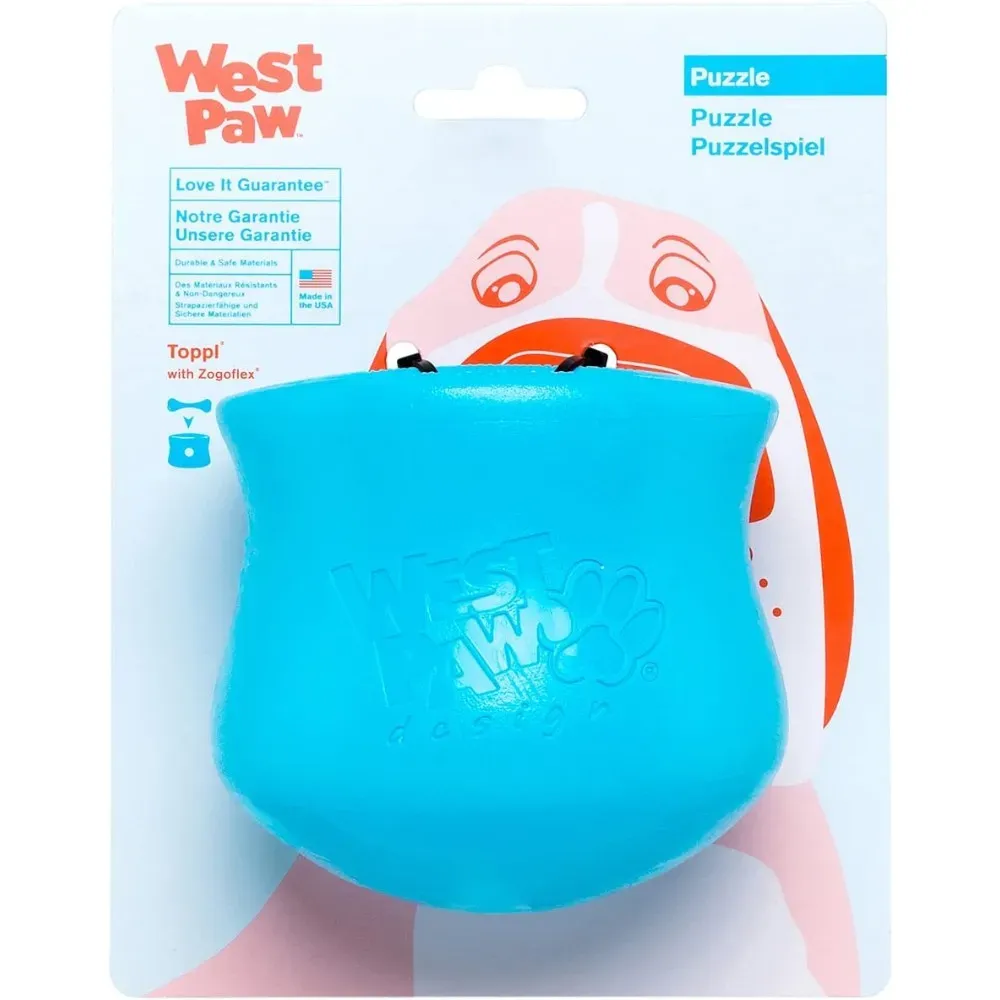 WEST PAW Zogoflex Toppl Treat Dispensing Dog Toy
Best for moderate chewers
Find The Best Deal
Why We Love It!
Introducing the WEST PAW Zogoflex Toppl Treat Dispensing Dog Toy, the fun and interactive way to keep your furry friend entertained for hours!
This innovative dog chew toy can be filled with hidden treats or kibble so your pup can search and discover all its rewards.
Keep your furniture safe from any potential gnawing damages by giving your pup this bright and stimulating chew toy, and watch as your dog pushes it around the house.
As if that isn't enough, you can even prolong playtime with its floatable feature, perfect for a game of fetch, toss and catch!
Get mentally stimulating gifts in two fabulous sizes separate from one another, perfect for dogs of all sizes and breeds.
Whether it's playtime or treat-time, give your four-legged friend the fun they deserve with the WEST PAW Zogoflex Toppl Treat Dispensing Dog Toy!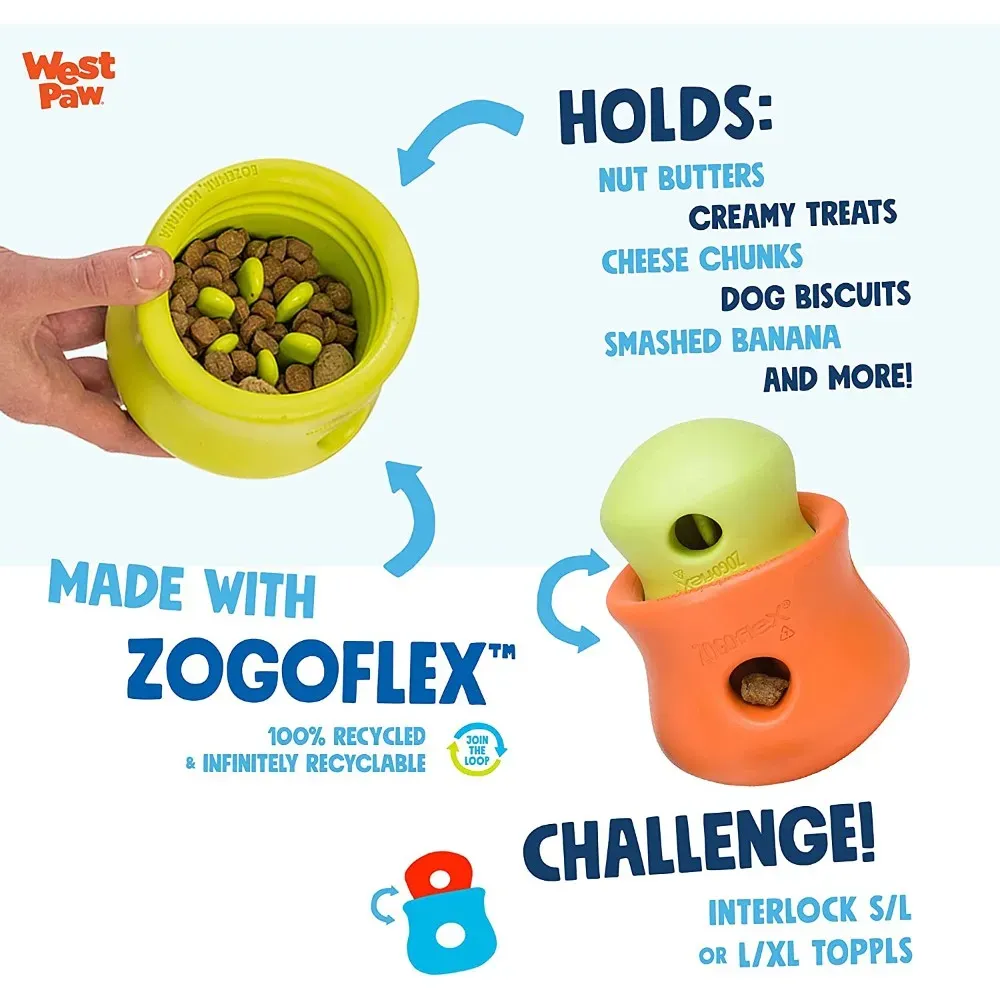 What You Should Know
The WEST PAW Zogoflex Toppl Treat Dispensing Dog Toy is the perfect way to challenge, engage, and intrigue your four-legged friend while they chew.
Crafted with durability in mind, the dog chew toy is made with non-toxic materials, is recyclable, and is safe to place in the dishwasher when needed.
The bright colors provided by West Paw make this cartoon a breeze to spot both indoors and outdoors.
Plus, freezing chicken broth inside the treat dispenser can take playtime to another level and ensure it keeps your pup entertained for hours on end!
---
7. Crinkle Paper Squeaky, Snuffle Treat-Dispensing Interactive Toy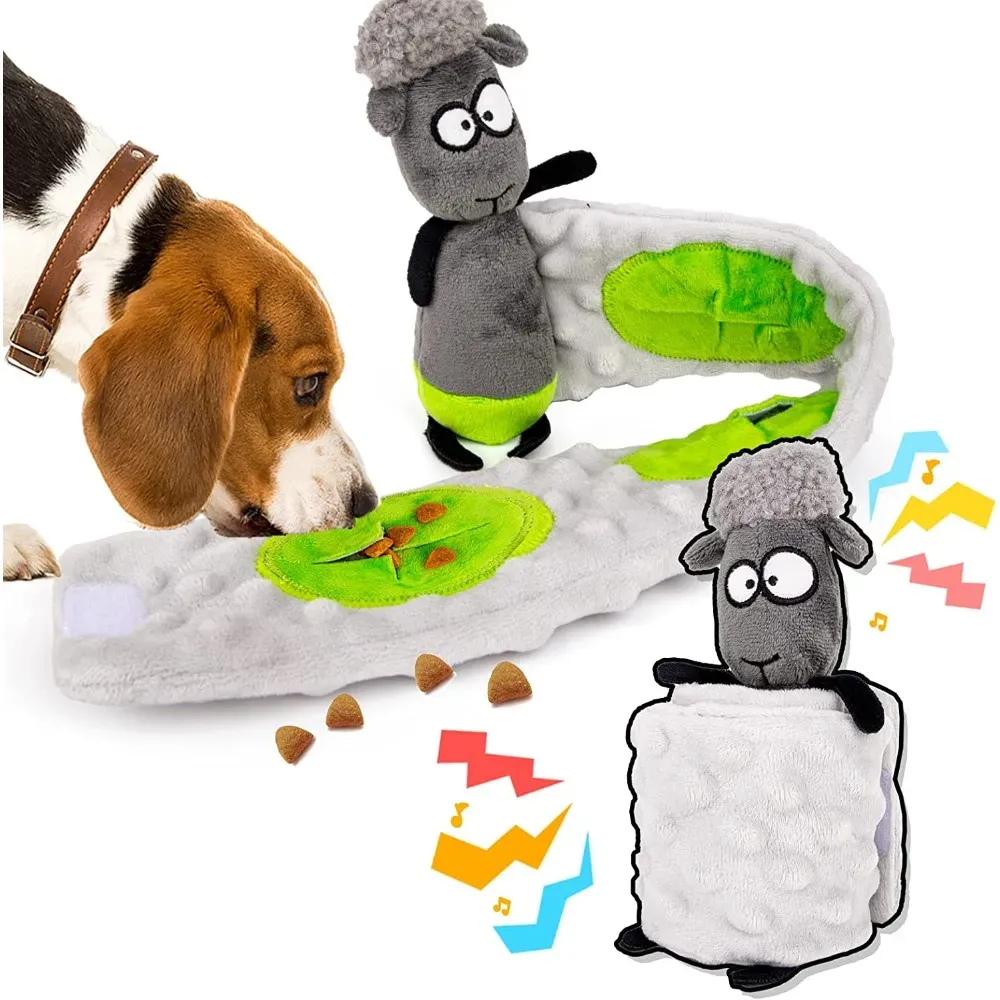 Crinkle Paper Squeaky, Snuffle Treat Dispensing Interactive Toy
Best for foraging and sniffing skill training
Check Price on Amazon
Why We Love It!
Introducing the Crinkle Paper Squeaky Interactive Toy, a one-of-a-kind toy that's sure to have your pup jumping for joy!
Not only do they get to squeak and crunch up the paper to their heart's content, but there are also 3 secret pockets where they can hide treats. Get your pup into a treat frenzy as they try and figure out how to get their reward!
And no need to worry - even if your pups are too rough with this cutie, the crinkle paper will ensure it holds up against any rugged playtime.
Best of all, it comes in an adorable sheep design that'll make your pup feel truly special.
So don't wait - give your furry friend a puzzle they won't be able to resist with the Crinkle Paper Squeaky Interactive Toy!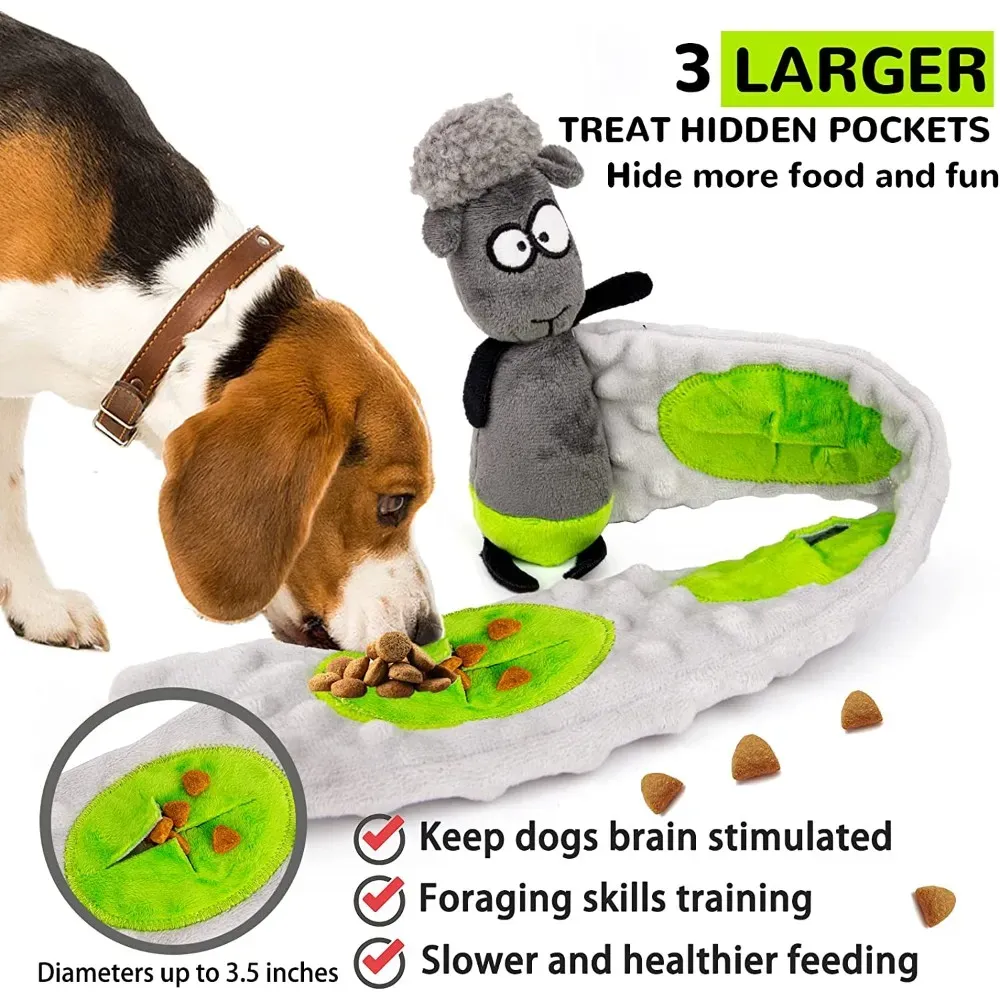 What You Should Know
Dogs will love the irresistible Crinkle Paper Squeaky, Snuffle Treat-Dispensing Interactive Toy, with its playful sheep and green pockets that will draw their attention.
The 16" sheepdog body is made of cotton-free material filled with crinkle paper that produces an enticing crackle sound when touched, making it perfect for fetch or tug.
For more durability, this toy comes with chew-resistant lining and reinforced means to provide added strength - not only making them last longer but also suitable for machine or hand washing when needed.
Please note that aggressive chewers are not suggested to use this toy; replace it if the product gets damaged.
---
8. RETALPQ Dog Puzzle Toys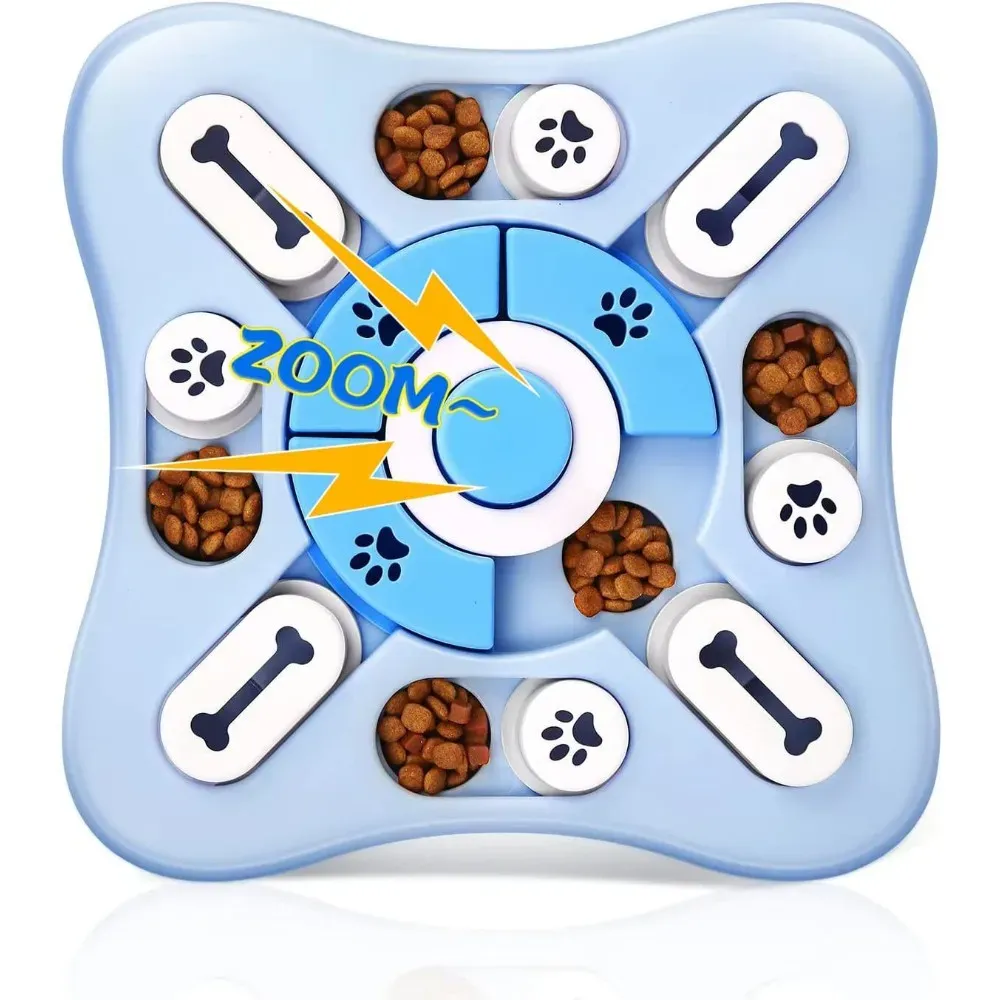 RETALPQ Dog Puzzle Toys
Check Price on Amazon
Why We Love It!
Introducing the RETALPQ Dog Puzzle Toy – the ultimate interactive experience for bored pups and cats! Every pet deserves to have a bit of fun, and this toy will provide hours of entertainment and help them build their brain power.
Exercise your dog's problem-solving skills and expand their mental capacity in a stimulating and enjoyable way. With an easy-to-use slider, you can fill the upper compartment with snacks or treats and watch as your pup uses its nose or paw to work out how to move the slider and get the goodies.
Not only that, but this toy encourages your pet to slow down their eating speed, helping them better digest their meals.
So give them something challenging, rewarding, and fun – get your hands on the RETALPQ Dog Puzzle Toy today!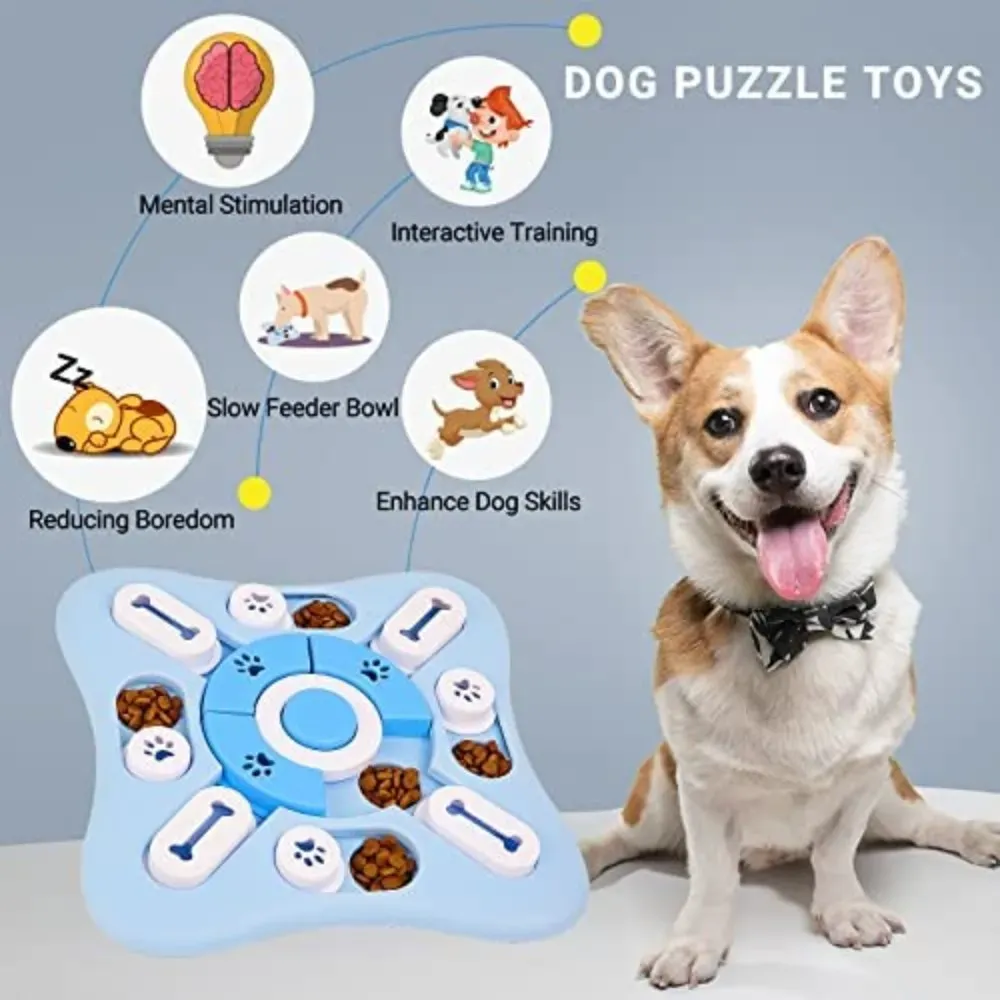 What You Should Know
The RETALPQ Dog Puzzle Toy is an excellent way to provide your dog or cat with mental and physical stimulation.
Measuring 9.65" * 9.65" * 1.14" (L*W*H), this puzzle toy works well for both puppies and cats, offering food rewards hidden in the maze that can be unlocked by moving the slider.
The durable construction of this puzzle toy makes it easy to clean. However, it's important to remember that no toy is indestructible - be sure to remove and replace the toy if damaged or leave it unattended when possible with your pet.
---
9. Potaroma Dog Food Puzzle Toy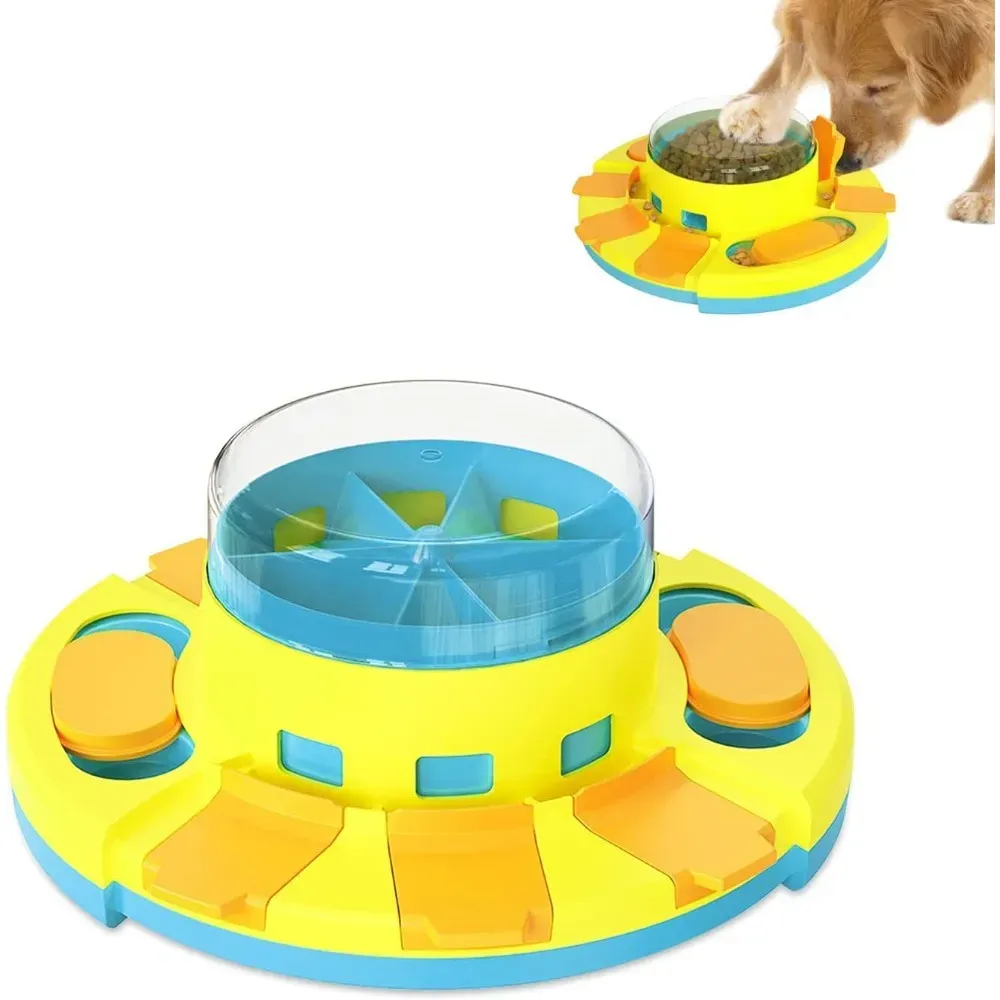 Potaroma Dog Food Puzzle Toy
Best for IQ training and entertainment
Check Price on Amazon
Why We Love It!
Do you need something to keep your pup busy? The Potaroma Dog Food Puzzle Toy is the answer!
This interactive treat puzzle game will challenge your furry friend and sharpen their problem-solving skills as they figure out how to retrieve the treats locked inside.
The level 1 puzzle requires a simple nudge of the lids, while level 2 ups the ante by teaching your dog to press down on a top cover. And don't worry about refilling it constantly – its large capacity will last for days.
If you're looking for an alternative way to reduce boredom and destructive behavior like excessive barking, look no further than Potaroma! It's playfully engaging – watch your pup get ever closer to unlocking their special treats – it also helps promote healthy ingestion habits with its slow feeder feature.
Plus, you can switch up the game when the food's gone by filling it up with new treats and setting different difficulty levels. So why wait? Get your pup cooking with Potaroma today!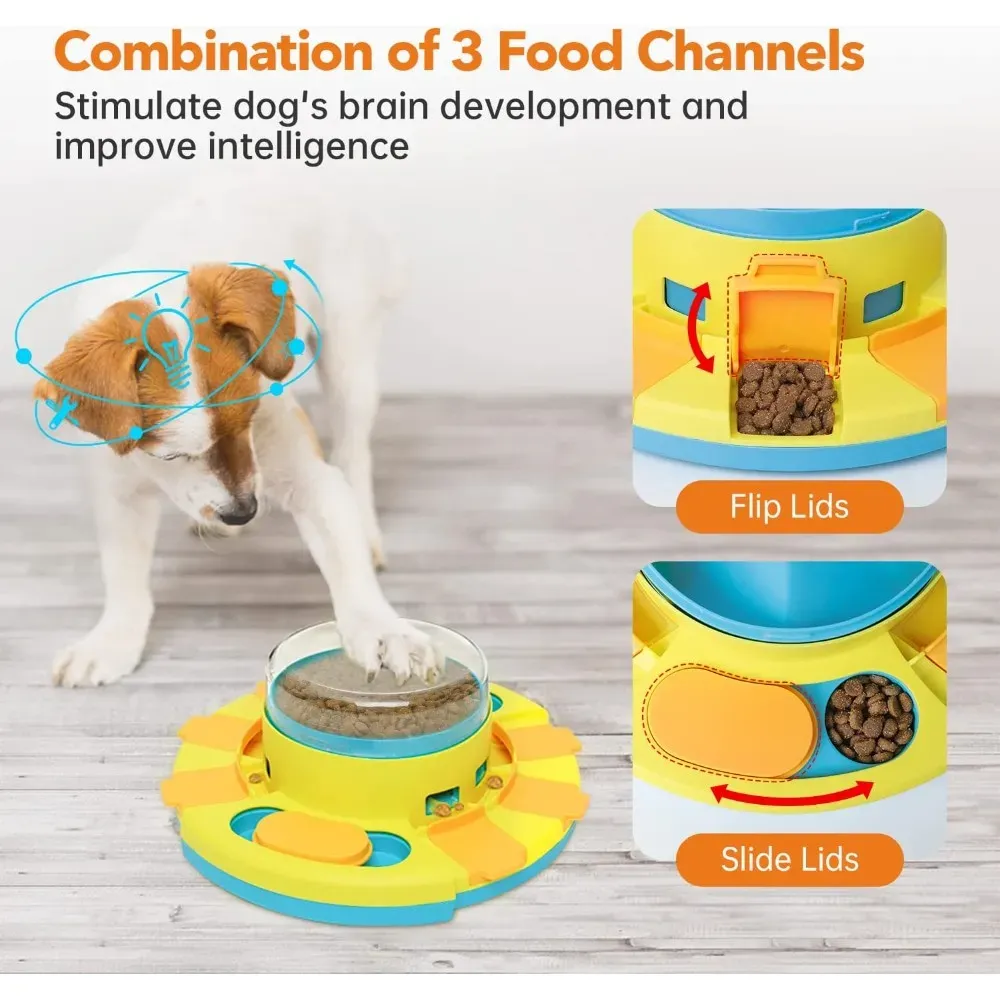 What You Should Know
When looking for a puzzle toy for your pup, you want to ensure it is safe and secure. Potaroma Dog Food Puzzle Toy has you covered in both criteria.
The base comes with 4 non-slip rubber mats that hold the toy firmly in place, even when your pup nuzzles while they eat, meaning you don't have to worry about any messes or safety hazards due to tipping over.
Every angle of this product is designed with your pet's health in mind; made of durable, food-grade PP materials and non-removable parts, cleaning the toy is a breeze!
Plus, out-of-the-box assembly isn't necessary, so Potaroma ensures your pup gets treats easily and worry-free.
---
10. HIPPIH Interactive Dog Toys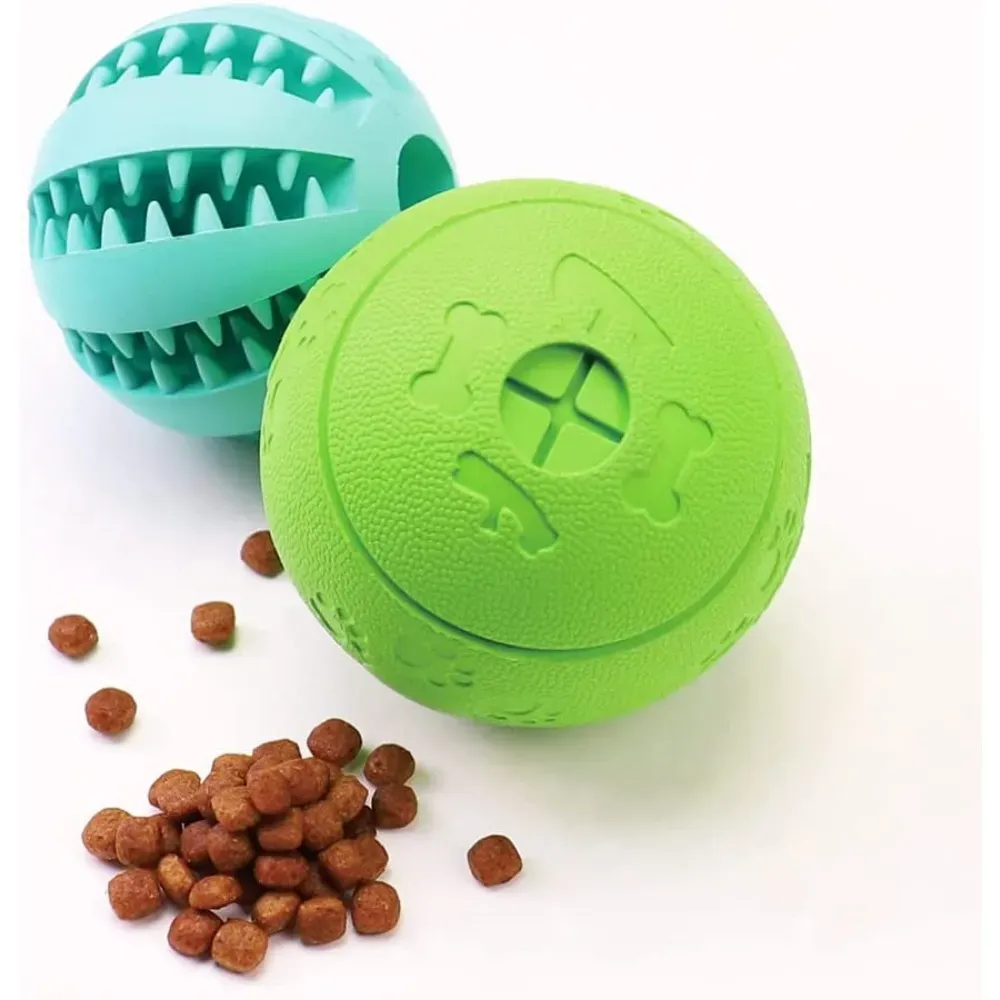 HIPPIH Interactive Dog Toys
Best for interactive fun with your dog
Check Price on Amazon
Why We Love It!
Get ready to have some serious fun with your pup! The HIPPIH Dog Puzzle Toy 2 Pack is sure to be a hit.
With their bright colors and fun grooves built right in, this toy pair is perfect for fetch and active play.
You can add treats or food into the grooves - hello, delicious motivation! Keep them entertained, encourage exercise, and even promote bonding with the HIPPIH IQ treat ball - what more could you ask for?
Your dog will love how much they can get out of these toys, which help improve their teeth without hurting their gums.
Not only will your pup benefit from this toy set, but it's also sure to bring tons of fun to any interaction between you and your furry best friend. When it comes to knowing what your pet needs, the HIPPIH Dog Puzzle Toy 2 Pack won't disappoint!
Perfect for fetch and interaction with your dog. You can add food or treats into the grooves, which keeps your dog entertained and active. HIPPIH IQ treat ball allows you to have more interactive fun with your pets.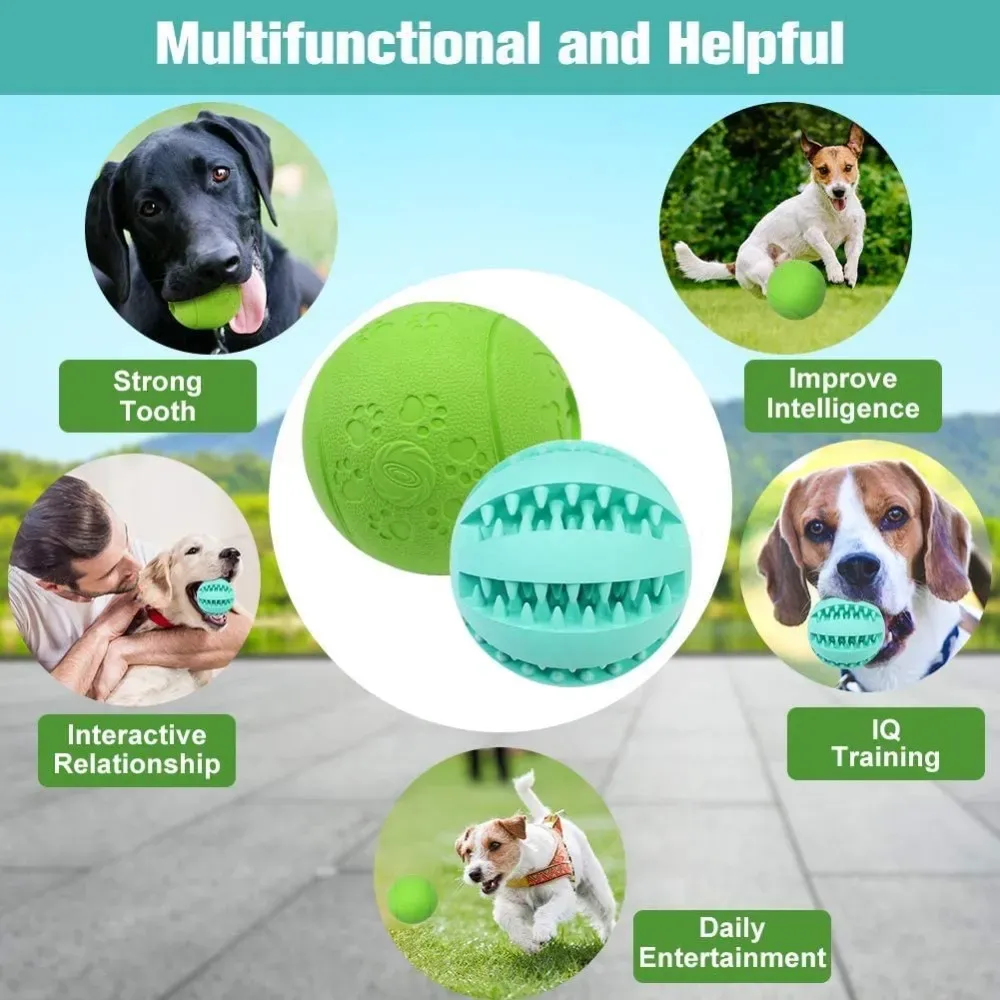 What You Should Know
The HIPPIH Dog Puzzle Toy 2 Pac is an excellent choice for dog owners looking to keep their pets entertained and encouraged to practice healthy habits.
The extra-tough rubber construction of this ball provides both elasticity and durability, allowing your pet to grind down on its surface while ensuring the toy lasts throughout all the roughhousing.
Available in two sizes - blue and green - this toy is suitable for small and medium to large-sized dogs, allowing you to give the perfect gift to your beloved pup.
It will help encourage healthier habits in your pet and reduce any destructive behaviors - leaving your clothes, sheets, furniture, and other items safe from harm.
Buy a HIPPIH Dog Puzzle Toy 2 Pac today as a perfect present for your loyal companion!
---
Dog Puzzle Feeder FAQ:
You want to get a dog puzzle feeder for your pup, but you're unsure where to start.
With all the different types of dog puzzle feeders on the market, it can be hard to figure out which is suitable for your furry friend.
We've put together a list of Frequently Asked Questions about dog puzzle feeders so that you can make an informed decision before purchasing.
Are puzzle feeders good for dogs?
Puzzle feeders can be a great way to provide mental stimulation for your dog. A puzzle feeder encourages dogs to use their problem-solving skills and natural behaviors like pawing or sniffing to access food rewards. Using puzzle feeders allows your dog to think on their feet and work for its treats - both actions that canines instinctively enjoy!
In addition to providing great enrichment opportunities, there are many other benefits of using puzzle feeders with your pup. Puzzle feeders help slow down mealtime so that dogs don't gulp down food too quickly. This helps reduce the risk of bloat or digestive upset and also encourages better digestion overall. Puzzle feeders can also be great boredom busters when you're away from home; they offer an activity that provides reinforcement throughout the day without the need for human interaction.
Overall, puzzle feeders can be a fantastic way to keep your pup entertained and engaged while providing him healthy meals without having to worry about overfeeding or messes left behind after eating time is done. When choosing which type of puzzle feeder is best suited for your dog, however, it's essential to consider his age and size so he doesn't become frustrated trying to access treats that may be too difficult for him at his current development stage!
What do you put in a dog puzzle feeder?
Puzzle feeders can be a fun and stimulating way to give your pup some extra mental stimulation. When appropriately filled, they can also provide an excellent source of nutritional enrichment.
Dog owners should ensure that the type of food they choose suits their pup's age and health condition. For example, puppies may require special nutrition formulas to grow properly. If you are unsure what food to give your pup, it would be best to consult a veterinarian or pet nutritionist beforehand.
If the puzzle feeder features removable compartments or trays, it could also be beneficial to add healthy snacks such as raw fruits or vegetables (e.g., carrots). It can help increase their interest and add variety to their diet without compromising its quality – always make sure that these treats are safe for dogs before offering them! You could also opt for dry kibble-like treats, which are specially formulated for canine consumption, as well as freeze-dried meat pieces, which are delicious and nutritious alternatives when used sparingly – if at all possible, try out different options until you find one that works best with your pooch's preferences!
Finally, consider adding something like peanut butter for dogs or cottage cheese (in moderation) to not only create an interesting texture but also provide additional nutrients like protein and calcium into the mix too! Remember that some ingredients may contain excessive sugar, so read through labels carefully before purchasing them for your furry friend. Keep portions small when feeding larger breeds since significant digestion problems might occur otherwise - this goes especially true if using wet foods rather than dry ones too! With all these tips taken into account – there's no doubt that both you and your beloved companion will enjoy playing with a high-quality puzzle feeder every day from now on!
Do puzzle toys frustrate dogs?
As with humans, puzzle toys can be frustrating and rewarding for dogs. It all depends on the individual dog and its personality. For some dogs, puzzles may be more stimulating than frustrating because the challenge of figuring out how to get a treat or reward is often enough motivation for them to figure it out. On the other hand, more easily frustrated dogs may become agitated if they cannot find a solution quickly and could even give up altogether.
Overall, puzzle toys can provide mental stimulation and physical exercise for pets - especially those cooped up in small spaces indoors. They also help build confidence when a dog gets that "Ah-ha!" moment after mastering something complex or puzzling. Playing with puzzle toys can help prevent boredom while helping engage the curious minds of breeds, such as terriers who enjoy problem-solving activities that require concentration and observation skills.
That said, it's important to note that reading your pet's body language is essential when playing with any toy - not just puzzles - as frustration in these situations is highly unpleasant (for them) and should always be avoided if possible. If your pup seems overwhelmed by the difficulty level of a particular toy, then it might be best to switch to an easier one or pause until another day before introducing it again at a slower pace; this way, you can ensure your pup has positive experiences with its new toy which in turn will lead to positive reinforcement from you in future encounters!
Do puzzles tire out dogs?
The short answer to this question is yes; puzzles can tire out dogs. Depending on the type and complexity of the puzzle, they can provide both cognitive and physical stimulation, which can, in turn, tire them out just like any other activity.
Cognitively, puzzles are an excellent way for a dog to use its natural problem-solving skills and keep its brain engaged. Stimulating activities like these are essential for keeping mentally healthy, as, without enough mental enrichment, boredom can take over, leading to destructive behaviors or depression. The mental challenge provided by puzzles also allows your dog to burn off some energy that may have built up during the day when unable to exercise outdoors or play with toys due to weather restrictions or possible medical issues.
If your pup is particularly athletic, you may opt for more complex games such as interactive treat dispensers or fetch-solving toys, which would provide additional physical stimulation as they require more movement from your pet while consuming time, too; explore Kong's range of interactive games if you're interested! These challenging activities help keep our pets physically fit by increasing their heart rate and muscle coordination, all while having fun - essentially a form of exercise! As with us humans, though, it's important not to overload them with too much at once, especially if they've been inactive throughout the day, so maybe start small and then increase the difficulty over time - depending on how easily bored/excitable your pup is, this should be easy enough achieve although do note that some breeds adapt better than others when it comes to stimulating activities such as agility courses etcetera so take breed into account before trying anything too strenuous!
In conclusion - yes, puzzles do tire out dogs (providing both cognitive and physical exercises), although appropriate age/breed must be considered when setting up overly taxing tasks; otherwise, an injury could occur.
How often should you give your dog a puzzle?
Puzzle toys are an excellent way to provide mental stimulation for your dog and can help keep them entertained when they're alone at home. It is essential to understand that while these toys can be a great source of enrichment, they should not replace regular exercise with you or another human, time spent learning basic skills like obedience commands, or socialization with other dogs and people.
When it comes to determining how often you should give your dog a puzzle toy, the amount largely depends on their age and behavior level. Generally speaking, puppies require more frequent mental stimulation than adult dogs (as they have lots of energy). In contrast, senior dogs may prefer fewer sessions due to physical limitations or cognitive decline.
For younger puppies who tire rapidly during playtime, offering them puzzles several times throughout the day will allow them plenty of opportunities for enrichment without becoming overly exhausted due to extended play sessions. Older dogs may benefit from shorter puzzle sessions each day (for instance, once in the morning before breakfast/walk and again before dinner). This also allows you as an owner to monitor their activity level throughout the day, so if any changes arise, you can seek advice from a vet quickly.
In addition to age-appropriate amounts of puzzle playtime for your pup, some behaviors indicate when it is particularly beneficial (or necessary) for offering additional mental stimulation through puzzles: If your pup has destructive tendencies such as chewing up furniture or digging holes in your grass; if they become easily bored by activities like walking; if outwardly display signs of boredom/mischief; or if there has been a change in environment/routine recently that could prove stressful this would all be reasonable indications that more enriching activities such as using puzzle toys would be helpful!
Overall, giving your dog appropriate amounts of enrichment through puzzle games helps support healthy brain development and builds trust between owner & pet - providing quality "together time," which strengthens overall well-being!
Do slow feeders mentally stimulate dogs?
The short answer is yes; slow feeders can be an effective way to mentally and physically stimulate dogs. Slow feeders are puzzles and bowls requiring the dog to work harder to access its food. Eating out of a bowl generally requires minimal effort on the part of the dog, while eating out of a puzzle may require them to solve specific problems to access their food. This increases their problem-solving abilities and provides regular mental stimulation throughout the day.
Beyond just providing mental stimulation, slow feeders could have several physical benefits as well. When it takes longer for your pup to eat, they're exposed to fewer calories which can help with healthy weight management. Long meals also give your pooch more time to chew, which builds stronger jaw strength but will also help clean plaque off their teeth naturally!
It's important never to force or rush your pup when using slow feeders; if they cannot figure something out, it should always be accompanied by positive reinforcement rather than frustration from you or them! As long as you remember this rule, however, there are incredible benefits that come from using these tools instead of traditional bowls. They can provide physical and mental activity during meal times and allow your pup to stretch his brain a little more daily!
How do you mentally stimulate a dog?
Mental stimulation is one of the most important ways to ensure your dog's physical and mental well-being. If your pup is not given enough mental stimulation, it can lead to boredom and anxiety, resulting in negative behavior like barking or chewing.
Fortunately, there are several activities you can use to stimulate your dog mentally. First, try engaging them in interactive activities like fetch or agility training. These activities involve problem-solving and increased focus by forcing an animal's brain to work hard while responding to commands. Additionally, these games provide necessary physical exercise as a bonus!
You can also make time for a daily scent game with your pup by hiding treats around the house for them to find—this provides purposeful mental activity and positive reinforcement when they discover each treat. Or you could create a challenging maze using boxes or other containers that force the dog deeper into the course as they search for food at its endpoint—not only stimulating their sense of smell but requiring them to think through any obstacles on their way there! In general, look for tasks that require more complex behaviors than just sitting or lying down; those that ask the pup to think before acting will give them optimal levels of stimulation.
Finally, introducing new toys into playtime encourages curiosity and interest in learning; providing dog puzzles such as the Kong classic dog toy or any of the Nina Ottosson by outward hound toys, filled with treats, will keep your pet guessing while they attempt different combinations until they get it figured out! No matter what tricks you have up your sleeve, always finish playtime with lots of praise so that she knows that you appreciate her efforts each time she succeeds – this builds confidence!
By incorporating these exercises into daily life and setting aside dedicated time together every day - even if just 10 minutes - owners will be sure their furry friends receive ample mental enrichment during their lifetime without fail!
Are chew toys mentally stimulating?
Absolutely! Chew toys can provide a variety of mental and physical benefits for your pet. From reducing anxiety or boredom to providing an outlet for natural chewing behaviors, chew toys are essential to keeping your pet healthy and happy.
What is the best puzzle feeder for dogs?
When it comes to choosing the right puzzle feeder for your canine companion, there are a few important factors to consider. The first is the size and shape of the puzzle feeder. It should be large enough that your dog can reach all of the portions of food without struggling too much.
You'll also want to ensure that the material used in construction is safe for ingestion, such as stainless steel or food-grade plastic, with no sharp edges. Be sure to read reviews carefully before making a purchase; people who have bought and tested out products are often the best sources when determining quality and worthiness — especially when it comes to buying items intended for animal use!
Finally, look into whether or not you need an anti-slip bottom on your puppy's toy puzzle feeder to help keep it stationary while they eat — particularly if they tend towards being clumsy little munchkins! All these considerations will ensure you get a fitting toy that will fit both their skill level and needs perfectly.
Bottom line: There are lots of excellent choices available when looking for a suitable puzzle feeder for dogs, but take care in picking one appropriate for them by considering size, adjustable difficulty levels, materials used (and their safety), reviews from other pet parents, and whether or not an anti-slip base feature is necessary - all of this ensures an enjoyable challenge which suits their ability level perfectly!
---
Get free help and training material from the world-famous Doggy Dan by simply tapping the banner below!
Discover expert tips and tricks to train your furry friend and enhance your bond with them. Don't miss this opportunity to learn from the best. Tap now! 👇
Order Your Dog Puzzle Feeder Today!
We hope you found our selection of dog puzzle feeders helpful in deciding which one to buy.
If you're still undecided, remember that you can't go wrong with any of these products.
They're all high quality and will keep your pet entertained for hours. So what are you waiting for?
Happy shopping!
Tap the product below to check the price!
---
Want to spoil your furry best friend? Tap below to discover the top-rated dog toys of the year👇!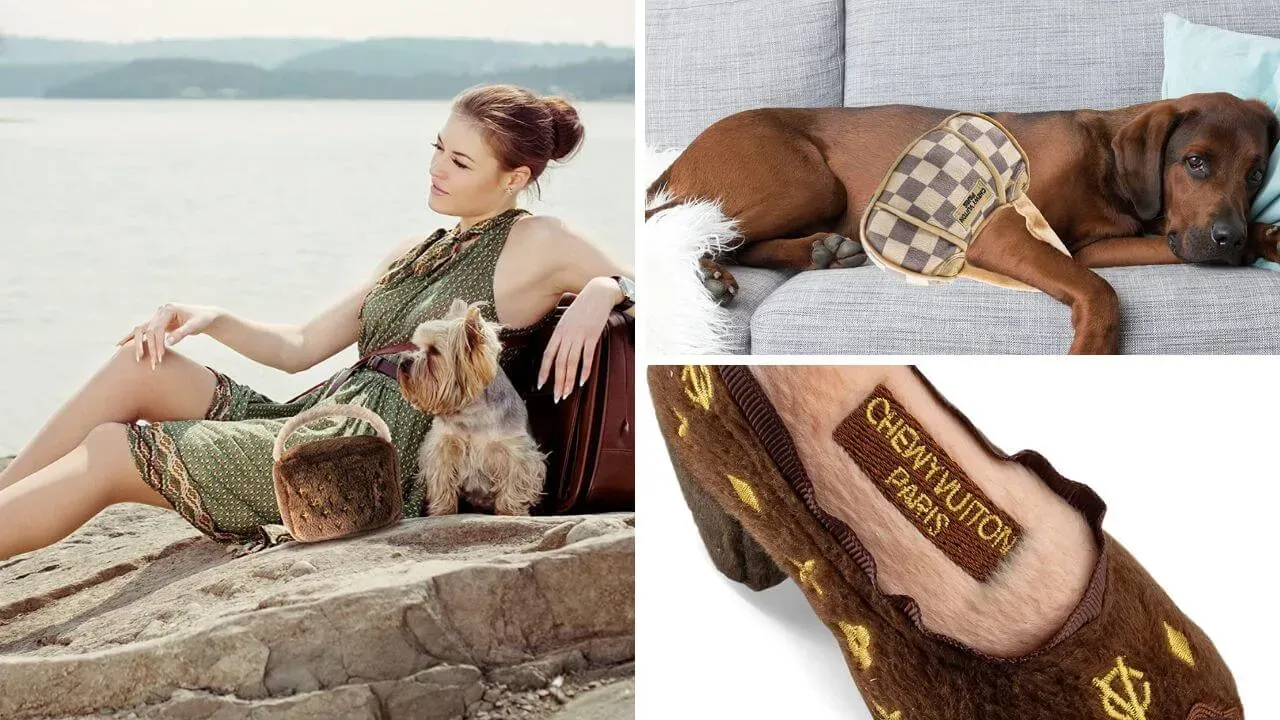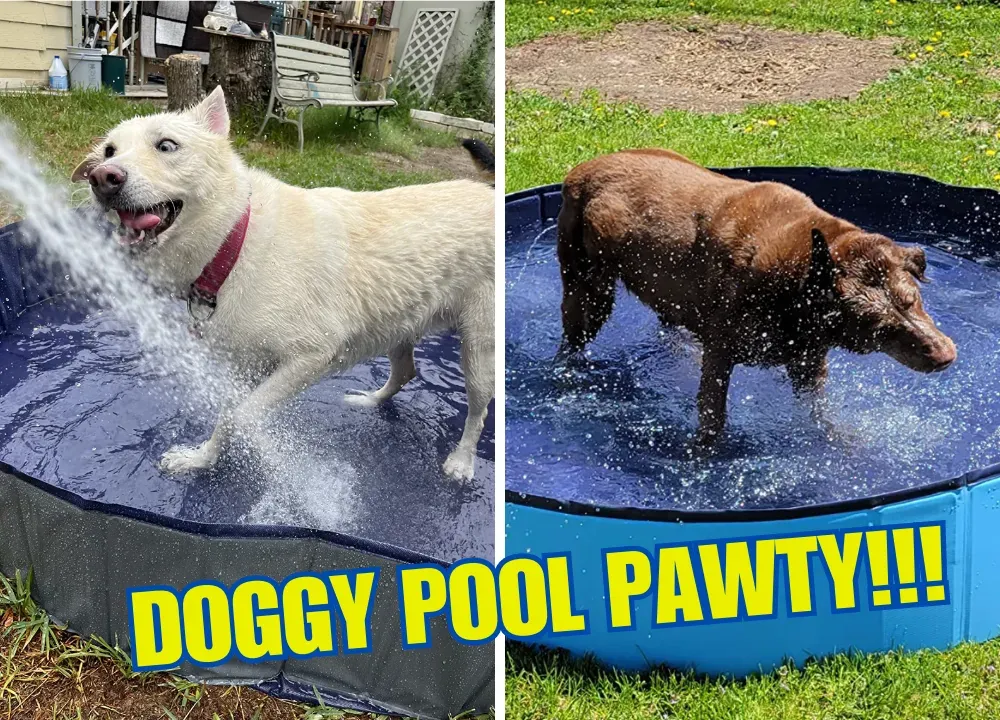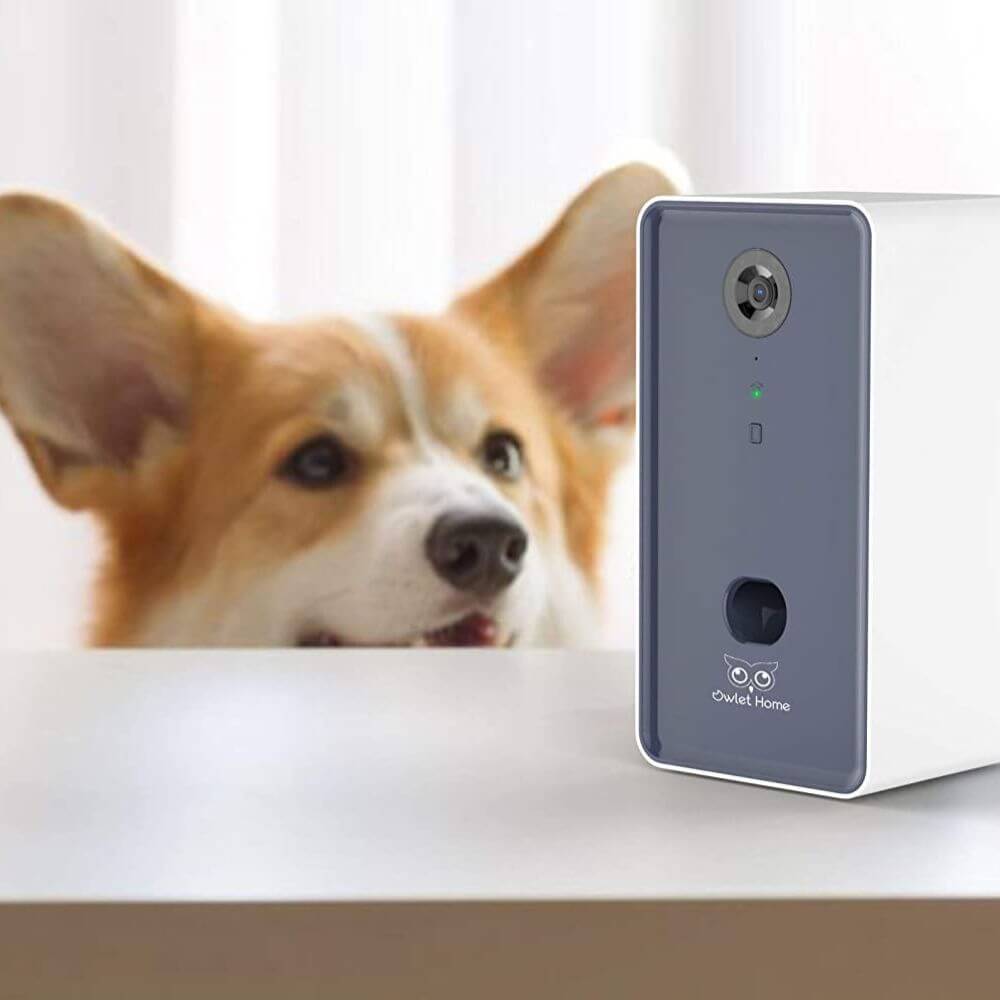 💡
This post may contain affiliate links by which I could receive a small commission at no cost to you when you make a purchase. As an Amazon Associate, I earn from qualifying purchases. Thank you for understanding.
---