A warm welcome to our definitive review of the top 6 headphones for skiing in 2023. Imagine carving down fresh powder while your favorite music plays, creating a perfect symphony between your movements and the rhythm.
This is the experience that the right pair of headphones can offer. However, finding the right pair can be challenging due to the specific requirements of winter sports.
We've taken the guesswork out of the process by curating a list of headphones that excel in durability, sound quality, and comfort.
Let's dive deep into the world of skiing headphones.
Choosing the Top 6 Headphones for Skiing
The journey to identify the top headphones for skiing was meticulous and objective. We considered several key factors: sound quality, durability, water resistance, comfort, customer reviews, and price.
We put numerous headphones through rigorous testing under various conditions, sifted through countless customer reviews, consulted with audio technology experts, and liaised with manufacturers to gather all possible information. The result is a well-rounded list of the top 6 headphones, each offering a unique blend of quality, performance, and value for money.
Buyer's Guide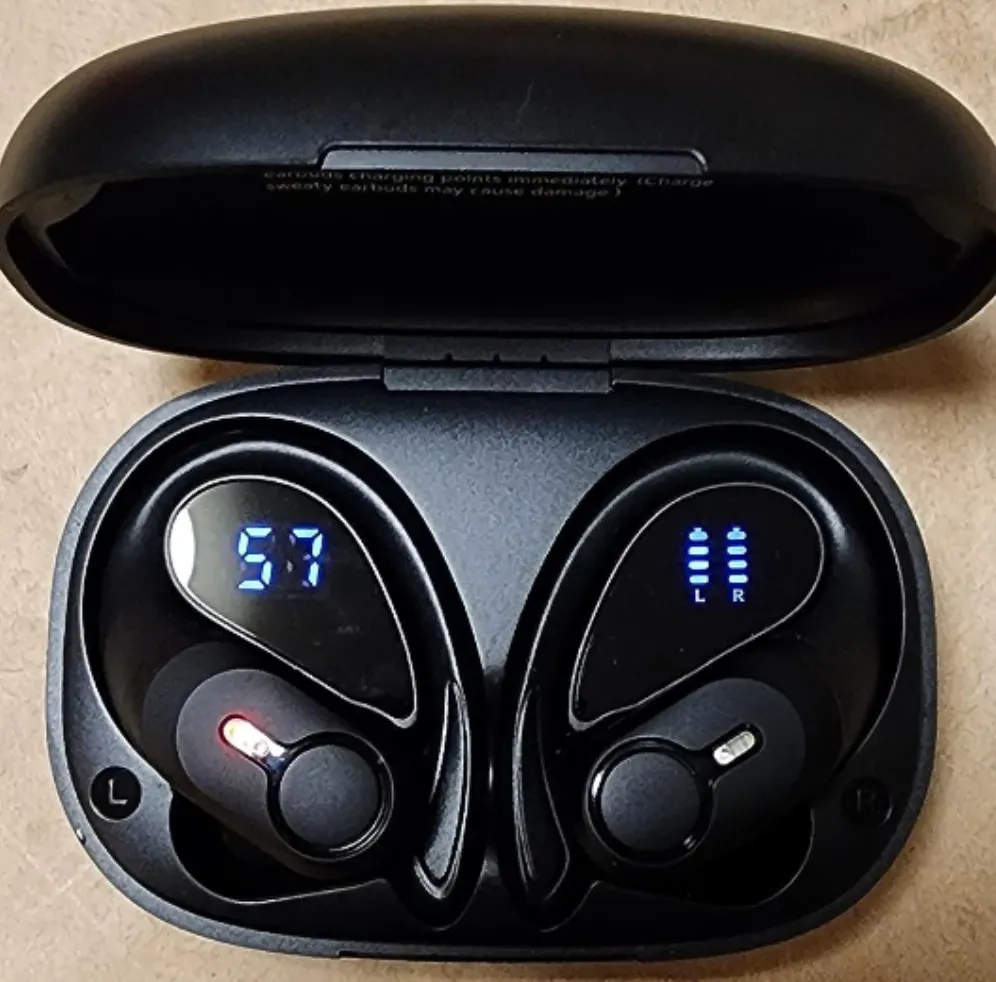 When shopping for the ideal headphones for skiing, consider the following:
Durability: Skiing involves a lot of movement and potential impact. Your headphones should be robust enough to handle this without damage.
Water Resistance: Exposure to snow and sweat is inevitable when skiing. Ensure your headphones are at least water-resistant or, ideally, waterproof.
Sound Quality: You're investing in headphones for the audio experience. Look for clear sound reproduction and ambient noise isolation features for the best experience.
Call Handling: Look for headphones with built-in microphones and controls that allow you to answer calls without needing to access your phone.
Comfort & Fit: Comfort is crucial as you'll be wearing these headphones for extended periods. They should fit securely and not cause discomfort even after hours of use.
Battery Life: Check the battery life if you opt for wireless headphones. It should last through your longest ski sessions.
Price: While it's important to invest in quality, consider your budget. The best headphones offer a balance between cost and features.
Now that you're equipped with the knowledge to choose your perfect pair, let's unveil the top 6 headphones for skiing in 2023. Each product has been carefully selected and reviewed to ensure they deliver in terms of durability, sound quality, and comfort. Whether you're a professional skier or a winter sports enthusiast, we have the perfect audio companion for your next snowy adventure. Stay tuned!
---
1. Boloxa Wireless Earbuds Bluetooth Headphones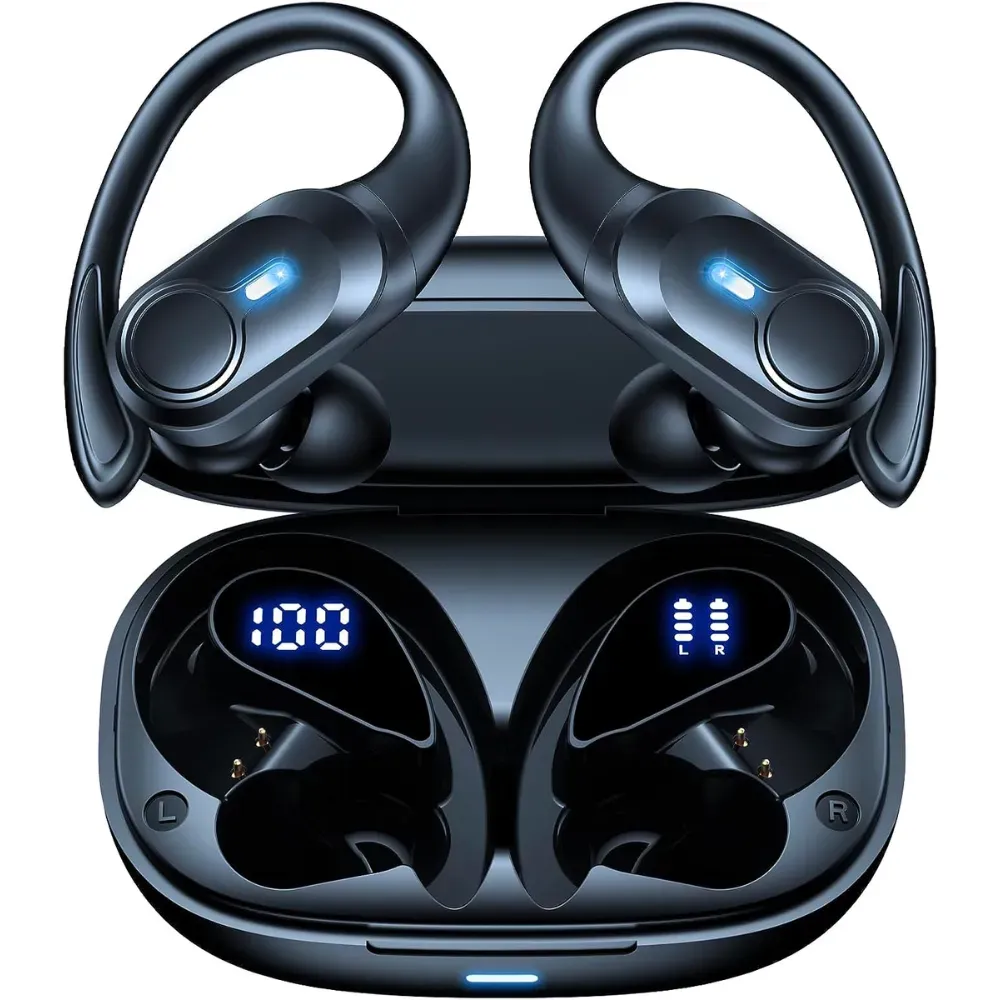 Boloxa Wireless Earbuds Bluetooth Headphones
Standout Features: Extended Battery Life, IPX7 Waterproof, Wireless Charging
Check Price on Amazon
❤️ Why We Love It
70 Hours Playtime with Dual Power Display: Forget about battery anxiety with these Bluetooth headphones. They offer about 9 hours of playback per charge, extended to 70 hours with the included charging case. The intuitive LED display keeps track of the case's remaining power and the earbuds' charging status.
Made for Movement and IPX7 Water-resistant: These headphones are enhanced by flexible ear hooks and an in-ear design with 3 sizes of soft ear tips for a secure fit during vigorous workouts or extended listening sessions. An IPX7 waterproof rating offers protection against sweat and rain, making them ideal for skiing.
Crystal Clear Audio and Call Performance: Experience exceptional audio performance across the entire sound spectrum thanks to the 13mm chamber speaker driver unit. The built-in microphones ensure your voice is transmitted clearly, free from ambient distractions.
Wireless Charging and Multi-Using Mode: In addition to supporting USB-C charging, these earbuds also allow for advanced wireless charging. They offer a faster, more stable connection using Bluetooth 5.3 and both binaural and mono modes.
One Key Control and Fast Auto Pairing: The multi-functional button allows for easy access to play/pause, track skipping, and call management functions. The earbuds easily pair with your device and are compatible with most Android smartphones, iPhone products, and smart TVs/computers/laptops.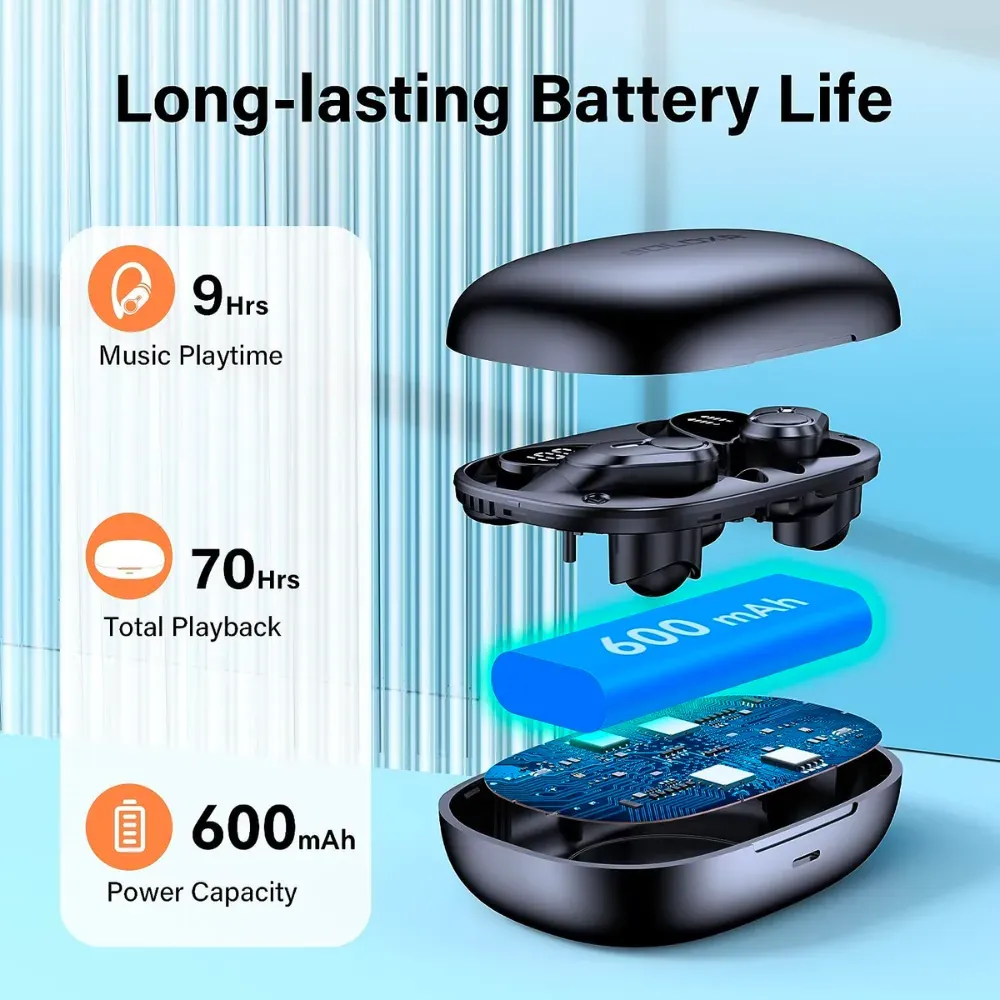 ✅ Pros
Extended battery life with dual power display
Water and sweat-resistant (IPX7 rating)
Crystal clear audio and call performance
Supports wireless charging
Easy control and fast auto-pairing
❌ Cons
Might be uncomfortable for some users due to ear hooks
Mono mode may not provide a full stereo sound experience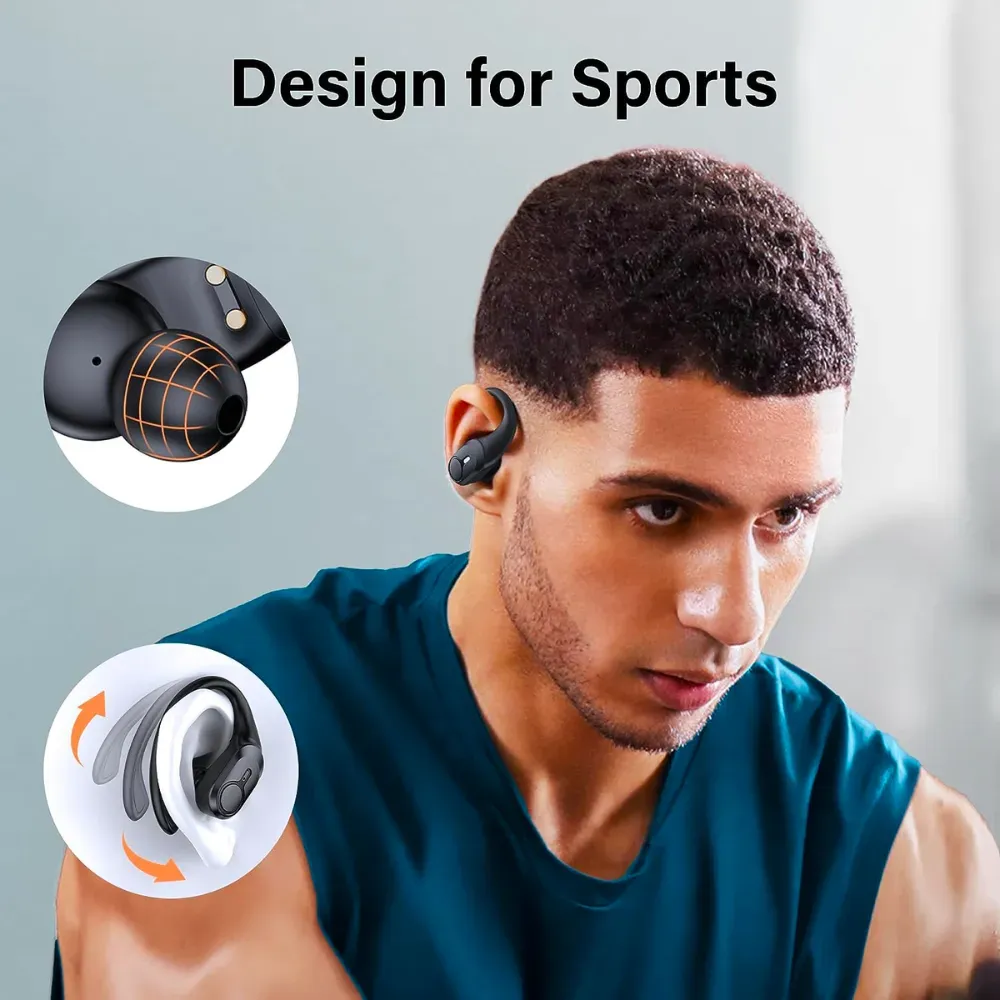 In conclusion, the Wireless Earbuds Bluetooth Headphones offer an impressive 70 hours of playback time, making them a reliable companion for your skiing adventures.
Their IPX7 water-resistance rating ensures they can withstand harsh weather conditions, while the crystal-clear audio will keep you entertained as you glide down the slopes.
With easy controls and fast auto-pairing, these headphones create a hassle-free user experience.
Whether you're hitting the slopes or heading out for a run, these earbuds are a great option for your outdoor activities.
---
2. SHOKZ OpenRun Pro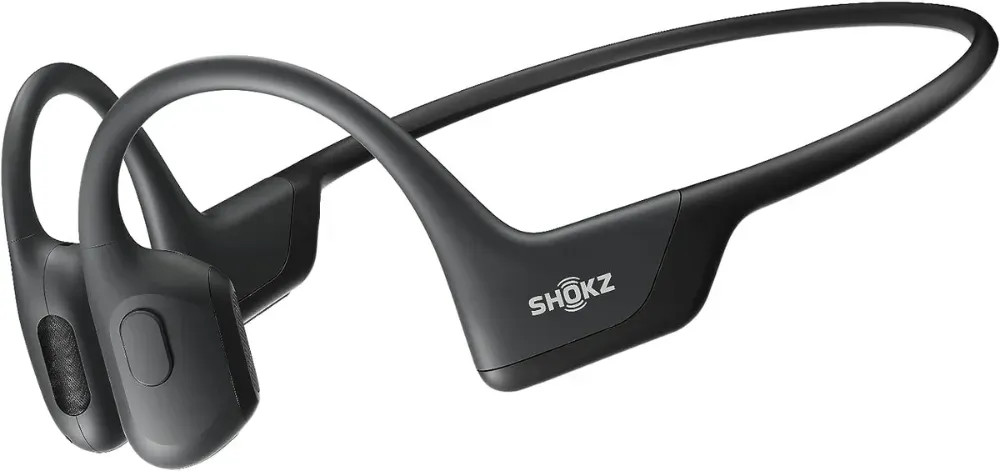 SHOKZ OpenRun Pro
Standout Features: Open-Ear Comfort, Excellent Sound Quality, and Secure Fit
Check Price on Amazon
❤️ Why We Love It
Open-Ear Comfort: The OpenRun Pro offers a unique open-ear design that avoids the discomfort of in-ear headphones. This design, coupled with the included Shokz headband, ensures the headphones stay put during any activity, including skiing.
Safety & Connection: These headphones allow you to enjoy your favorite audio while maintaining awareness of your surroundings. This feature provides a safer and more connected experience compared to traditional earbuds or over-ear headphones.
Premium Sound Quality: Experience top-tier audio delivered through your cheekbone with their 9th-generation bone conduction technology. The OpenRun Pro is engineered with Shokz TurboPitch technology for a rich listening experience with clear sound, powerful volume, and deep bass.
Secure Fit: The lightweight, wraparound titanium frame keeps your wireless headphones stable and in place during intense training sessions or adventurous skiing trips.
10 Hours of Music & Calls: With ten continuous hours of music, calls, and podcasts, these Bluetooth headphones will keep you entertained throughout your skiing adventure. A 5-minute quick charge also delivers up to 1.5 hours of battery life.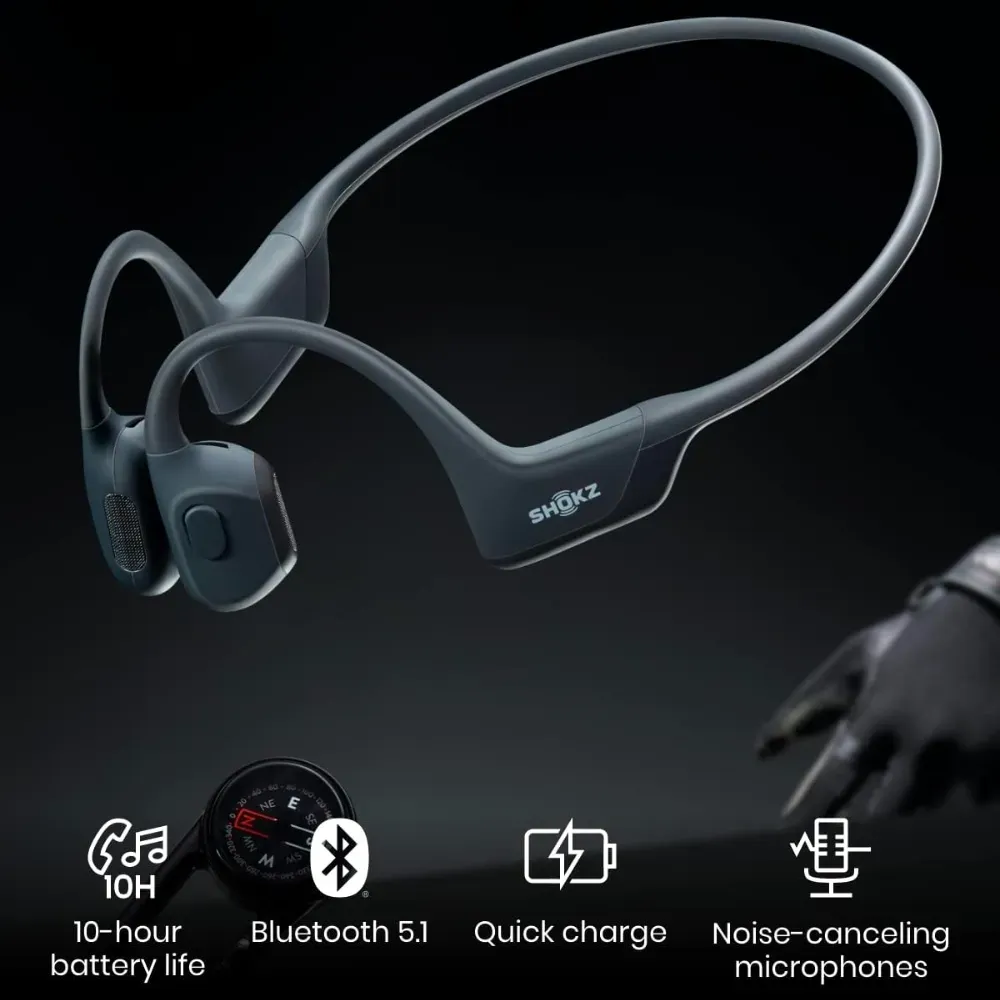 ✅ Pros
Open-ear design provides comfort and safety
High-quality sound with bone conduction technology
Stable and secure fit with a lightweight, wraparound titanium frame
Long battery life with quick charge feature
❌ Cons
Open-ear design may not suit everyone's preference
May not provide the same level of noise isolation as in-ear headphones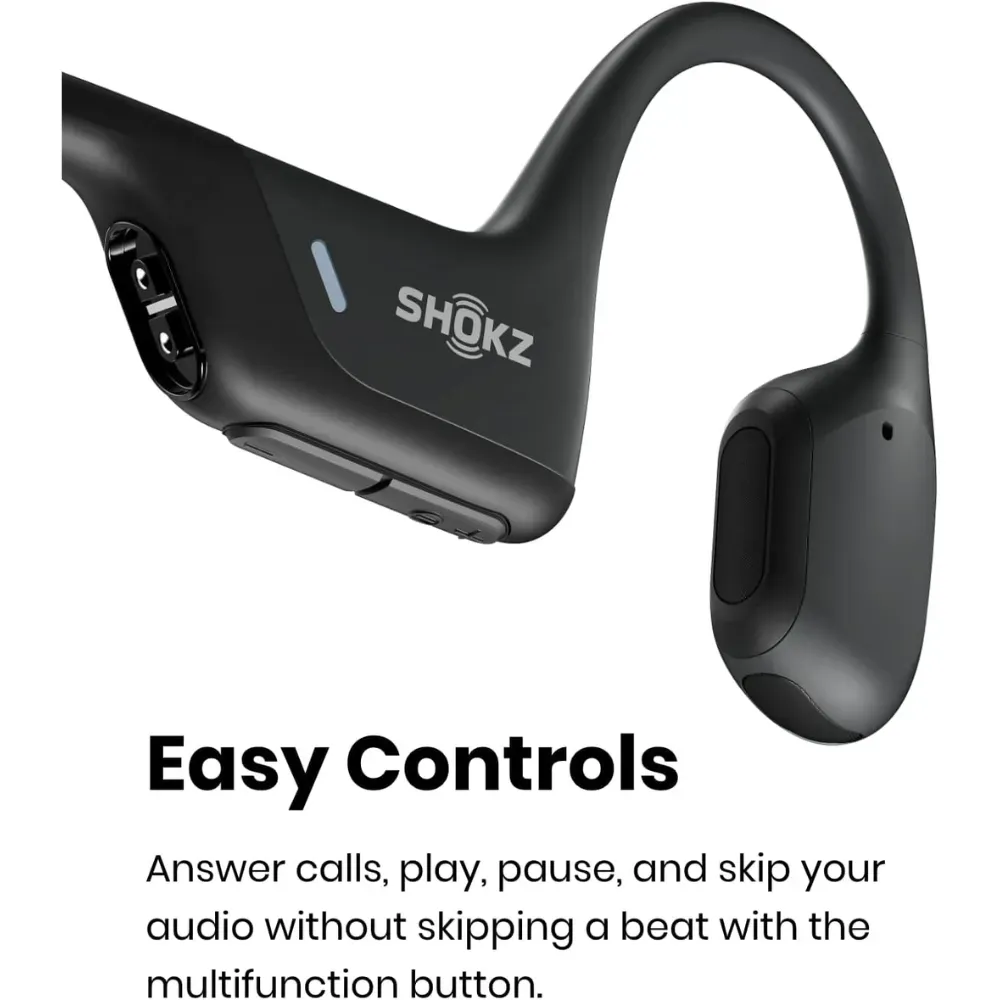 In summary, the SHOKZ OpenRun Pro headphones are a fantastic choice for those who value comfort, safety, and high-quality sound.
Their open-ear design, combined with bone conduction technology, ensures a unique listening experience while keeping you aware of your surroundings.
The headphones' secure fit and long battery life make them an excellent companion for your skiing adventures.
If you're looking for headphones that can enhance your skiing experience without compromising safety or comfort, the SHOKZ OpenRun Pro is a good option worth considering.
---
3. Wildhorn Alta Wireless Bluetooth, Drop-in Headphones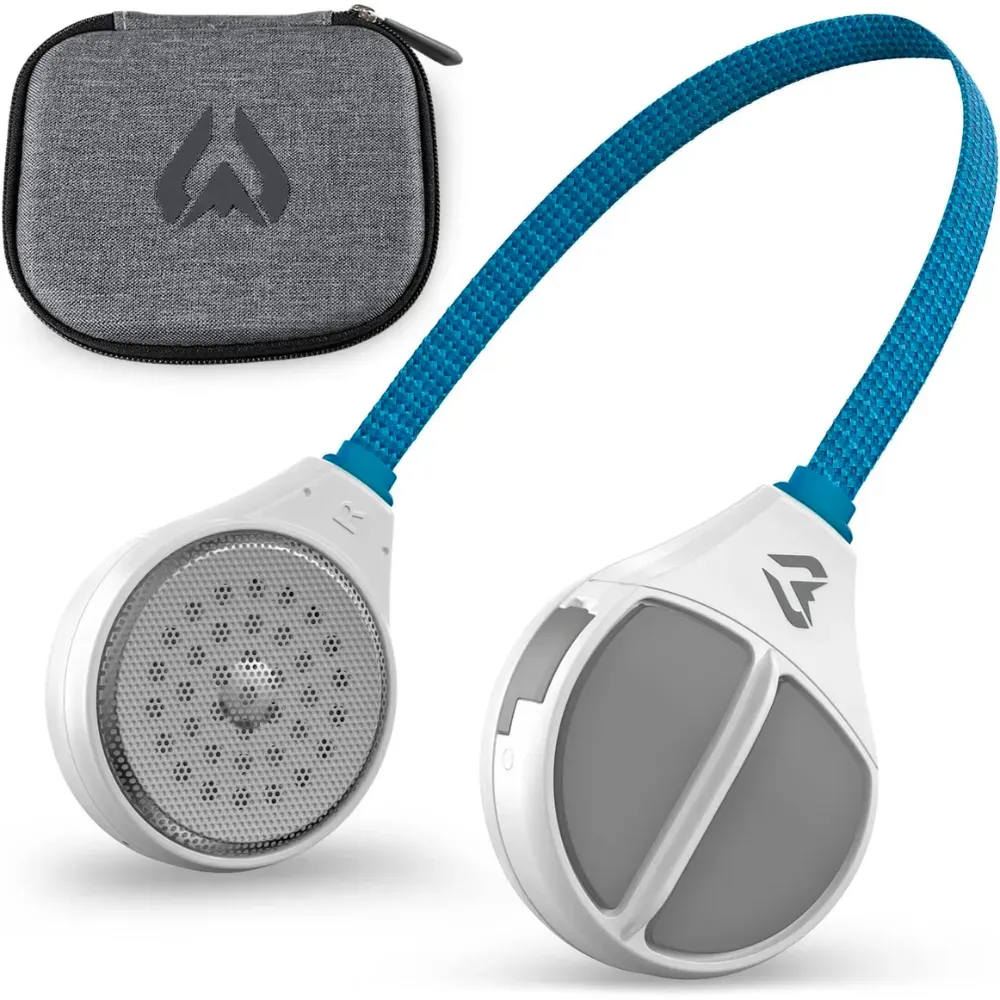 Wildhorn Alta Wireless Bluetooth, Drop-in Headphones
Standout Features: Premium Balanced Sound, Crisp Hands-Free Calling, Universally Compatible
Find The Best Deal
❤️ Why We Love It
Premium Balanced Sound: With the Alta Bluetooth Helmet Speakers, you can shred the slopes while listening to your favorite tunes in high-definition sound. These headphones utilize 40mm Drivers and a premium Bluetooth 5.0 wireless chipset to deliver balanced dynamic sound with deep bass at any volume level.
Crisp Hands-Free Calling: Say goodbye to digging for your phone or removing your helmet to make phone calls. A simple double press on the right button activates Siri or Google Voice for hands-free calling or playlist changes using voice commands through the built-in microphone.
Universally Compatible: The Alta headphones work with most audio-ready helmet brands, including Wildhorn, Smith, POC, K2, Giro, Bolle, Anon, Burton, and others. Measuring 2.2 inches high, 1.8 inches wide, and .5 inches thick, the Altas easily drop into the ear pads of any compatible helmet.
Intuitive Design: Designed in Utah by skiers and snowboarders, these ski helmet headphones offer a hassle-free, premium audio experience. The Alta features three oversized buttons for easy control of almost every function of your phone without removing your helmet or gloves.
Rugged Construction with All Day Playtime: The Alta is sweat-resistant and has been tested in extreme cold, 24 degrees Fahrenheit (-4 degrees Celsius). With 10 hours of playtime, you will never run out of juice for your tunes.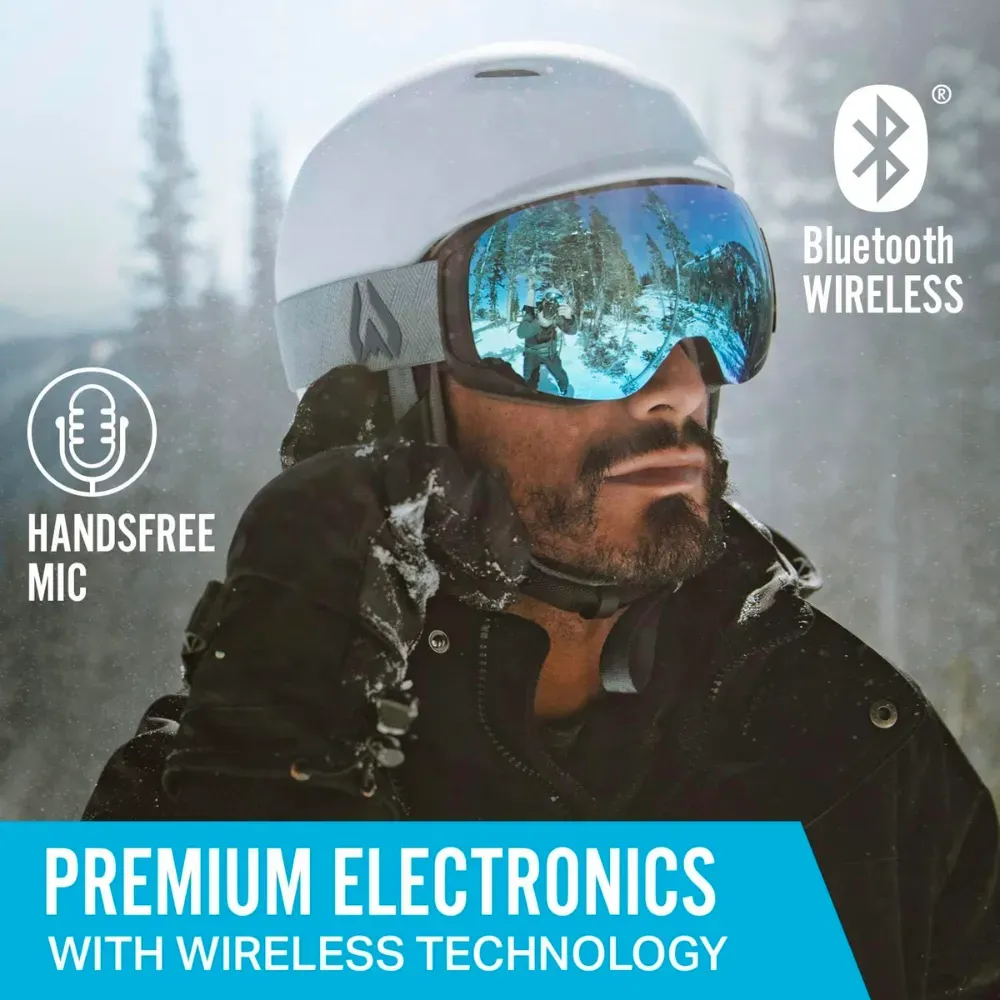 ✅ Pros
High-definition sound with deep bass
Hands-free calling feature
Universal compatibility with audio-ready helmets
Easy-to-use oversized buttons
Durable and long-lasting battery
❌ Cons
May not fit all helmet sizes
No active noise cancellation feature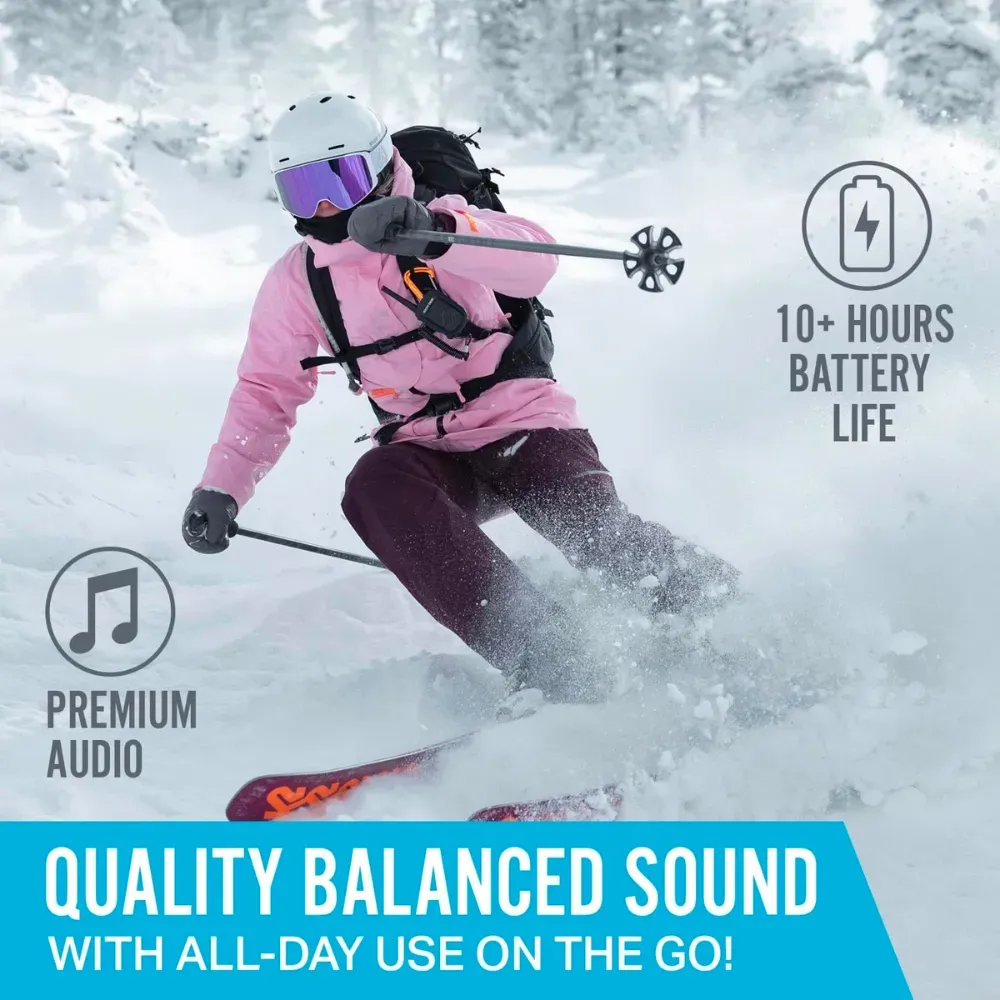 In conclusion, the Wildhorn Alta Wireless Bluetooth Headphones offer an exceptional combination of sound quality, convenience, and durability.
Their universal compatibility makes them an excellent choice for any skier, while the intuitive design allows for easy control even while wearing gloves.
The rugged construction ensures they can withstand harsh winter conditions, and the impressive 10-hour playtime means they'll last through your longest skiing sessions.
If you're seeking a seamless, high-quality audio experience on the slopes, the Wildhorn Alta Headphones could be the perfect fit for you.
---
4. Sena Latitude Snow Helmet with Built-in Speakers and Microphone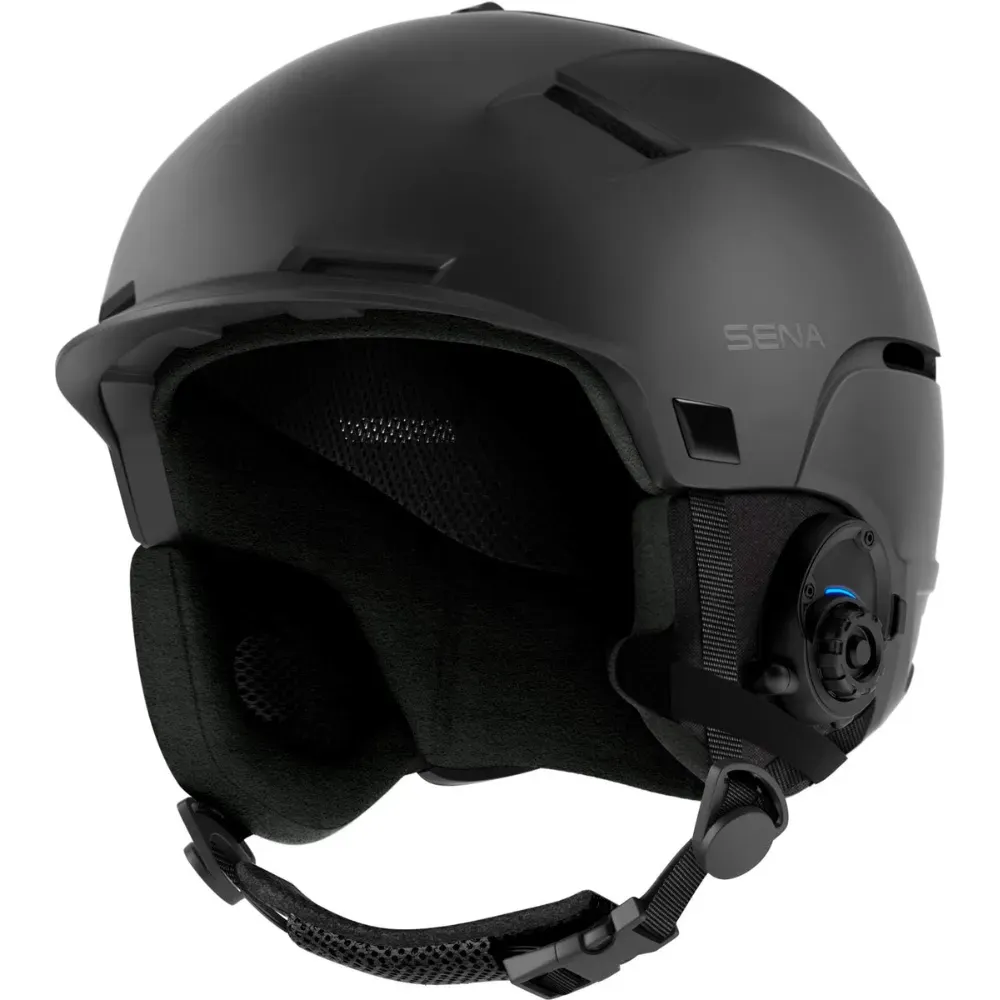 Sena Latitude Snow Helmet with Built-in Speakers and Microphone
Standout Features: Four-Way Bluetooth Intercom, Active Ventilation System, Safety Certified
Check Price on Amazon
❤️ Why We Love It
Built-In Comm System: The Latitude S1 is a versatile snow helmet that utilizes Sena's intercom technology. Up to four Sena-powered Bluetooth devices can connect for intercom conversations without requiring a smartphone. Built-in speakers and a microphone allow you to stream music or take calls through the helmet's speakers.
Constructed for Winter's Challenges: Safety, convenience, and comfort are key elements of the Latitude S1. This helmet is composed of a durable ABS shell with an EPS liner. It has been impact-rated by both the European Committee for Standardization and the American Society of Testing and Materials. An adjustable airflow system regulates the air streaming through the 18 vents, while a goggle retention strap secures your goggles to the helmet. The interior mesh liner and black velvet padding keep your head warm and comfortable.
Stay Connected with Friends on the Slopes: The Latitude S1 features four-way communication functionality, keeping your group connected on the mountain. Enjoy quality conversations with a range of up to 1 km (0.6 mi) in open terrain. With HD Intercom, two paired riders can enjoy high-definition intercom audio quality, ensuring clear communication even at long distances.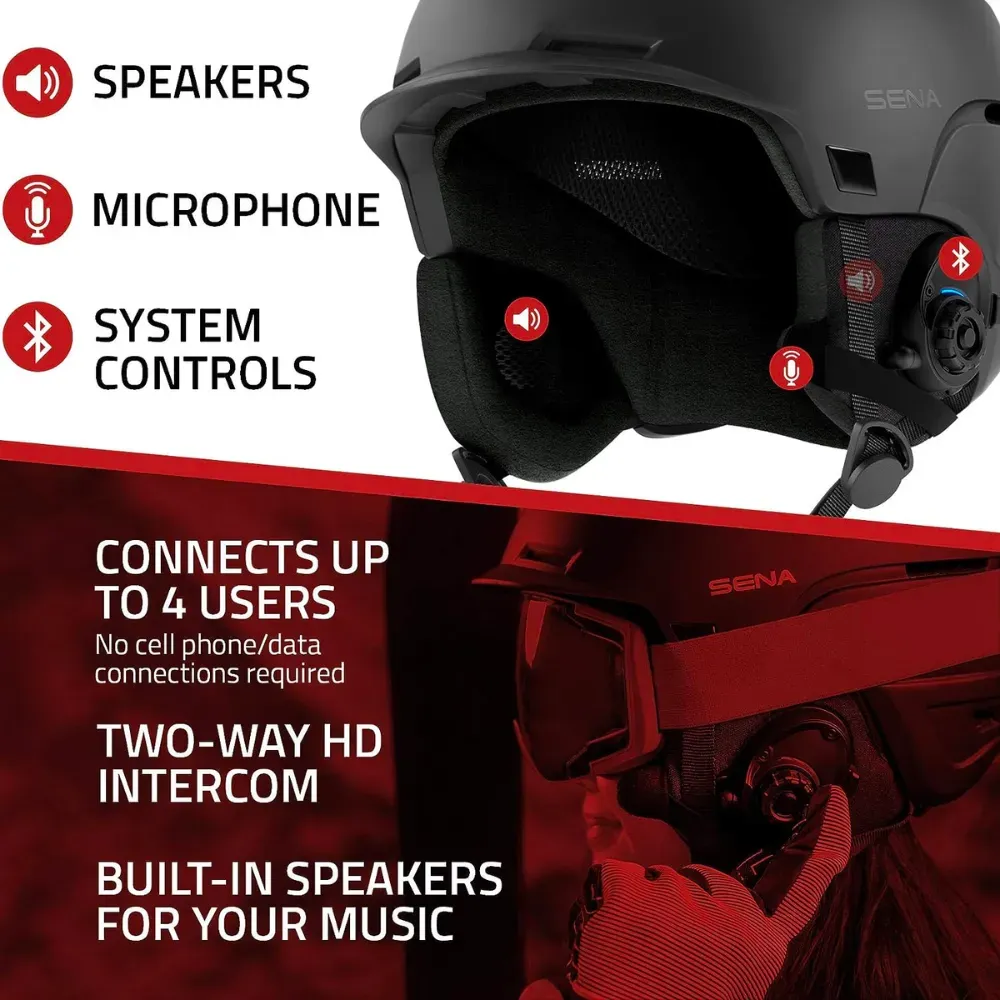 ✅ Pros
Four-way Bluetooth intercom for easy communication
Active ventilation system for comfort
Durable and safety-certified
Convenient built-in speakers and microphone
Comfortable interior liner and padding
❌ Cons
Limited talk time (up to 8 hours)
Requires 3 hours to fully recharge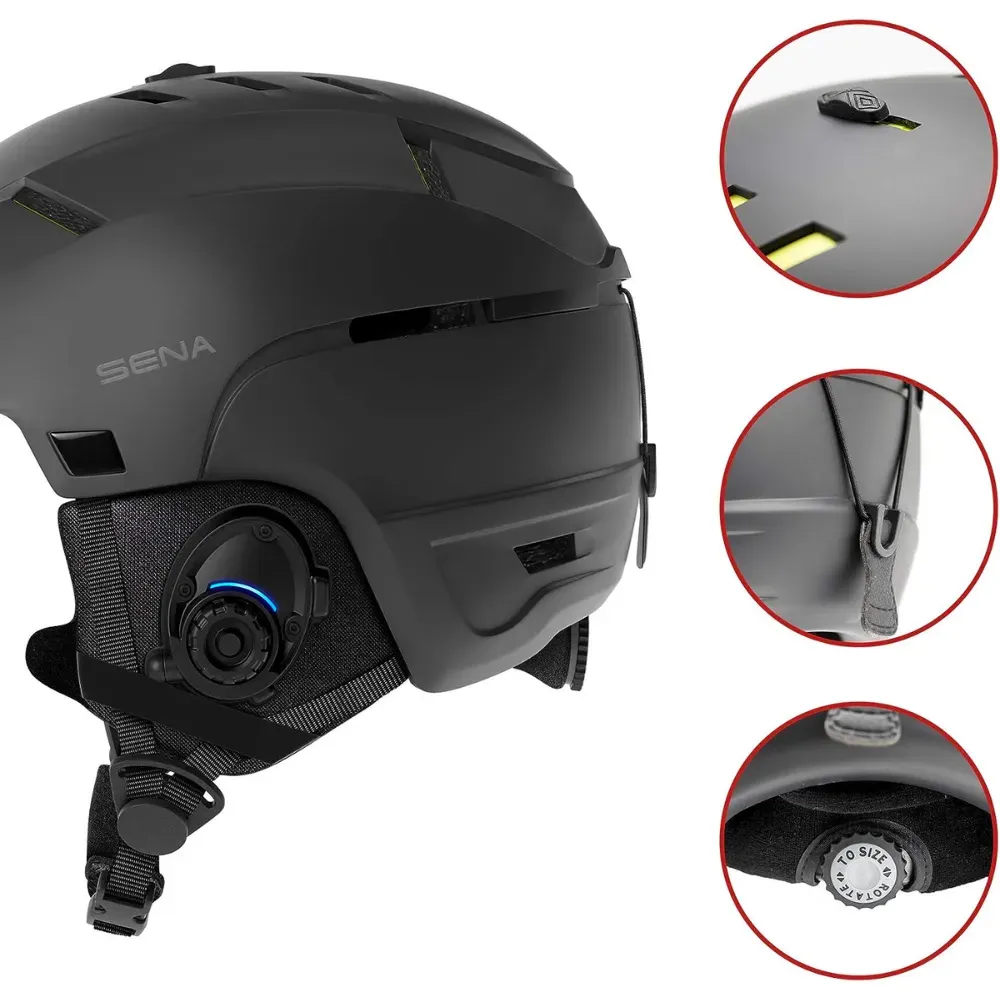 In conclusion, the Sena Latitude Snow Helmet with Built-in Speakers and Microphone is more than just a skiing accessory – it's a communication hub that keeps you connected with your friends on the slopes.
Its four-way Bluetooth intercom feature, active ventilation system, and safety certifications make this helmet an excellent choice for any skier.
Whether you're taking calls, listening to music, or simply enjoying the thrill of the ride, this helmet ensures you stay connected and comfortable all day long.
Take your skiing adventure to the next level with the Sena Latitude Snow Helmet.
---
5. BE Headwear Bluetooth Headset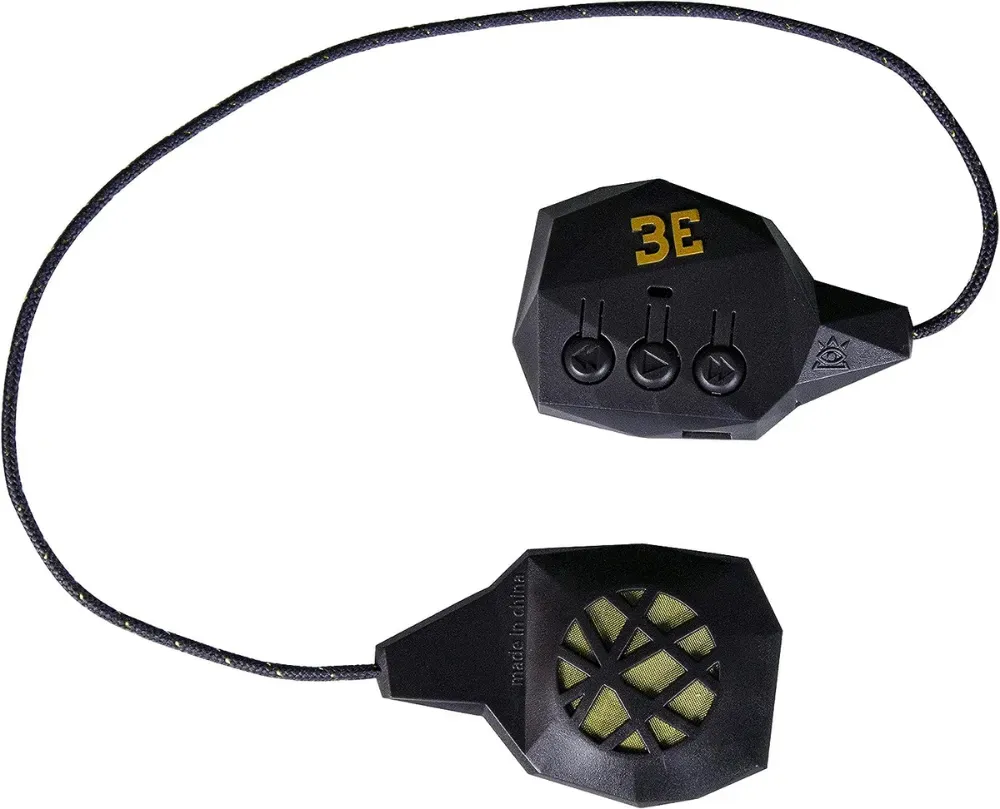 BE Headwear Bluetooth Headset
Standout Features: Extended Battery Life, Hands-Free Experience, Ultra Loud Speakers
Check Price on Amazon
❤️ Why We Love It
Extended Battery Life: Enjoy up to 9 hours of non-stop music or calls before needing to recharge. This feature ensures your skiing experience is uninterrupted by low battery alerts.
Hands-Free Calling: The headset is equipped with G3 Tech Bluetooth 4.0 and a built-in microphone for hands-free calling. This feature allows you to stay connected without having to fumble with your phone on the slopes.
Voice Prompts: Step-by-step voice prompts guide you through the headset's functionalities, offering a truly hands-free experience. You never have to remove your gloves to operate your headset.
Ultra Loud Speakers: The ultra-loud speakers, powered by 30 mm speaker drivers, deliver clear, crisp sound. Combined with an ultra-slim and durable design with origami acoustics, this headset stands out in terms of its audio performance.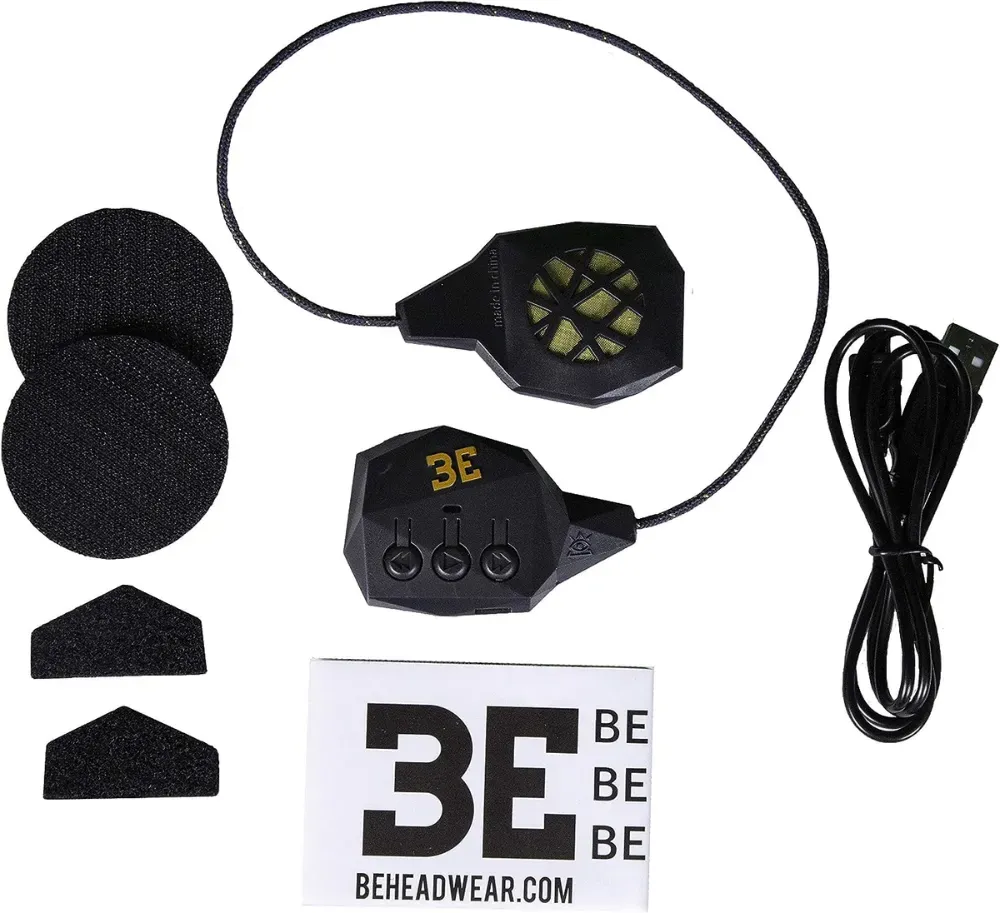 ✅ Pros
Long battery life
Hands-free calling and voice prompts for ease of use
High-quality audio output with loudspeakers
Durable and slim design
❌ Cons
Bluetooth connectivity might not be as fast as newer versions
Charging time not specified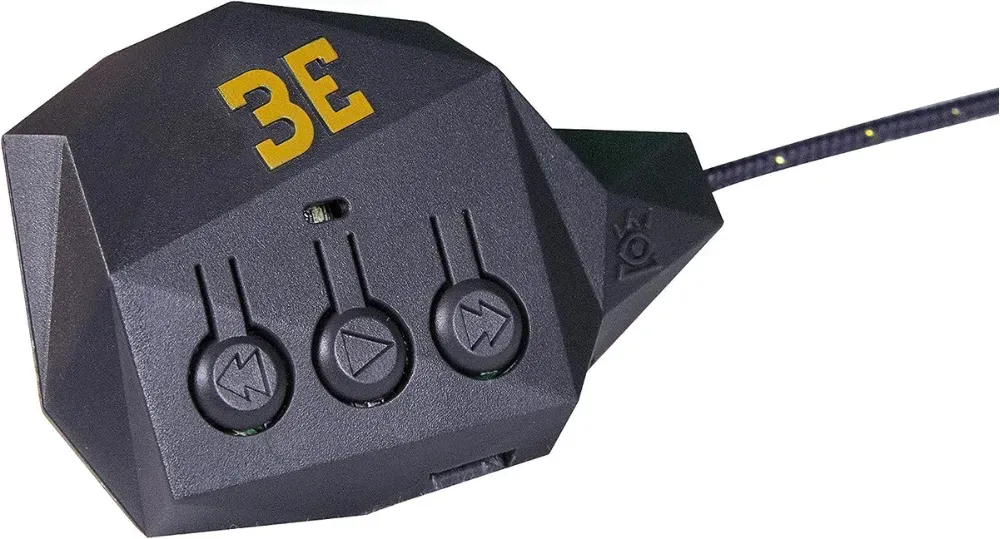 In summary, the BE Headwear Bluetooth Headset is a reliable companion for any ski or snowboard adventure.
With its extended battery life, hands-free capabilities, and high-quality sound, this headset enhances your skiing experience.
Its compatibility with any audio-ready ski or snowboard helmet makes it highly versatile.
If you're looking for a headset that combines functionality, durability, and excellent audio performance, consider the BE Headwear Bluetooth Headset.
---
6. UClear Digital Pulse Wired Drop-in High Definition Helmet Speakers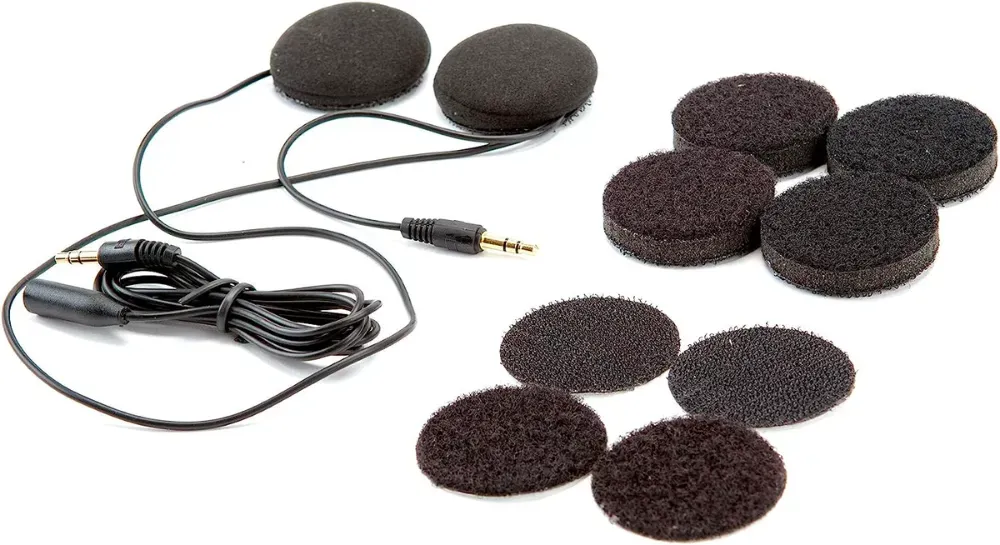 UClear Digital Pulse Wired Drop-in High Definition Helmet Speakers
Standout Features: High Fidelity Audio, Universal Compatibility
Find The Best Deal
❤️ Why We Love It
Upgraded Audio Experience: The Pulse drop-in speakers from UCLEAR Digital are designed to upgrade your audio experience while skiing.
Standard 3.5mm Stereo Audio Jack: The gold-plated, standard 3.5mm stereo audio jack ensures high-quality sound transmission.
40mm Diameter Driver: The 40mm diameter driver enhances the sound quality of these speakers, providing you with a more immersive audio experience.
Universal Compatibility: These Pulse speakers can be plugged into most helmet communication systems, audio devices, and smartphones. This makes them highly versatile and suitable for use with almost any equipment you may have.
High-Fidelity Audio: The high-fidelity audio gives you HD-quality sound inside almost any helmet, enhancing your enjoyment of music even in the snowy outdoors.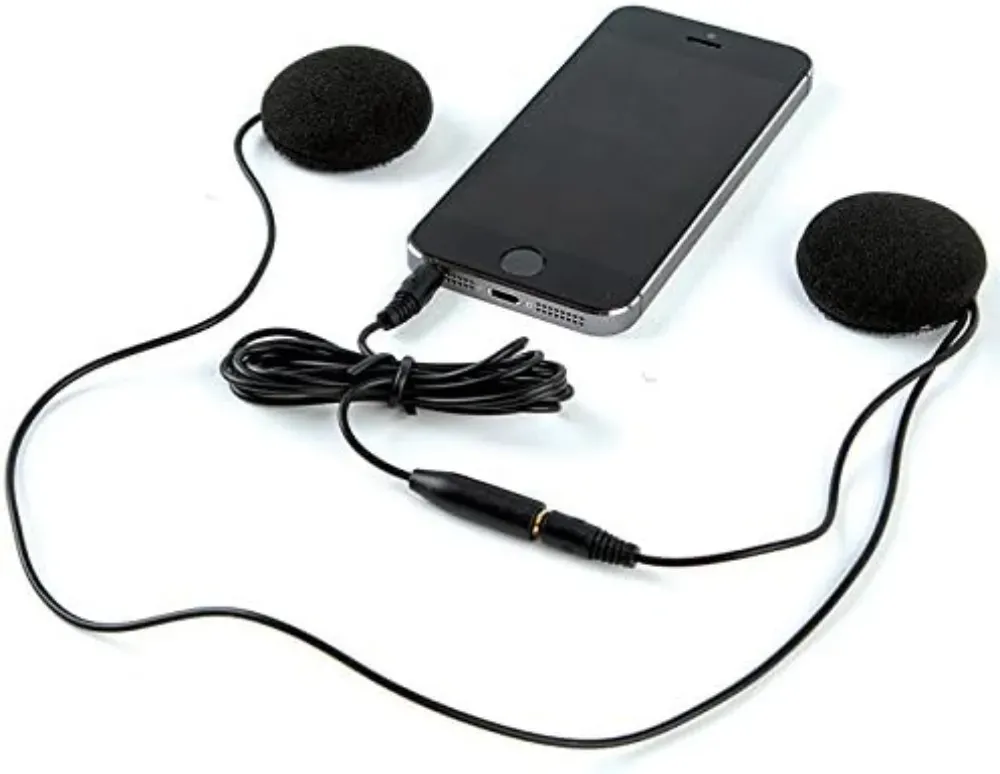 ✅ Pros
Upgrades audio experience
High-quality sound transmission with gold-plated jack
Enhanced sound quality with a 40mm diameter driver
Versatile and compatible with most devices
HD quality sound with high-fidelity audio
❌ Cons
Wired design might not be convenient for all users
No mention of a noise-cancelling feature
In summary, the UClear Digital Pulse Wired Drop-in High Definition Helmet Speakers are an excellent choice for skiers looking to enhance their audio experience.
With their universal compatibility and high-fidelity audio, these speakers provide HD-quality sound within almost any helmet.
If you value high-quality sound and versatility, consider the UClear Digital Pulse speakers. Plug them into your helmet communication system, audio device, or smartphone, and enjoy an upgraded skiing experience.
---
Frequently Asked Questions (FAQs)
Are you looking for a way to make your skiing experience even more enjoyable? Have you ever thought about skiing with headphones?
Skiing with headphones can be a great way to enhance your experience by allowing you to listen to your favorite music while you ski. However, it can be hard to know which headphones are best for skiing, especially when there are so many different types and brands on the market.
We've compiled a list of the most frequently asked questions about skiing with headphones so you can know more about these products and make an informed decision.
Should you ski with headphones?
While skiing with headphones can enhance the experience by allowing you to enjoy your favorite music, it's important to consider safety aspects. Wearing headphones can reduce your ability to hear what's happening around you, potentially increasing the risk of collisions. However, if used responsibly and at a reasonable volume, they can be a great addition to your skiing gear.
What are the best wireless earbuds to wear under a ski helmet?
The best wireless earbuds for skiing should be comfortable, have good sound quality, and fit well under a ski helmet. One recommended pair is the Bose Soundsport in-ear headphones. They are not noise canceling, which allows you to stay aware of your surroundings, and they fit comfortably in your ear.
How do you ski while listening to music?
To ski while listening to music, you'll need a pair of headphones or earbuds that are compatible with your audio device. Many skiers opt for Bluetooth devices that can connect wirelessly to their smartphone, stored securely in a pocket. Some ski helmets even come with built-in speakers for a more seamless experience.
What headphones don't hurt your head?
Choosing headphones that don't hurt your head often depends on personal preference and fit. Look for headphones with soft padding, adjustable sizing, and a design that fits well with your ski helmet. Consider trying on several pairs to find the most comfortable option.
Can I wear my headphones in the snow?
Yes, you can wear headphones in the snow. However, it's crucial to ensure they are well-protected. Moisture from the snow can potentially damage your headphones, so it's recommended to use water-resistant or waterproof models. Also, while the cold weather itself won't necessarily harm your headphones, the battery life of wireless models may drain faster in low temperatures. Therefore, it's advisable to keep them covered and stored in warm areas when not in use for optimal performance and durability.
Can I wear my Apple AirPods while skiing?
Yes, you can wear your AirPods while skiing, but be aware of the potential risks. AirPods can restrict your sense of hearing, which is important for safety on the slopes. Also, make sure they are secure in your ears to prevent them from falling out and getting lost in the snow.
How do you use headphones while skiing?
To use headphones while skiing, connect them to your audio device (typically a smartphone), place them in or over your ears, and secure your ski helmet over the top. Be sure to keep the volume at a level where you can still hear your surroundings for safety. Some ski helmets come with built-in audio systems for a more integrated solution.
Should I ski with my phone?
Skiing with your phone can be useful for communication, navigation, and entertainment purposes. However, it's important to keep it securely stored in a waterproof case or pocket to protect it from damage. If you're using it for music, consider using Bluetooth headphones for a wireless connection.
Is it smart to listen to music while skiing?
Listening to music while skiing can enhance the experience, but it should be done responsibly. Keeping the volume at a level where you can still hear your surroundings is crucial for safety. Music should not distract you from paying attention to other skiers, changes in terrain, or signals from ski patrol.
---
Conclusion
In conclusion, selecting the right headphones can greatly enhance your skiing experience.
Whether you prioritize sound quality, comfort, battery life, or hands-free functionality, there is a perfect pair out there to meet your needs on the slopes.
Remember, the best ski helmet headphones seamlessly blend technology and convenience while ensuring your safety remains uncompromised.
So why wait? Embark on your next winter adventure with the perfect soundtrack.
Simply tap the "Check Price on Amazon" or "Find The Best Deal" button now and discover the best deal for your new skiing companion.
Thank you for reading, and happy skiing!
Tap the product below to check the price!
⛺ Ready, Set, Explore! Dive into the World of Outdoor Fun Here 👇🏻!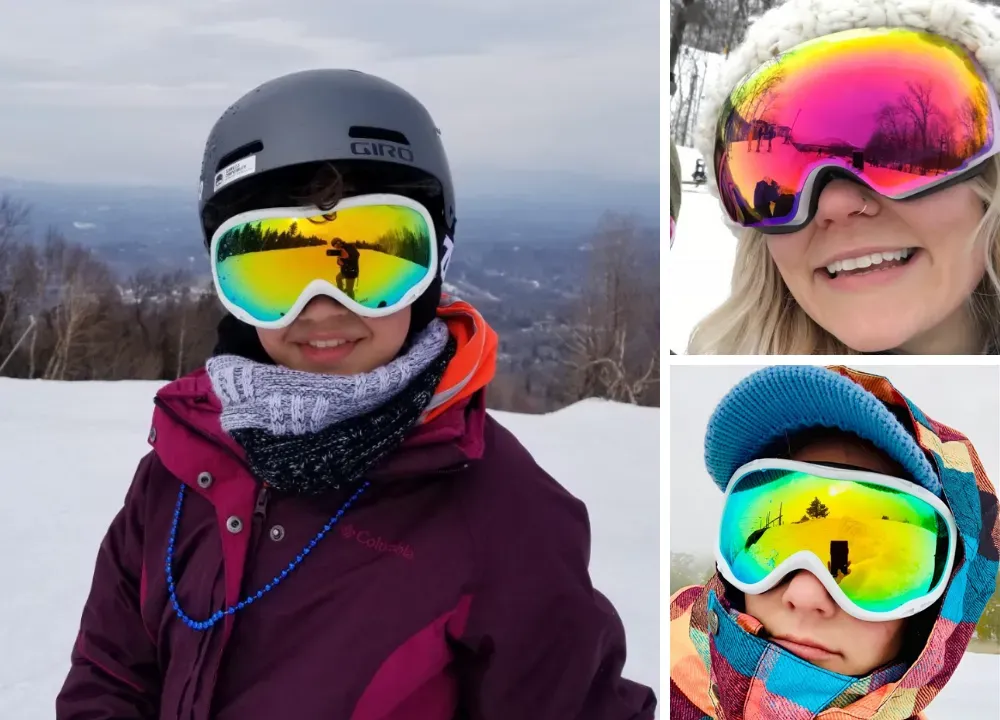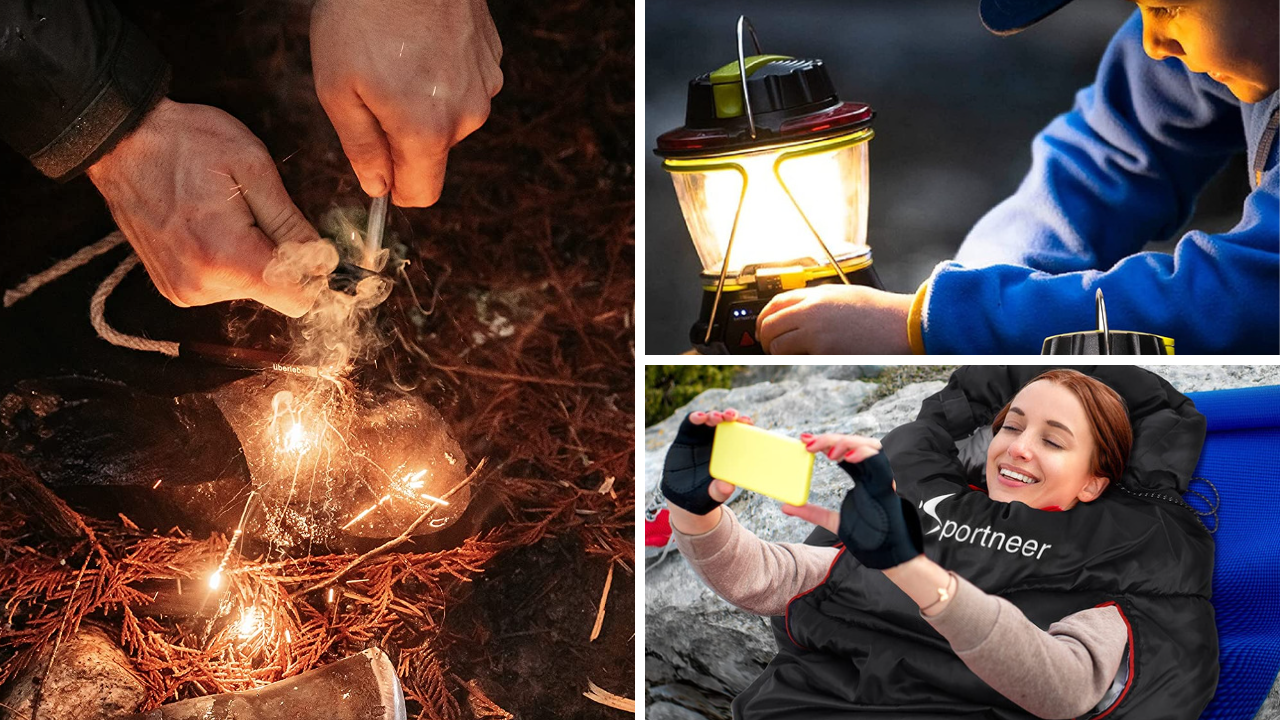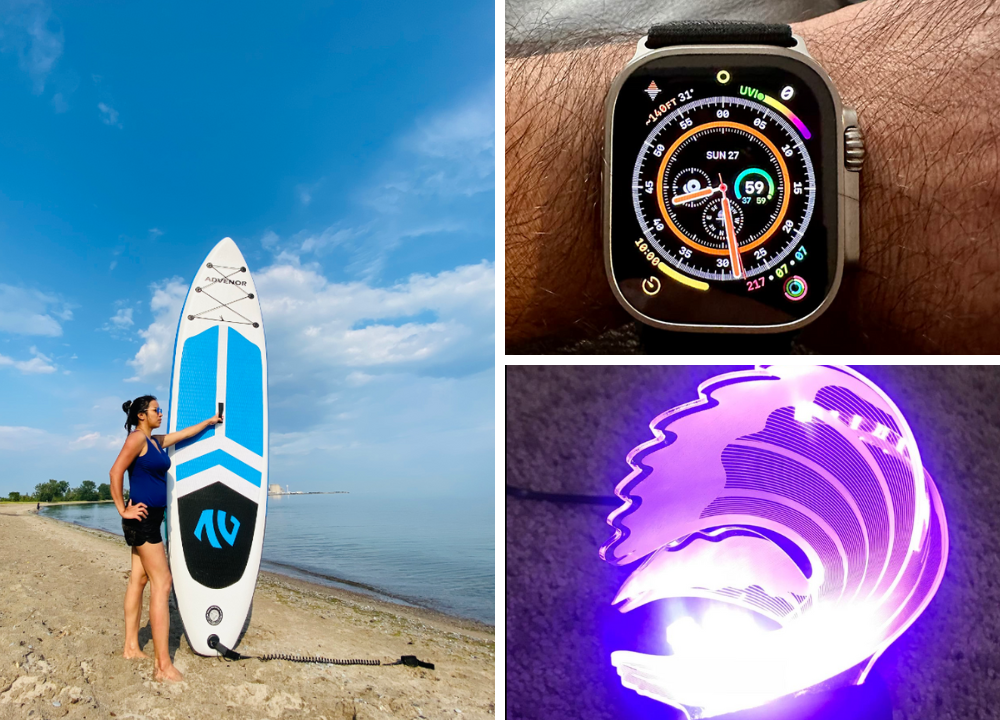 💡
This post may contain affiliate links by which I could receive a small commission at no cost to you when you make a purchase. As an Amazon Associate, I earn from qualifying purchases. Thank you for understanding.
---