Are you looking for the best diapers for your sensitive baby?
You're not alone! Many parents struggle to find diapers that don't cause their baby's skin to burn and itch. There are many disposable diaper brands claiming theirs to be sensitive skin diapers. That's why we've put together a list of the best diapers for sensitive skin, based on hours of research and on expert opinions.
We want to help you find the perfect hypoallergenic diaper for your little one, so they can feel comfortable and happy. We personally recommend bamboo diapers since they contain more natural and less harmful ingredients, making them better for your baby's sensitive skin and for the environment. We include recommendations for all types of disposable or cloth diapers, so you can choose what's best for your baby.
Read on to learn more about each type of diaper and find the perfect one for your baby!
Tap below on "Things To Consider Before You Buy" for a lot of additional information:
---
Things To Consider Before You Buy
1. Cost
When it comes to the best disposable diapers, there are two schools of thought: expensive brands are better, or cheaper brands are just as good. We've analyzed hundreds of reviews and came to the conclusion: There are excellent diapers in both the expensive and cheap categories.
So whether you're looking to save some money with an affordable disposable diaper or you're just interested in getting the best possible product for your baby, we've got you covered.
2. Absorbancy
Difference Between Plantbase (Wood, Cotton, and Bamboo) and SAP:
The core (the absorbing part) of a diaper is typically made of fluff pulp (made from wood, cotton, or bamboo), or super-absorbent polymers (SAP).
Fluff pulp diapers: Bamboo diapers are very popular since they are extremely soft and much more absorbent than cotton.
Bamboo diapers don't require as many layers of material as cotton diapers, meaning they're less bulky and more comfortable.
Unlike cotton, bamboo is hypoallergenic and can help repel microbes, mold, and mildew.
SAP diapers: Fluff pulp is often replaced with SAP and can be more expensive. It is believed that SAP-based diapers have better absorbency properties than fluff pulp. SAP is a synthetic polymer that helps diapers absorb fluids, but it can also cause skin irritation and bacteria accumulation.
3. Chemicals
Choosing the right diaper for your baby is important for their health and comfort. Experts agree that the safest bet is to avoid diapers with sodium polyacrylate (SAP) as well as opt for ones that are totally chlorine free (TCF).
You also want to make sure that it is free of artificial fragrances, dyes, lotions and phthalates. These ingredients can potentially contain irritants, and allergens, and can be a highly toxic endocrine disruptor that can be absorbed through the skin barrier.
It is so important so you know exactly what you are putting against your baby's delicate skin. When possible, it's best to choose a natural option that doesn't use these potentially harmful chemicals.
4. Environment
Most of the materials used in disposable diapers can decompose relatively quickly, except for SAP and plastic components, which can take more than 500 years to fully decompose. For this reason, it is important to choose diapers that are Elementally Chlorine Free (ECF) or Totally Chlorine Free (TCF).
Additionally, diapers should be free of petroleum-derived plastics. There are now enough natural diapers, such as bamboo and other plant-based diapers on the market to eliminate any brand that uses petroleum in its production.
By making these simple choices, we can help to reduce the environmental impact of disposable diapers.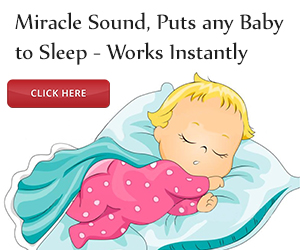 ---
Cloth Diapers
1. Babygoal Reusable Cloth Diapers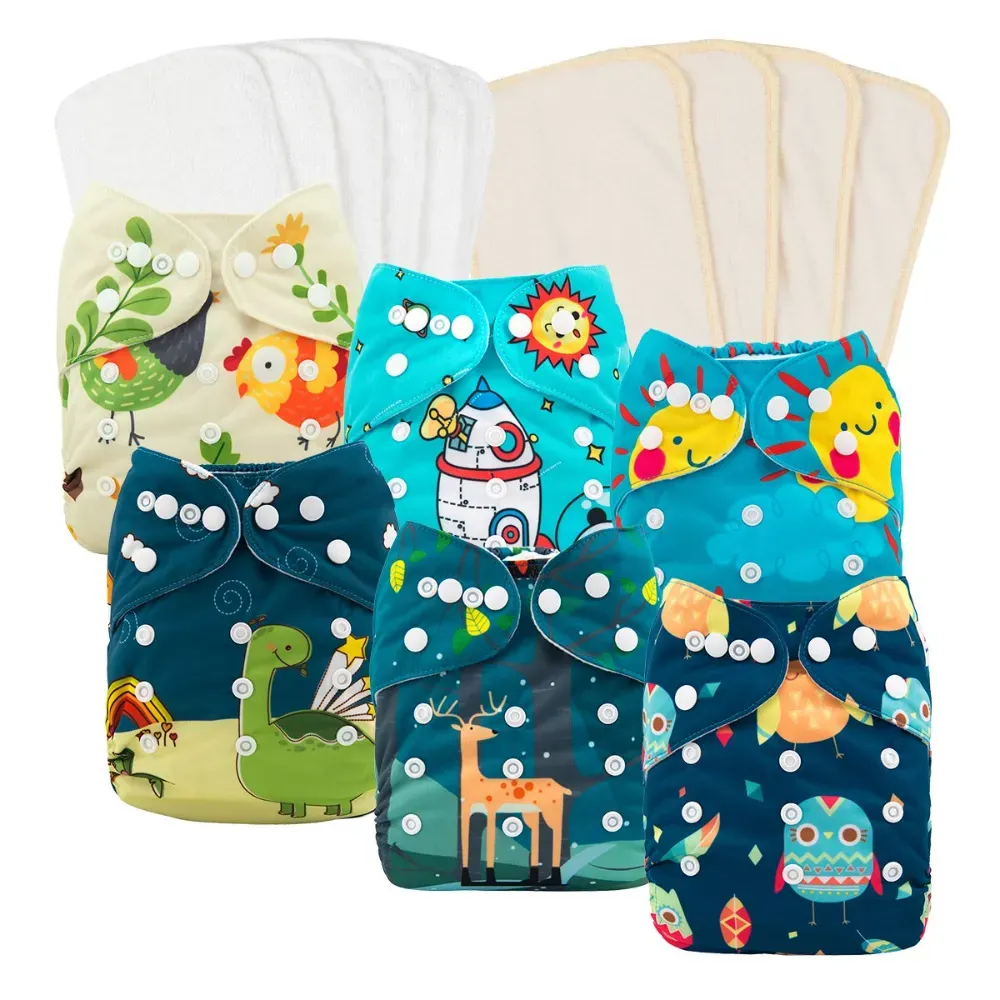 Babygoal Reusable Cloth Diapers
Check Price
Reasons To Try It
Babygoal's reusable cloth diapers are made from polyester and are adjustable to fit babies or toddlers from 7 to 33 pounds. The microfiber and bamboo inserts are of high softness and comfort, keeping your baby's skin dry and avoiding fewer rashes.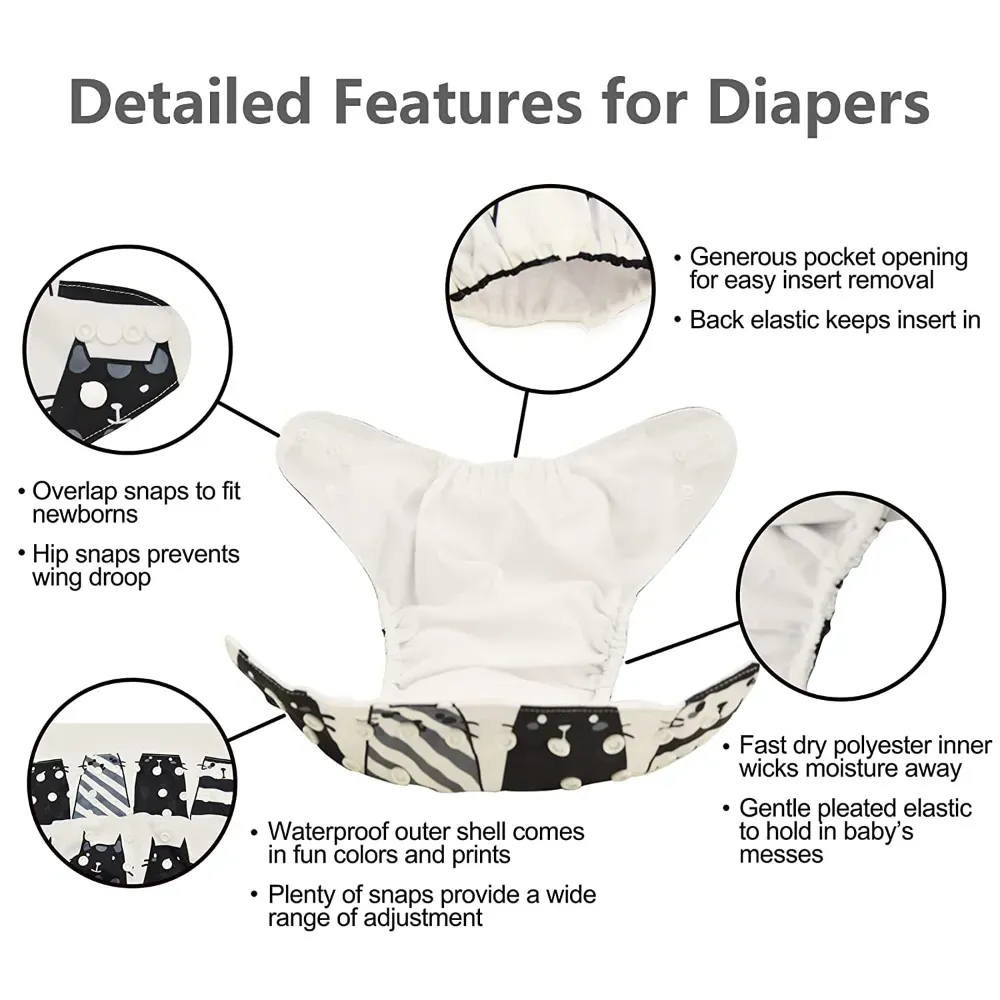 They're also machine washable, making them super easy to care for.
And since they're free of dioxins, sodium polyacrylate, BPA, Phthalate, Latex, Lead, and other chemicals, you can rest assured that your little one is safe and comfortable.
You will also love the variety of cute nappy covers available for boys and girls! Check the link to see all the available options, you will be amazed!
Why Parents' Love It
Wow, amazing must buy! - "Love them, easy to clean, beautiful and my baby stopped breaking out and was so happy right after she started wearing them. She deals with sensitive skin and I noticed an improvement with her skin and mood ever since changing from regular diapers to these. Going to buy more." - Amazon Review By billie
---
Bamboo Diapers
1. Aleva Hypoallergenic Bamboo Diapers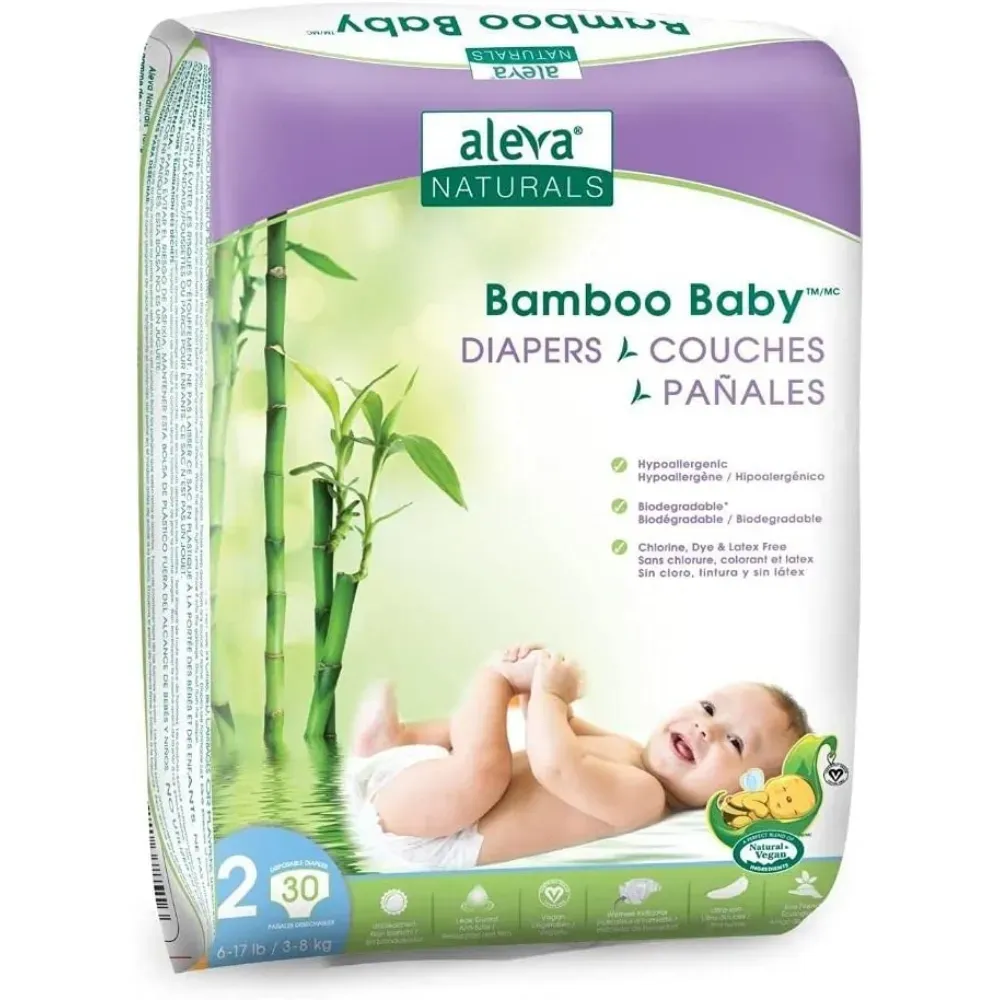 Aleva Hypoallergenic Bamboo Diapers
Check Price
Reasons To Try It
Made with unbleached bamboo fibers on both top and bottom layers, these diapers are ultra-soft and cloth-like, providing maximum comfort for your baby. With extra absorbability and breathable layers, these diapers will keep your baby's bottom soft, supple, and silky smooth.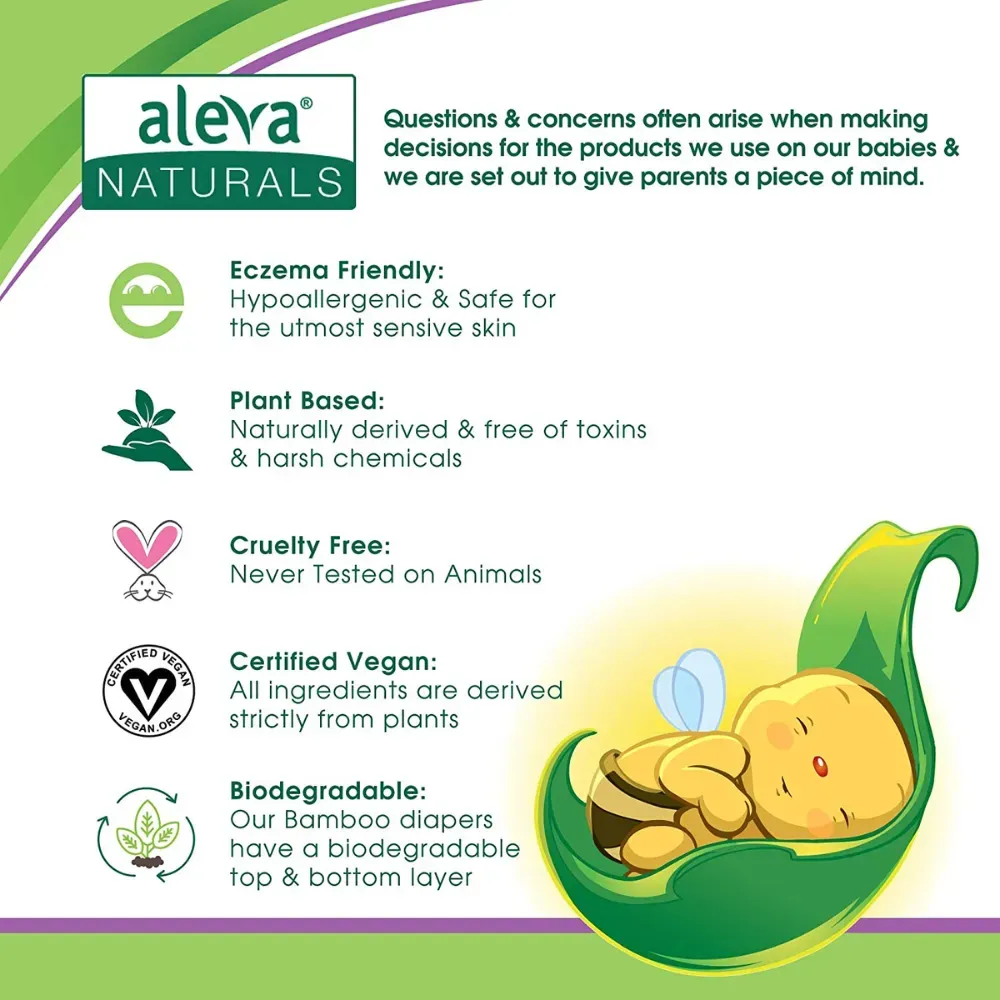 Flexible side panels help to keep the diapers more secure on the baby's body, and double-up barriers protect where leaks happen most.
These biodegradable diapers also have a 3-line wetness indicator that changes from yellow to green, to alert parents when it is time for a change.
Plus, this product is hypoallergenic, chlorine-free, latex-free, and free of harsh chemicals. Proudly Canadian!
Why Parents' Love It
Great quality, affordable price, zero blowout - "These diapers are great! Bought these when I ran out of Bambo nature when visiting Canada. These are perfect for my baby's sensitive skin and gave zero blowouts. Highly recommended. The Best of the lot I have tried - seventh generation (the worst), Pampers (nothing great), Huggies (effective but not soft) and finally bambo nature (extremely soft but blowout prone)." - Amazon Review By Gurleen Kaur Khanna
2. Andy Pandy Bamboo Disposable Diapers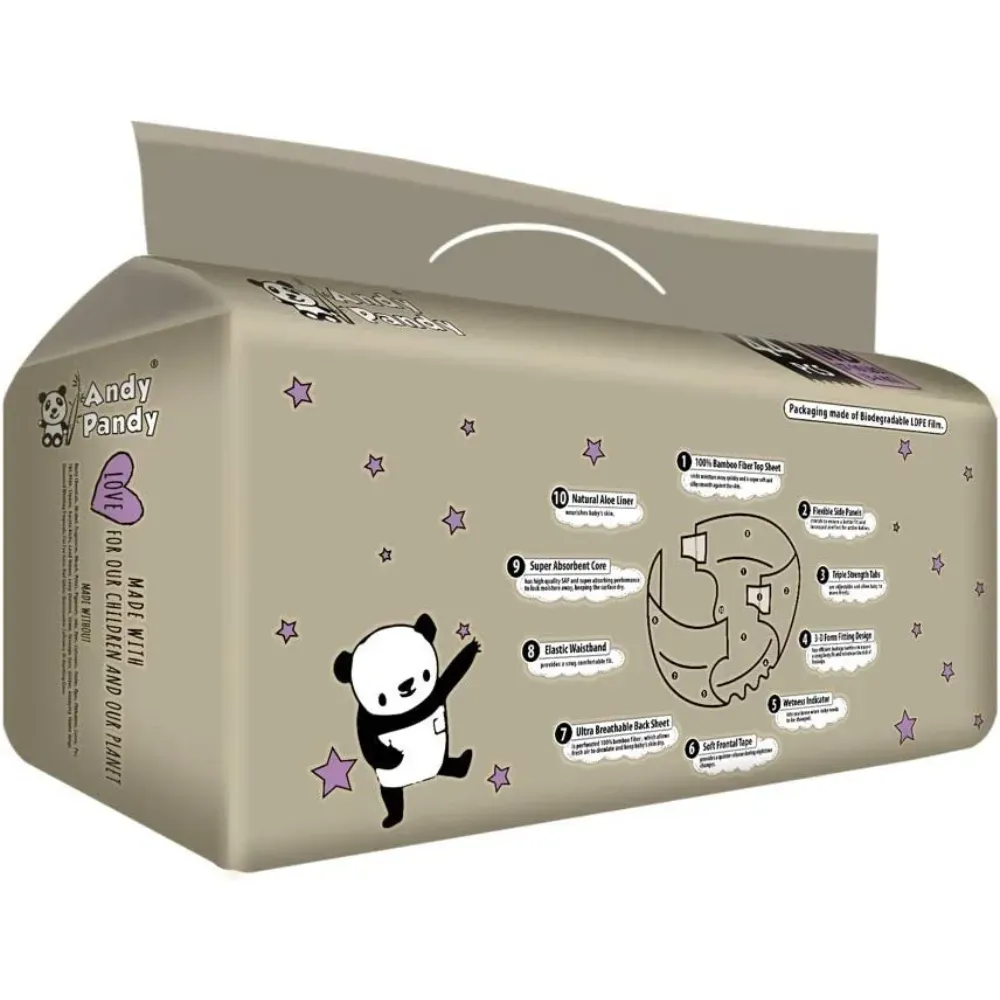 Andy Pandy Bamboo Disposable Diapers
Check Price
Reasons To Try It
Andy Pandy bamboo diapers are award-winning, original bamboo diapers that are better for your baby and the planet.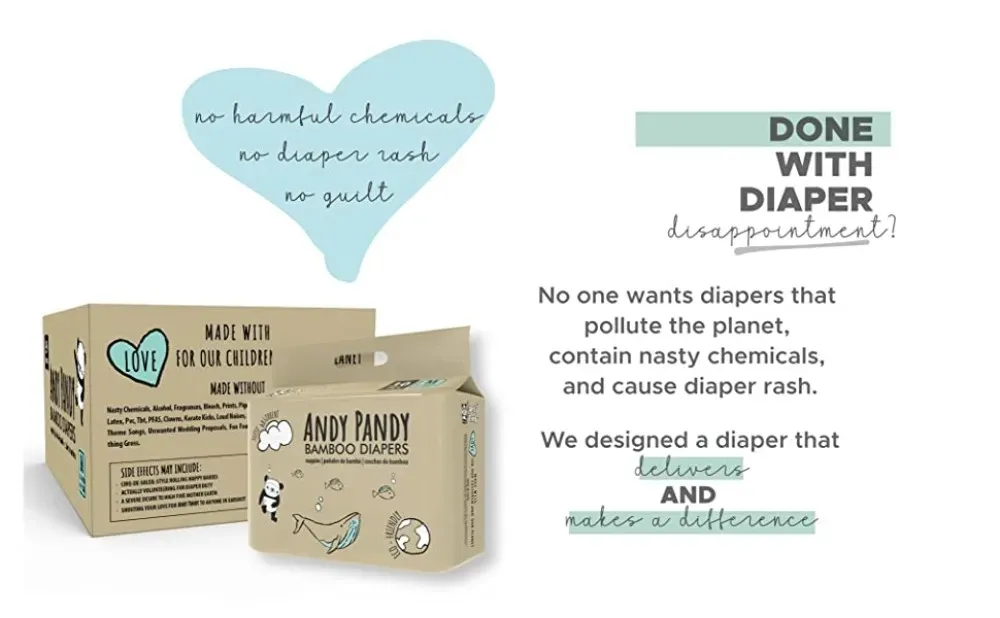 These bamboo diapers are made of 100% non-woven bamboo fiber and are 87% biodegradable and free of chlorine, alcohol, preservatives, phthalates, latex, PVC, TBT, and PFAS.
They are also hypoallergenic, antibacterial, moisture-wicking, and thermal regulating.
Plus, the deluxe Andy Pandy diapers have an aloe liner to keep your sweet baby's skin hydrated and prevent itchiness.
Bamboo is highly absorbent (2x more than cotton) which makes bamboo diapers perfect for sensitive skin.
Andy Pandy's premium bamboo diapers are ultra-comfortable and soft to prevent your baby from getting diaper rash.
Why Parents' Love It
The BEST Diaper - "We've used these for both of our girls from newborn until training pants. There isn't a better diaper. The material is amazing, we've not had an issue with a single leak or diaper rash, despite both of my girls having sensitive skin/ eczema. Plus they are a great alternative to traditional diapers for our planet and their future. I've also been in touch with customer service about training pants (before they were released) and had such a pleasant experience and exchange with their staff. My only complaint: there have been a number of times when they haven't been available! I can imagine that they are selling out because they are so popular or due to supply shortage--not sure. Regardless, I remain a loyal customer and make do with other brands until they are restocked. Thank you, Andy Pandy!" - Amazon Review By Kelsey

3. DYPER Bamboo Baby Diapers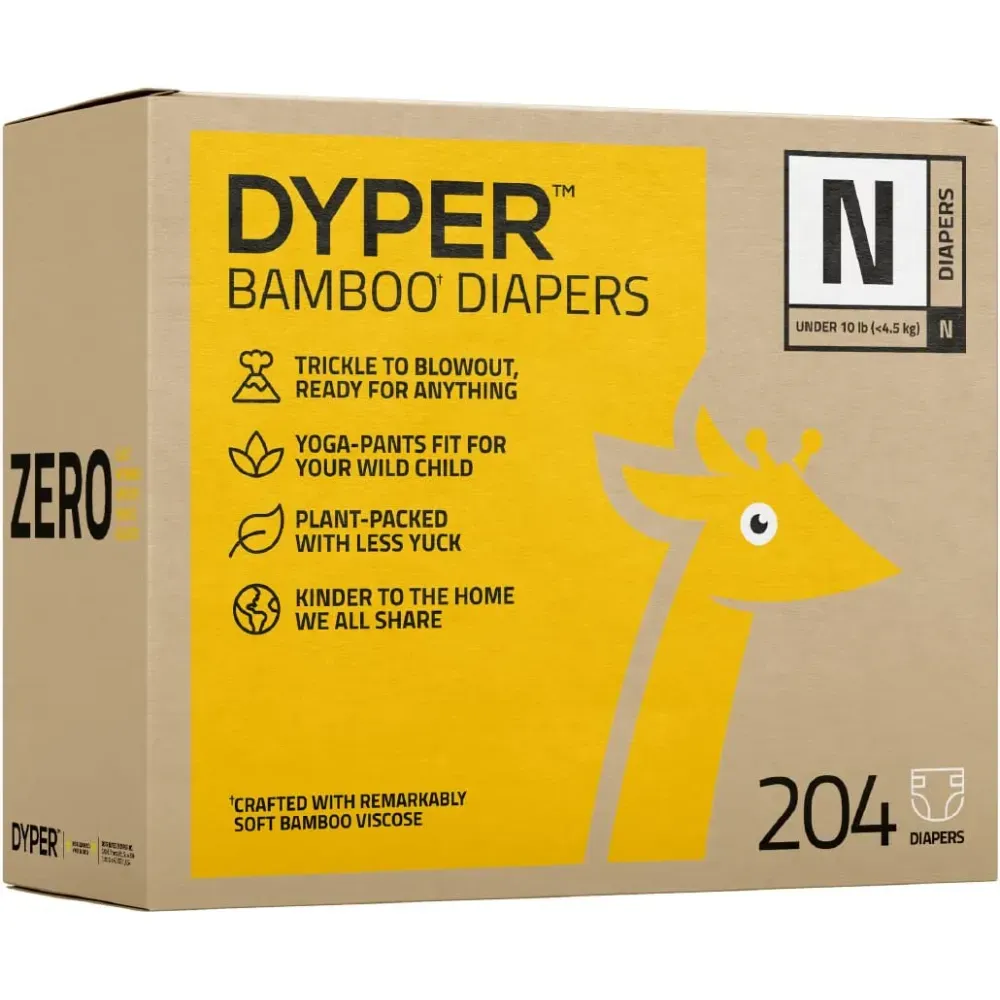 DYPER Bamboo Baby Diapers
Check Price
Reasons To Try It
These plant-based disposable diapers are made with 100% bamboo viscose and are soft to the touch, absorbent, and free of harsh chemicals.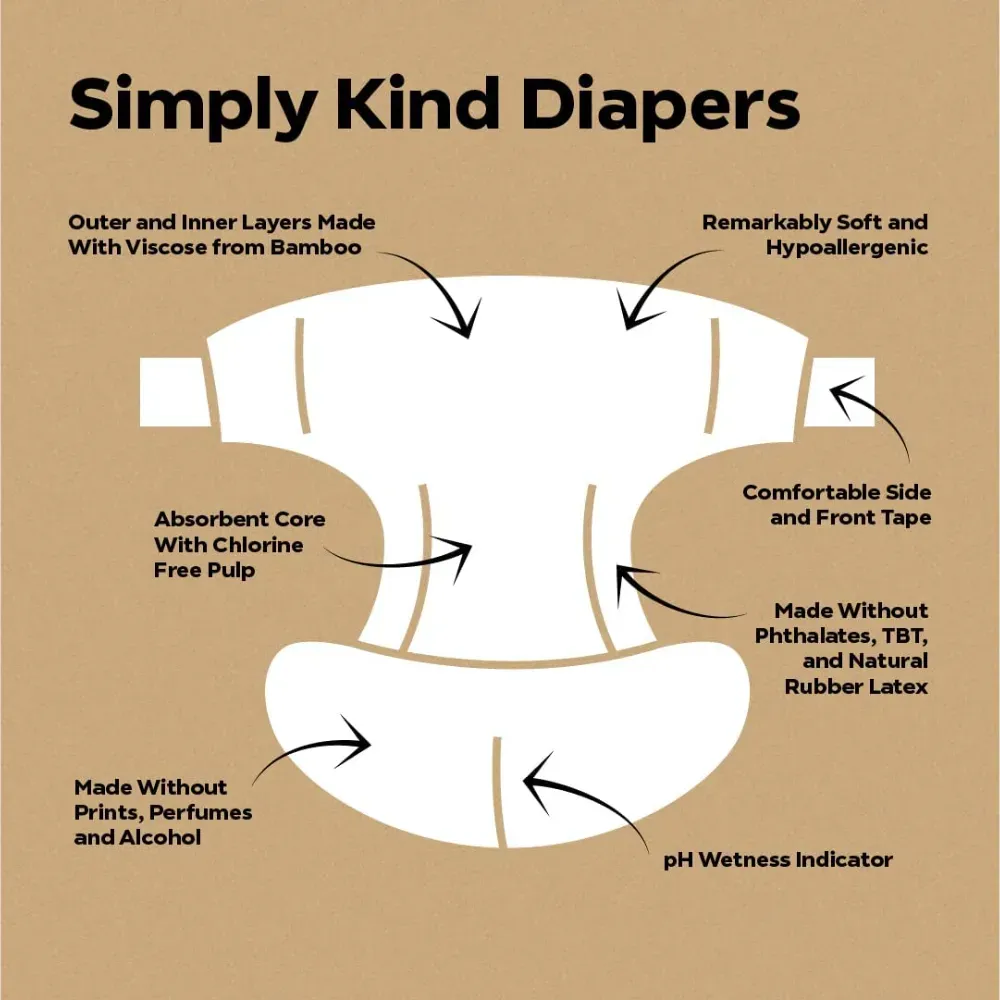 They have been clinically tested and 5-star rated by dermatologists, so you can be confident that they are safe for your baby, even if used as overnight diapers.
Parents love DYPER Viscose diapers because they are made without chlorine, latex, alcohol, perfumes, PVC, lotions, TBT, parabens, sulfates, or phthalates.
They are also unprinted, unscented, hypoallergenic, and cruelty-free.
Why Parents' Love It
Sensitive Skin Relief - "My daughter has extremely sensitive skin. We had to move away from using major brands to avoid diaper rashes. DYPER has been a life saver, we have not looked back since." - Amazon Review By Amazon Customer
---
Plant-based Diapers
1. Bambo  Baby Diapers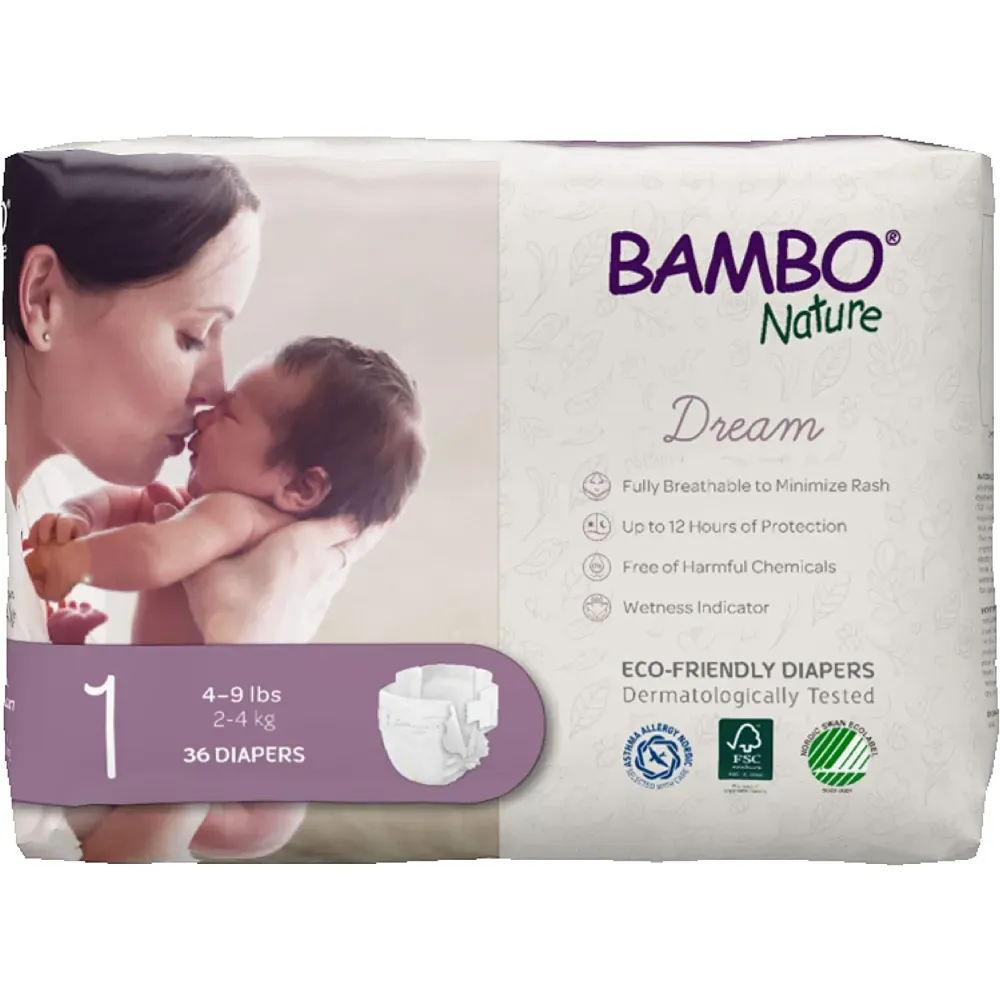 Bambo Baby Diapers
Check Price
Reasons To Try It
Bambo Nature Dream disposable diapers are more than just eco-friendly— they are the first baby diapers certified with the Nordic Swan Ecolabel, and now the fluff pulp is made TCF (totally chlorine-free).
As always, they are free of harmful chemicals and all known allergens.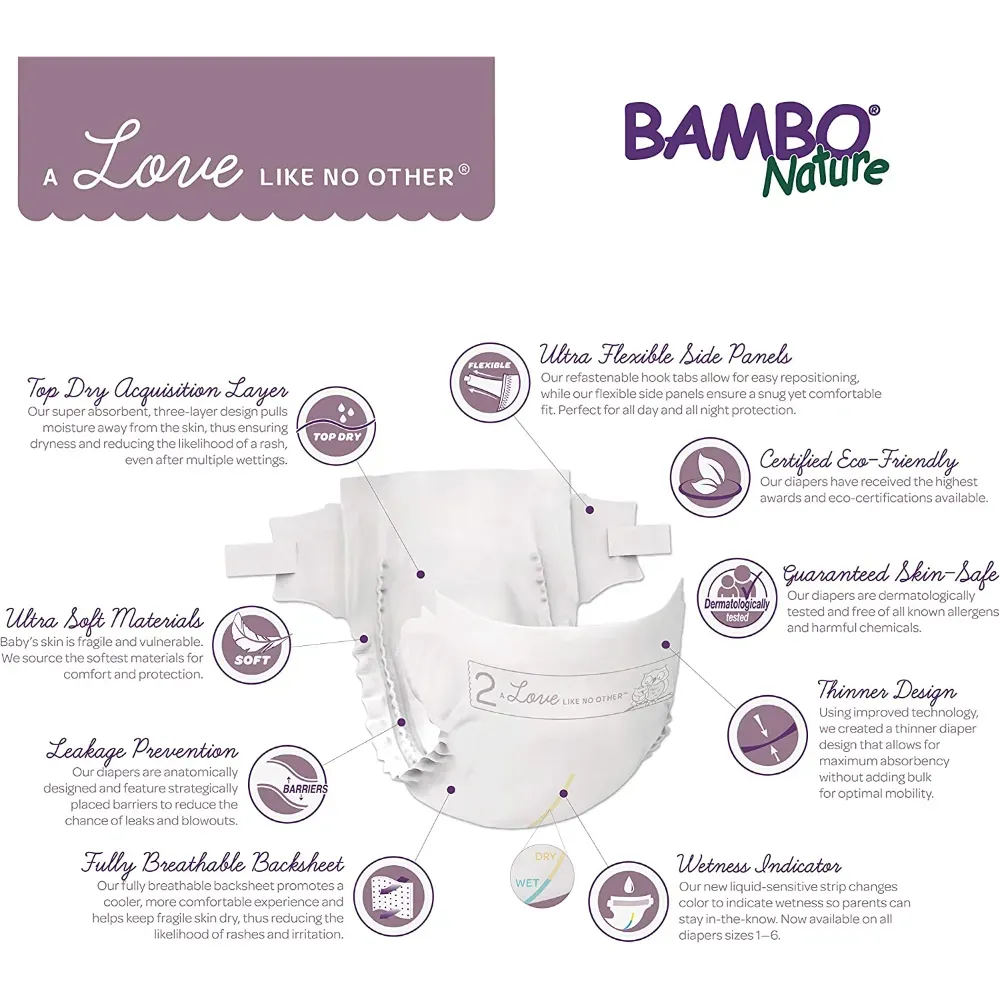 These diapers have a unique three-layer design and super-absorbent core that can stand up to multiple wettings—even overnight.
Combined with a fully breathable back sheet, your baby's sensitive skin will stay dry and comfortable.
A wetness indicator changes color to indicate when a change is needed and the flexible, waistband and latex-free leg cuffs help diapers stay in place while maximizing movement so your child can boot, scoot and boogie all day long.
Why Parents' Love It
Ecological and effective! - "These are such great diapers for babies with sensitive skin! My daughter was having the worst diaper rash from Honest so I switched to this brand and we are never looking back! Well designed and effective at combating blowouts. Also absorbent enough to leave on overnight" - Amazon Review By Tabby Gomez

2. Cuties Hypoallergenic Diapers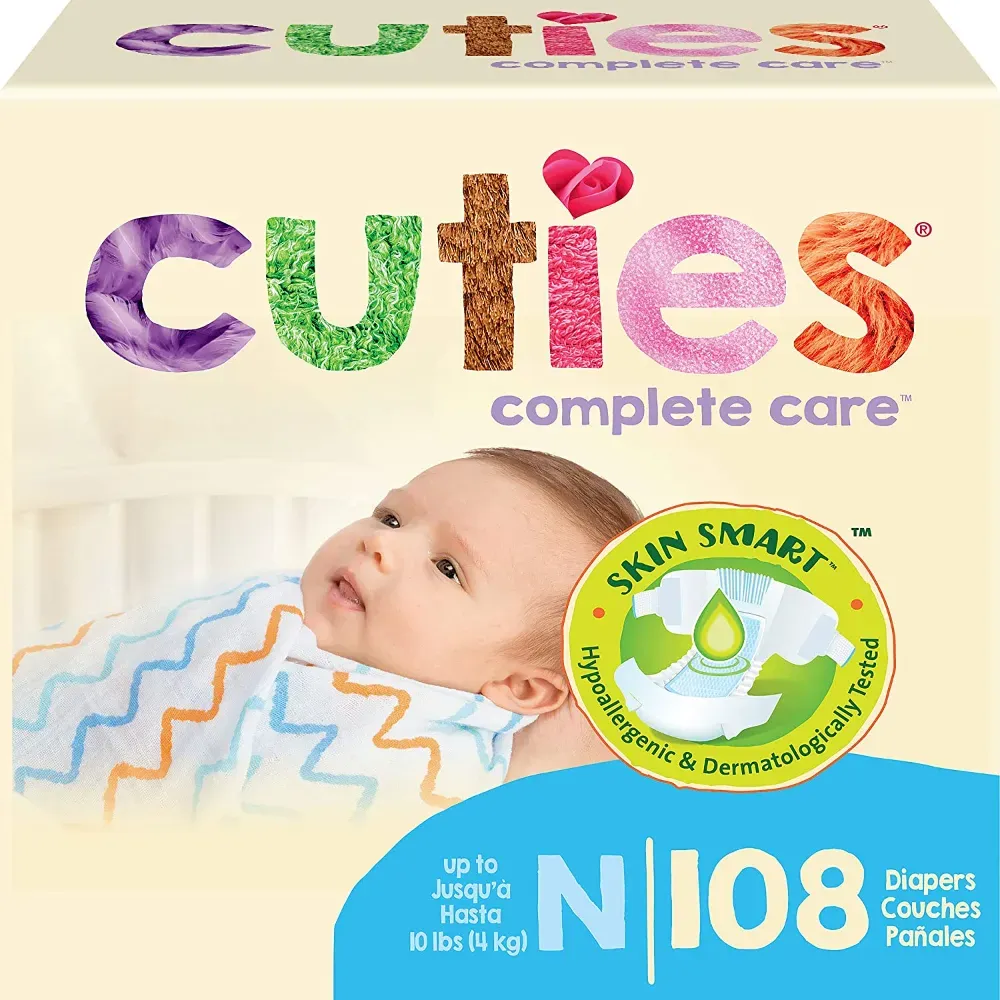 Cuties Hypoallergenic Diapers
Find The Best Deal
Reasons To Try It
Cuties hypoallergenic diapers are both absorbent and comfortable.
They are made from cottony soft materials and feature a hypoallergenic inner liner enriched with aloe, natural botanicals, and vitamin E.
It's also free of latex, fragrance, dyes, and chlorine, so you can feel confident that they're gentle on your baby's sensitive skin.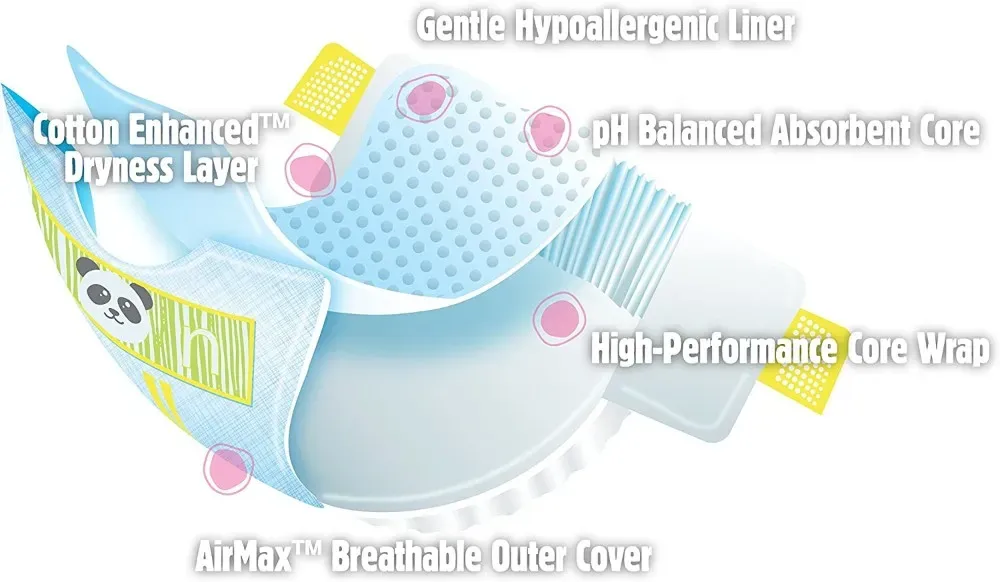 Plus, the stretchable side panels move with the body and maintain a snug fit, while the flexible, ultra-absorbent core locks in wetness and provides effective leakage protection both day and night.
Why Parents' Love It
These are just as good as Luvs or Huggies!!! - "Great for sensitive skin babies!!! Great for overnight 👌. I wish I would have known about these when my grandson was a newborn, because he had skin issues due to sensitive skin, the only diapers he could use was Huggies or Luvs. And we got this shipment 6 days early, thank you for that!!" - Amazon Review By Angel Caldwell

3. Pampers Pure Hypoallergenic Diapers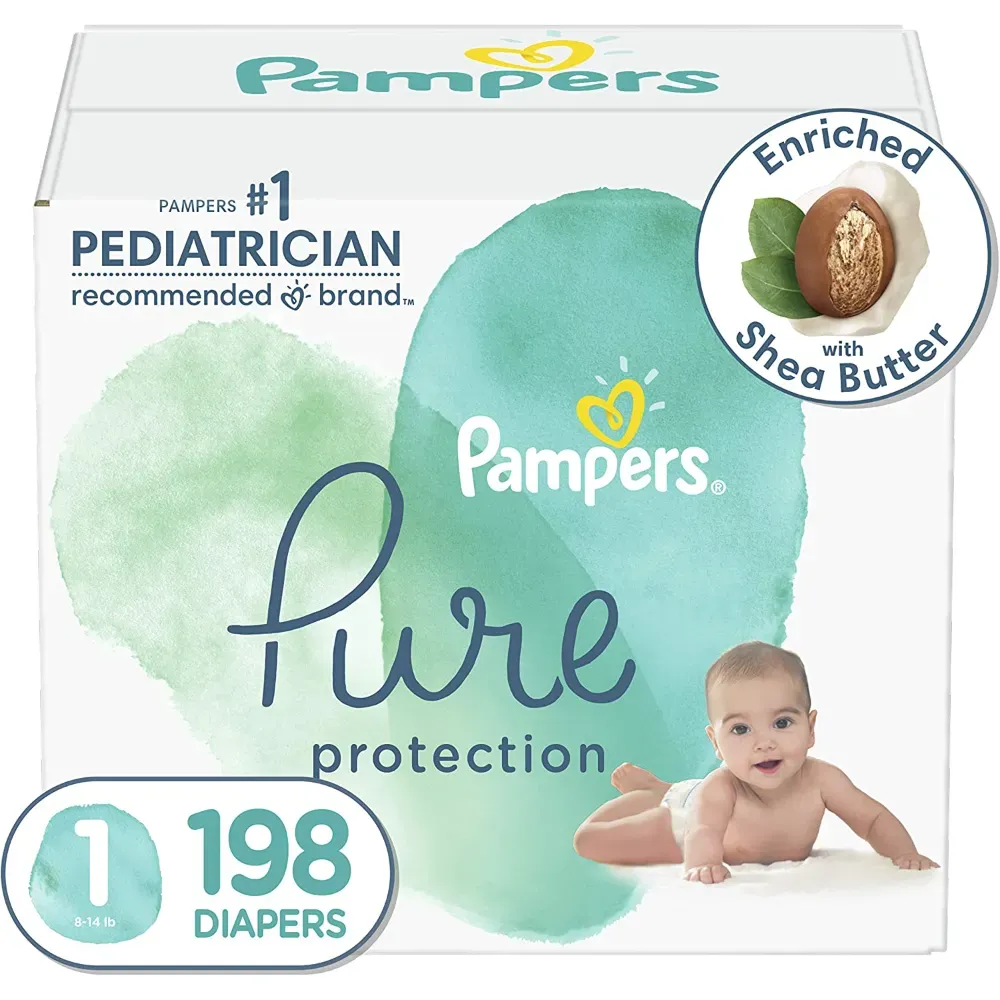 Pampers Pure Hypoallergenic Diapers
Find The Best Deal
Reasons To Try It
These are Pampers' most gentle and protective diapers yet!
These diapers are designed to help keep skin dry and healthy, with a unique combination of features that provide superior leakage protection and skin-loving care.
Pampers Pure exclusive, the plant-based liner is enriched with shea butter to help nourish and protect the skin, while the outer cover is enhanced with premium cotton for an irresistibly soft and breathable diaper.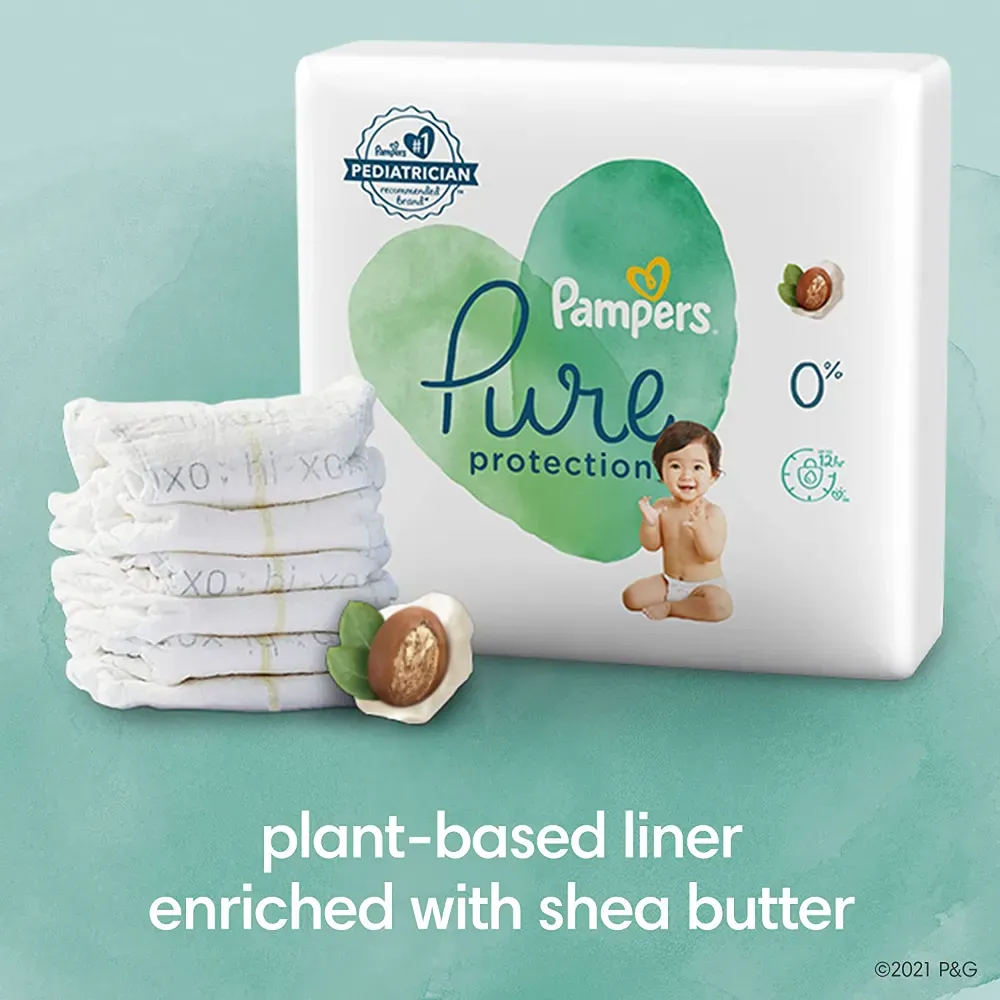 Pampers Pure Protection diapers are free of chlorine bleaching, fragrance, parabens, and latex, and are hypoallergenic for sensitive skin (NOTE from author: No information is available to confirm that they do not contain phthalates).
Why Parents' Love It
LOVE these diapers - "I've now used these with two kids and I have tried every clean option out there. I will always go back to Pampers Pure. Excellent leak protection, great for sensitive skin (my daughter has severe eczema), and sweet, minimalist designs. Best option on the market." - Amazon Review By haylee
---
Not-Plant-Based Diapers
1. Huggies Little Snugglers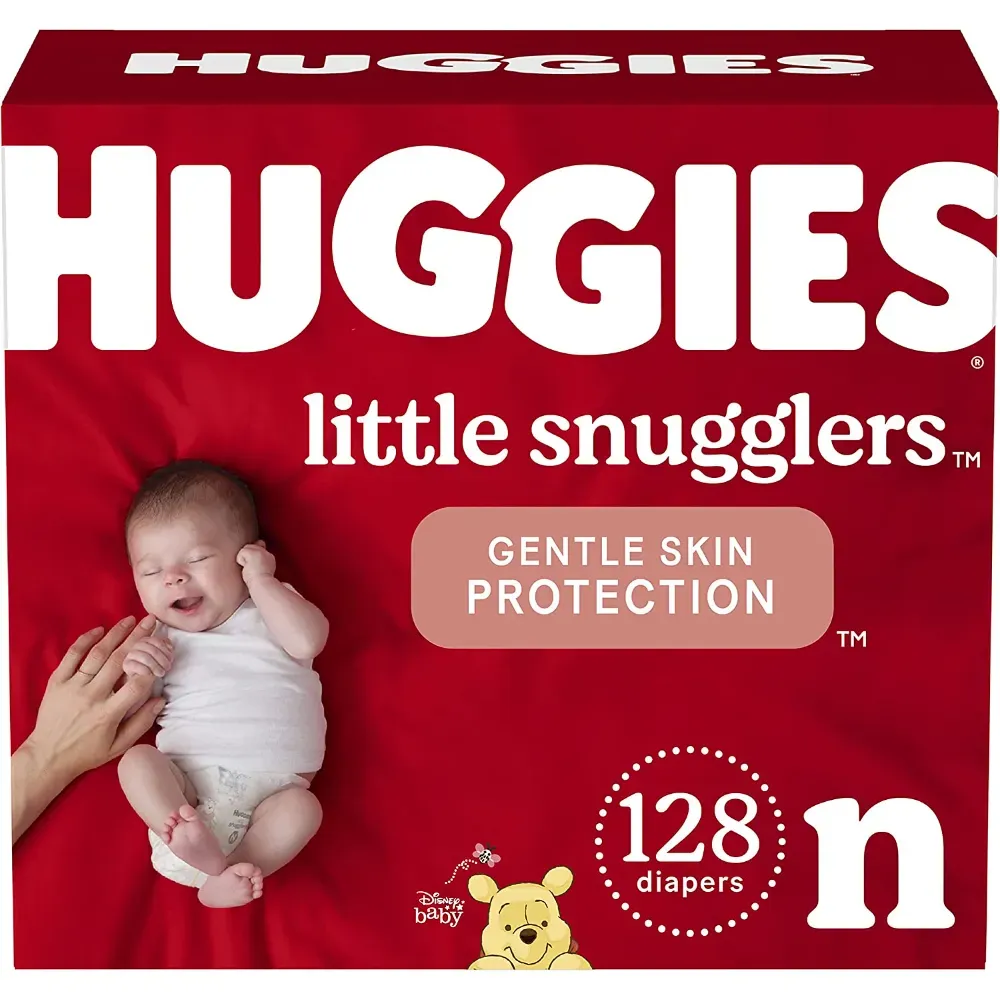 Huggies Little Snugglers
Find The Best Deal
Reasons To Try It
Huggies Little Snugglers is specifically designed for skin protection with an absorbent layer of protection and breathability to keep skin clean and healthy.
The wetness indicator will let you know when it's time for a diaper change.
Safe for sensitive skin, Huggies Little Snugglers are hypoallergenic, dermatologist-tested, and free of fragrances, lotions, parabens, elemental chlorine, and natural rubber latex. (NOTE from author: No information is available to confirm that they do not contain phthalates).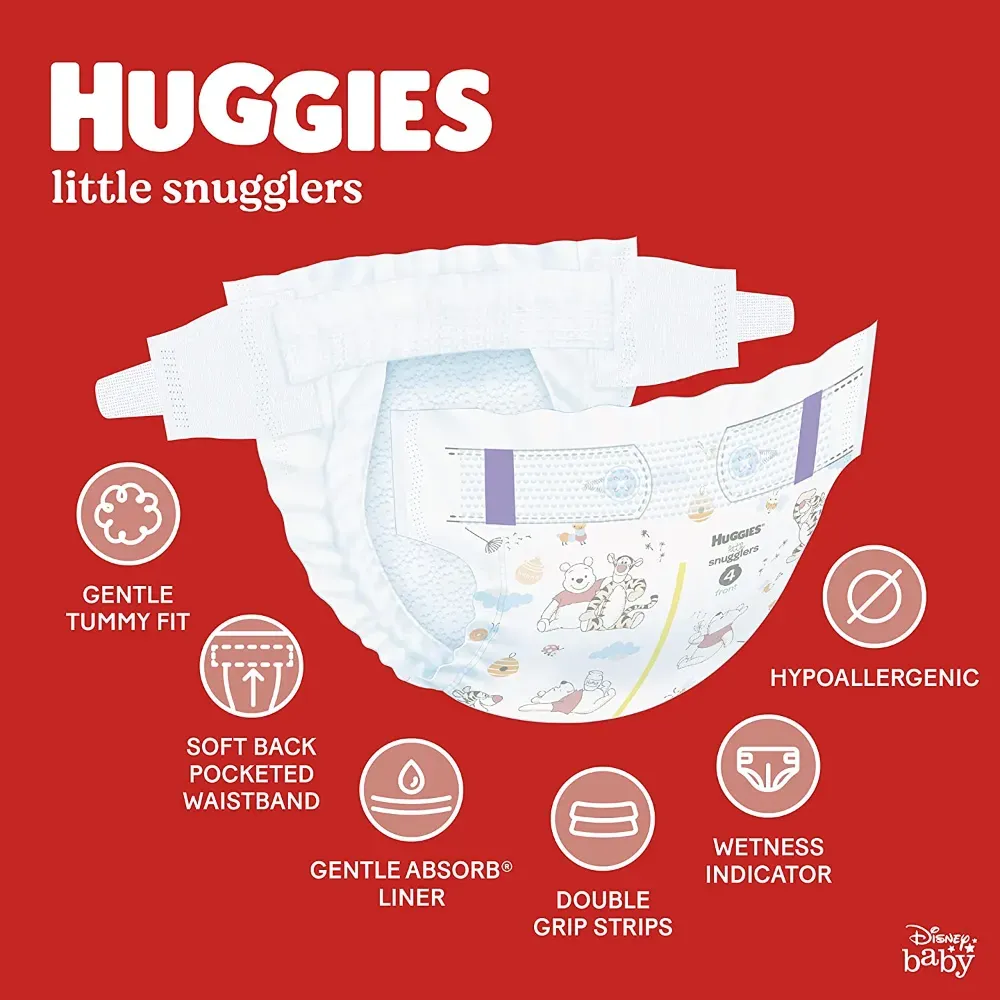 It provides gentle tummy protection and a soft, back-pocketed waistband to help prevent diaper blowouts and contain the mess.
Its unique umbilical cord cutout protects your baby's belly button while it heals.
They're also the only diapers to feature Disney Winnie the Pooh and Friends designs.
Why Parents' Love It
Definitely Worth it - "Huggies works for me better because both my daughters have sensitive skin. Not only that it helps a lot with blow outs, on the butt part of the inner diaper it has a pocket that catches poop ( this the best for diarrhea also) and the side are comfortable and no issues at all." - Amazon Review By Sheree J Stephenson
---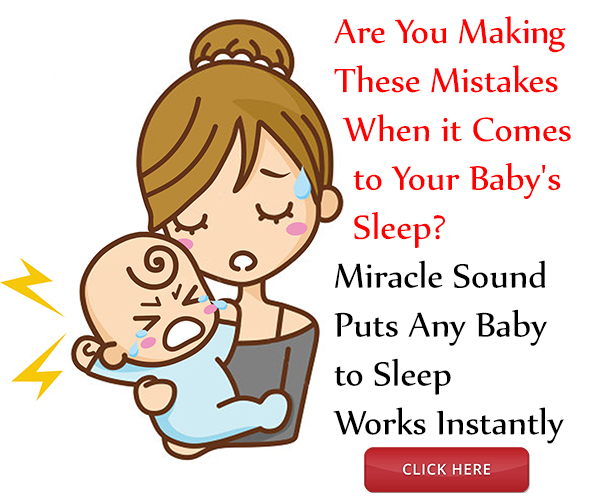 ---
FAQ: Diapers for Sensitive Skin
It can be tough to find the right diaper for your little one if they have sensitive skin.
Even if you've found a diaper that doesn't cause a reaction, it's hard to know whether it's really the best option for your child.
We've compiled a list of frequently asked questions below about Diapers for Sensitive Skin. This will help you figure out which diaper is best for your child.
Which diaper is best for diaper rash?
It depends on the cause of the diaper rash. If it's caused by a yeast infection, you'll need a diaper that is specifically designed to prevent moisture from building up. If it's caused by bacteria, you'll need a diaper that is antibacterial. And if it's caused by chafing or sensitivity to the chemicals in disposable diapers, you'll need to use diapers free of chemicals.
Can a baby be allergic to diapers?
Some babies can be allergic to the plastics and chemicals in disposable diapers. If your baby has a rash that doesn't seem to go away no matter what you do, or if your baby seems especially irritable or fussy, you might want to try switching to more natural, chemical free diapers such as bamboo diapers to see if that helps.
How do you know if your baby is allergic to diapers?
You can't really know if your baby is allergic to diapers, but there are some signs that could indicate a diaper allergy. Symptoms of diaper allergy include redness and inflammation around the genital area, excessive wetting or soiling beyond normal for the age of the child, and severe diaper rash.
If you suspect your baby has a diaper allergy, it's important to consult with your pediatrician. The best way to determine if a baby has a diaper allergy is through skin testing. However, because skin testing is not always accurate, your pediatrician may also recommend an elimination diet in order to pinpoint the cause of the allergies.
How do you stop diaper irritation?
There are a few things you can do to help stop diaper irritation. First, make sure that you're using a good quality diapers and wipes. Also, be sure to change your baby's diaper frequently (at least every 2 hours), and clean the area thoroughly with warm water and a gentle soap. If the irritation persists, you may want to try using a barrier cream or ointment to protect the skin. Finally, if the irritation is really bad, talk to your doctor about possible solutions.
Is Huggies better than Pampers?
There's no easy answer to this question, as it depends on a variety of factors, including individual preference and budget. Huggies and Pampers are both popular brands of disposable diapers, but they vary in terms of price, size, absorbency, and other features. Ultimately, it's up to the parents to decide which brand is best for their family.
Are Pampers Swaddlers good for sensitive skin?
There is some anecdotal evidence that Pampers Swaddlers are good for sensitive skin, but there is no scientific research to support this claim. That said, Pampers Swaddlers are made from high-quality materials and are designed to be gentle on baby's skin. So they should be just fine for most babies with sensitive skin.
Should I use diaper cream at every change?
There's no need to use diaper cream at every change. In fact, you only need to use it if your baby has a rash. Diaper cream can help protect your baby's skin from wetness and prevent rashes from developing. If you do notice a rash, apply a thin layer of diaper cream to the affected area and reapply as needed. Be sure to choose a diaper cream that is free of harsh chemicals and fragrances.
Does Vaseline help diaper rash?
It can help, but it's not the only solution.
Vaseline can help to form a barrier between the skin and the diaper, which will help to protect the skin and allow it to heal. However, it's important to make sure that you are changing your child's diaper often enough, so that they don't get wet and soiled again. If you're not able to change their diaper often enough, then using a barrier like Vaseline may not be enough to keep the rash from getting worse.
Can baby wipes cause diaper rash?
It's not so much that baby wipes can cause diaper rash as it is that they can make it worse.
Diaper rash is usually caused by wetness and bacteria getting into the skin through the diaper. Baby wipes can exacerbate this problem because they can remove essential oils from the skin and also leave behind a film of chemicals that can irritate the skin.
The best way to prevent diaper rash is to change diapers often, let the baby go without a diaper as much as possible, and use a gentle soap or wipe when cleaning the area.
How long does it take for diaper rash to go away?
It usually takes a few days for diaper rash to go away. If it doesn't improve after a few days, then you should consult your pediatrician.
There are many home remedies that can help speed up the healing process of diaper rash, such as applying a paste of baking soda and water, or applying coconut oil. However, if the rash is severe or covers a large area, then it's best to see your doctor for advice on how to treat it.
---
Our Conclusion: Which Diaper is the best for Sensitive Skin?
If you're looking for a diaper that won't cause your baby any skin irritation, we recommend checking out bamboo and plant-based diapers without any chemicals.
They can be a bit more expensive than some of the other options on the market, but they are definitely worth it if your child has sensitive skin.
We hope this article has helped you narrow down your choices and given you a better idea of some of the best Diapers for Sensitive Skin.
Thank you for stopping by and happy shopping!
Tap the product below to check the price!
---
👇
This post may contain affiliate links by which I could receive a small commission at no cost to you when you make a purchase. As an Amazon Associate, I earn from qualifying purchases. Thank you for understanding.
👇
Disclaimer: We are not qualified to provide any medical or therapeutic advice. The content is of this article is based on our personal beliefs and research. It should not be used for medical diagnosis or treatment.